September 19, 2017
Thoogi Thoogi Lyrics
Thoogi Thoogi Lyrics: Thoogi Thoogi is a song from an upcoming 2017 Kannada movie Anveshi, directed by Vemagal Jagannatha Rao. Anveshi features Ramya Barne, Thilak, Anu Aggarwal, Raghu Bhat, Shraddha Sharma and others. Zee Music Co. is the music label of this movie. This song was composed by Hemanth Kumar with lyrics written by Padma Hemanth. Thoogi Thoogi was rendered by Anuradha Bhat.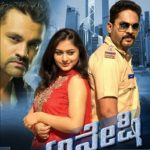 Toogi Toogi Lyrics
Movie: Anveshi [2017]
Music: Hemanth Kumar
Music Label: Zee Music Co.
Lyrics: Padma Hemanth
Singer: Anuradha Bhat
Check out the lyrics here..
Thoogi Thoogi Thelide Mana Hakki Aagide
Saari Saari Koogide Jotheya Bedide
Eno Beku Endu Hrudaya Koogithindu
Yelle Meeri Bahava Chimmide
Thoogi Thoogi Thelide Mana Hakki Aagide
Saari Saari Koogide Jotheya Bedide
Eneno Banna Thumbide Kanna Romanchana Hooo
Ellavu Bhinna Ellavu Chenna Hosa Kampana
Enayitho Hegayitho Thilidagide
Hesarillada Hosa Spandana Hithavagide
Premada Sereya Bayasi Bande Ninnali
Thoogi Thoogi Thelide Mana Hakki Aagide
Manavemba Hakki Mai Thumbi Higgi Haradide
Hosadada Hejje Edeyalli Gejjeya Dhani Maadide
Idenidu Jagavellavu Hosadagide
Adyavudo Hosa Bhavane Mai Thumbide
Naanu Neenagi Neenu Naanagihe
Thoogi Thoogi Thelide Mana Hakki Aagide
Saari Saari Koogide Jotheya Bedide
Eno Beku Endu Hrudaya Koogithindu
Yelle Meeri Bahava Chimmide
Thoogi Thoogi Thelide Mana Hakki Aagide
Saari Saari Koogide Jotheya Bedide
Anveshi Songs
Toogi Toogi
Kamana Billige Bannava
Preethiya Kare
Ra Ra Gopal
Ole Ole
Ee Mohaka
Save
Save
Save
Save
Comments
comments