July 2, 2018
Yaaru Nee Yaaru Lyrics | Hrudaya Sangama
Yaaru Nee Yaaru Lyrics | Hrudaya Sangama: Yaaru Nee Yaaru is a song from the 1972 Kannada movie Hrudaya Sangama, directed by Rashi Brothers and written by H. N. Muddukrishna. The film was produced by Muddukrishna H N, Jayasimha H N, Maruthi H N under the banner MJM Productions.
Hrudaya Sangama features Rajkumar, Bharathi, Balakrishna, K. S. Ashwath, Loknath, Pandari Bai, Jayaram, Sampath, Shivaram, Ganapathi Bhat, Shakti Prasad, Comedian Guggu, Mahadevappa, C. H. Lokanath, H. G. Somashekar, Dr Sridhar, Thipatur Siddaramaiah, and others.
The directors of this movie Rashi Brothers are accliamed actor S. Shivaram and his elder brother S. Ramanathan. Together they produced lot of films in different languages. S. Ramanathan directed malayalam and Hindi movies starring Amitabh Bachchan in films like Bombay to Goa (1972) and Mahaan (1983) and Zamaanat [1977]. S. Shivaram is noted actor in Kannada cinema. His association with director Puttanna Kanagal produced some unforgattable characters in films like Sharapanjara, Naagarahaavu, Shubhamangala and others.
Saregama is the music label of this movie. This song was composed by Vijaya Bhaskar with lyrics penned by Chi. Udayashankar. Yaaru Nee Yaaru song was rendered by playback singer L. R. Eswari.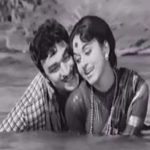 Yaaru Nee Yaaru Lyrics
Movie: Hrudaya Sangama [1972]
Music Label: Saregama
Music: Vijaya Bhaskar
Lyrics: Chi. Udayashankar
Singers: L. R. Eswari
Check out the lyrics here..
Yaru Nee Yaru
Ellide Ninna Manasu
Kanuthiruveya Kanasu
Nee Yaarendu Yochisu Yochisu
Yaaru Nee Yaaru
Balasi Nannanu Tholinali
Rangu Thande Ee Kenneyali
Balasi Nannanu Tholinali
Rangu Thande Ee Kenneyali
Thutigala Mele Thutigala Leele
Minchu Maiyyalli Sanchu Kannalli
Marethe Yenu Ella..
Yaaru Nee Yaaru
Sereya Vaasake Bedarideya
Chinthe Yenidu Heluveya
Sereya Vaasake Bedarideya
Chinthe Yenidu Heluveya
Purusha Simhake Hedarike Yeke
Rosha Bandaga Kerali Ninthaaga
Durularella Naasha
Yaaru Nee Yaaru
Ellide Ninna Manasu
Kanuthiruveya Kanasu
Nee Yaarendu Yochisu Yochisu
Hrudaya Sangama Songs Lyrics
Nee Thanda Kaanike
Nade Nade Nade
Yeno Kurudu Bhavane
Yaaru Nee Yaaru
Gandhada Nerigyole
Nee Thanda Kaanike [S. Janaki]
Comments
comments