July 2, 2018
Yeno Kurudu Bhavane Lyrics | Hrudaya Sangama
Yeno Kurudu Bhavane Lyrics | Hrudaya Sangama: Yeno Kurudu Bhavane is a song from the 1972 Kannada movie Hrudaya Sangama, directed by Rashi Brothers and written by H. N. Muddukrishna. The film was produced by Muddukrishna H N, Jayasimha H N, Maruthi H N under the banner MJM Productions.
Hrudaya Sangama features Rajkumar, Bharathi, Balakrishna, K. S. Ashwath, Loknath, Pandari Bai, Jayaram, Sampath, Shivaram, Ganapathi Bhat, Shakti Prasad, Comedian Guggu, Mahadevappa, C. H. Lokanath, H. G. Somashekar, Dr Sridhar, Thipatur Siddaramaiah, and others.
Saregama is the music label of this movie. This song was composed by Vijaya Bhaskar with lyrics penned by Vijayanarasimha. Yeno Kurudu Bhavane song was rendered by playback singer S. Janaki.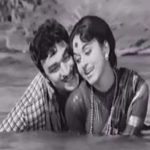 Yeno Kurudu Bhavane Lyrics
Movie: Hrudaya Sangama [1972]
Music Label: Saregama
Music: Vijaya Bhaskar
Lyrics: Vijayanarasimha
Singers: S. Janaki
Check out the lyrics here..
Yeno Kurudu Bhavane
Yava Guriya Saadhane
Naagarika Janathege
Yentha Athma Vanchane
Yeno Kurudu Bhavane
Antu Roga Anukarane
Aadhunikathe Enisithe
Bharathambe Santhathi
Kaanadenu Jaagruthi
Yeno Kurudu Bhavane
Yava Guriya Saadhane
Naagarika Janathege
Yentha Athma Vanchane
Yeno Kurudu Bhavane
Andavaada Hoovige
Rangu Balevudethake
Andavaada Hoovige
Rangu Balevudethake
Nammathanada Hirimege
Parara Hangu Yethake
Eno Kurudu Bhavane
Yaavaguriya Saadhane
Nagareeka Janathege
Entha Aathma Vanchane
Eno Kurudu Bhavane
Namma Divya Samskruthi
Kanditheee Adhogathi
Namma Divya Samskruthi
Kanditheee Adhogathi
Bereyaagi Reethi Neethi
Ideve Yenu Pragathi
Yeno Kurudu Bhavane
Yava Guriya Saadhane
Naagarika Janathege
Yentha Athma Vanchane
Hrudaya Sangama Songs Lyrics
Nee Thanda Kaanike
Nade Nade Nade
Yeno Kurudu Bhavane
Yaaru Nee Yaaru
Gandhada Nerigyole
Nee Thanda Kaanike [S. Janaki]
Comments
comments