September 28, 2017
Kandittum Lyrics
Kandittum Lyrics: Kandittum is a song from an upcoming 2017 Malayalam movie Villain, film written and directed by B. Unnikrishnan and produced by Rockline Venkatesh. Villain features Mohanlal, Vishal, Manju Warrier, Raashi Khanna, Hansika Motwani, Srikanth and others. Junglee Music is the music label of this movie. This song was composed by 4 Musics (Jim Jacob, Biby Matthew, Eldhose Alias, and Justin James) with lyrics penned by B.K. Harinarayanan. Kandittum was rendered by K.J. Yesudas.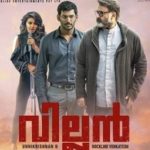 Kandittum Lyrics
Movie: Villain [2017]
Music Label: Junglee Music
Music: 4 Musics
Lyrics: B.K. Harinarayanan
Singer: K.J. Yesudas
Check out the lyrics here..
Kandittum Kandittum
Porathey Thammil
Kannodu Kannoram
Cherunnu Naam
Peythittum Peythittum
Thorathey Veendum
Vaarmegha Thellayi
Maarunnu Naam
Njattuvela Kaalangalerey
Poyi Maranju Dhoore
Ennalekal Thoomanju Poley
Melle Maanjathendhey
Enthellam Enthellam
Chollathey Cholli
Kannerum Poonthenum
Kayyi Maari Naam
Ennittum Pinnendho
Thedunnilley
Kandittum Kandittum
Porathey Thammil
Kannodu Kannoram
Cherunnu Naam
Peythittum Peythittum
Thorathey Veendum
Vaarmegha Thellayi
Maarunnu Naam
Saayam Sandhya
Chaayam Thookum
Neeyam Vanil
Melle Chaayaaan
Oro Yaamam
Thaaney Paayum
Venal Veyilayi
Njan Ethunnu
Kaalangal Nara Viralezhuthi
Mohathin Narumudiyizhayil
Ennittum Naamendho
Thedunnilley
Kandittum Kandittum
Porathey Thammil
Kannodu Kannoram
Cherunnu Naam
Peythittum Peythittum
Thorathey Veendum
Vaarmegha Thellayi
Maarunnu Naam
Muttathethum
Thekkan Kaattil
Maampoo Pookum
Eeran Gandham
Orma Kombil
Oonjaladam
Njaanaa Kadhil
Paattay Maaraam
Aathmavin Erukara Thazhuki
Snehathin Nira Nadhiyozhuki
Ennittum Naamandho
Thedunnilley
Kandittum Kandittum
Porathey Thammil
Kannodu Kannoram
Cherunnu Naam
Peythittum Peythittum
Thorathey Veendum
Vaarmegha Thellayi
Maarunnu Naam
Njattuvela Kaalangalerey
Poyi Maranju Dhoore
Ennalekal Thoomanju Poley
Melle Maanjathendhey
Enthellam Enthellam
Chollathey Cholli
Kannerum Poonthenum
Kayyi Maari Naam
Ennittum Pinnendho
Thedunnilley
Save
Comments
comments