November 12, 2020
Gemini Ganesan And Savitri Tamil Movies List
Gemini Ganesan And Savitri Tamil Movies List: Gemini Ganesan and Savitri are considered as one of the most celebrated onscreen pairs of Tamil Cinema. They acted together in more than Forty Tamil films.
Gemini Ganesan [Ramasamy Ganesan] is one of the unforgettable names in Tamil cinema. He along with M. G. Ramachandran and Sivaji Ganesan ruled the Tamil cinema for many years. Known for his romantic roles Gemini Ganesan was nicknamed as 'Kaadhal Mannan'.
Gemini Ganesan made his acting debut with Miss Malini in 1947 directed Kothamangalam Subbu. In a career spanning over five decades,Gemini Ganesan had acted in more than 200 films. He was awarded Padma Shri [fourth highest civilian award] by Government of India.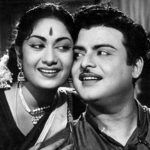 Savitri was one of the greatest actress of India. She made her acting in debut 1951 by playing minor roles in Telugu films like Pathala Bhairavi and Roopavati.
Her big break came in Pelli Chesi Choodu [1952] in which she shared screen space with N. T. Rama Rao and G. Varalakshmi. The film was made simultaneously in Tamil as 'Kalyanam Panni Paar'.
Savitri had acted in more than 250 films in career spanning over 3 decades. She has acted in 138 Telugu and 100 Tamil movies.
Gemini Ganesan And Savitri married in 1952. but unfortunately their off screen life was not as romantic as it was in on-screen. But one silver screen the pair had produced some evergreen hit movies. Lets check out the list of Gemini Ganesan and Savitri movies..
Gemini Ganesan And Savitri Tamil Movies List
1. Manam Pola Mangalyam [1953]
Released on: 5 November 1953
Director: P. Pullaiah
Music: Addepalli Rama Rao
Cast: Gemini Ganesan, Savitri, K. Sarangapani
2. Missiamma [1955]
Released on: 14 January 1955
Director: L. V. Prasad
Music: S. Rajeswara Rao
Cast: Gemini Ganesan, Savitri, S. V. Ranga Rao, K. A. Thangavelu
3. Maaman Magal [1955]
Released on: 14 October 1955
Director: R. S. Mani
Music: S. V. Venkatraman
Cast: Gemini Ganesan, Savitri, T. S. Balaiah
4. Maheswari [1955]
Released on: 13 November 1955
Director: T. R. Raghunath
Music by: G. Ramanathan
Cast: Gemini Ganesan, Savitri, K. A. Thangavelu, M. N. Rajam
5. Guna Sundari [1955]
Released on: 16 December 1955
Director: Kamalakara Kameswara Rao
Music: Ghantasala
Cast: Gemini Ganesan, Savitri, S. V. Ranga Rao, M. N. Nambiar
6. Pennin Perumai [1956]
Released On: 17 February 1956
Director: P. Pullaiah
Music: B. N. Rao, A. Rama Rao
Cast: Sivaji Ganesan, Gemini Ganesan, Savithri, M. N. Rajam
7.  Prema Pasam [1956]
Released On: 21 March 1956
Director: Vedantam Raghavaiah
Music: S. Rajeswara Rao
Cast: Gemini Ganesan, Savitri, K. Balaji
8. Mathar Kula Manikkam [1956]
Released on: 20 December 1956
Director: T. Prakash Rao
Music: S. Rajeswara Rao
Cast: Gemini Ganesan, Nageswara Rao, Anjali Devi, Savitri
9. Mayabazar [1957]
Released On: 12 April 1957
Director: K. V. Reddy
Music: Ghantasala, S. Rajeswara Rao
Cast: Gemini Ganesan, Savitri, M. N. Nambiar
10. Iru Sagodharigal [1957]
Released on: 17 May 1957
Director: Vedantam Raghavaiah
Music: S. Rajeswara Rao
Cast: Gemini Ganesh, Savithri, M. N. Nambiar
11. Karpukkarasi [1957]
Released On: 14 June 1957
Director: A. S. A. Sami
Music: G. Ramanathan
Cast: Gemini Ganesan, Savitri, M. N. Nambiar
12. Yaar Paiyyan [1957]
Released on: 26 July 1957
Director: T. R. Raghunath
Music: Susarla Dakshinamurthi
Cast: Gemini Ganesan, K. Savitri, N. S. Krishnan
13. Sowbagyavathi [1957]
Released on: 22 October 1957
Director: Jampanna
Music: Pendyala Nageswara Rao, M. S. Gnanamani
Cast: Gemini Ganesh, Savithri, K. A. Thangavelu, S. V. Ranga Rao
14. Pathini Deivam [1957]
Released on: 1957
Director: Chitrapu Narayana Rao
Music: Viswanathan–Ramamoorthy
Cast: Gemini Ganesh, Savithri, M. N. Nambiar, S. V. Ranga Rao
15. Manamalai [1958]
Released on: 14 February 1958
Director: Chitrapu Narayana Rao
Music: Vedha
Cast: Gemini Ganesan, Savithri, Chandrababu
16. Kudumba Gouravam [1958]
Released On: 28 February 1958
Director: B. S. Ranga
Music: Viswanathan-Ramamoorthy
Cast: Gemini Ganesan, Savithri, K. Sarangkapani
17. Pathi Bakthi [1958]
Released on: 14 March 1958
Director: A. Bhimsingh
Music: Viswanathan–Ramamoorthy
Cast: Sivaji Ganesan, Gemini Ganesan, Savitri, M. N. Rajam
18. Thirumanam [1958]
Released on: 18 July 1958
Director: A. Bhimsingh
Music: S. M. Subbaiah Naidu, T. G. Lingappa
Cast: Gemini Ganesan, Savithri, K. A. Thangavelu
19. Kadan Vaangi Kalyaanam [1958]
Released On: 17 September 1958
Director: L. V. Prasad
Music: S. Rajeswara Rao
Cast: Gemini Ganesan, Savitri, Jamuna
20. Athisaya Thirudan [1958]
Released On: 12 December 1958
Director: P. Pullaiah
Music: Susarla Dakshinamurthi
Cast: Gemini Ganesan, Savithri, T. S. Balaiah, K. A. Thangavelu
21. Bhagya Devathai [1959]
Released on: 12 June 1959
Director: Tapi Chanakya
Music: Master Venu
Cast: Gemini Ganesan, Savithri, M. N. Nambiar
22. Kalathur Kannamma [1959]
Released on: 12 August 1959
Director: A. Bhimsingh
Music by: R. Sudharsanam
Cast: Gemini Ganesan, Savitri, Kamal Haasan
23. Pudhiya Pathai [1960]
Released On: 17 November 1960
Director: Tapi Chanakya
Music: Master Venu
Cast: Gemini Ganesan, Savitri, Manorama, Sukumari
24. Paava Mannippu [1961]
Released on: 16 March 1961
Director: A. Bhimsingh
Music: Viswanathan–Ramamoorthy
Cast: Sivaji Ganesan, Gemini Ganesan, Savitri, M. R. Radha
25. Pasamalar [1961]
Released on: 27 May 1961
Director: A. Bhimsingh
Music: Viswanathan-Ramamoorthy
Cast: Sivaji Ganesan, Gemini Ganesan, Savitri, M. N. Nambiar
26. Kappalottiya Thamizhan [1961]
Released On: 7 November 1961
Director: B. R. Panthulu
Music: G. Ramanathan
Cast: Sivaji Ganesan, Gemini Ganesan, Savitri
27. Konjum Salangai [1962]
Released on: 14 January 1962
Director: M. V. Raman
Music: S. M. Subbaiah Naidu
Cast: Gemini Ganesan, Savitri, R. S. Manohar
28. Parthal Pasi Theerum [1962]
Released on: 14 January 1962
Director: A. Bhimsingh
Music director: Viswanathan–Ramamoorthy
Cast: Sivaji Ganesan, Gemini Ganesan, Savitri, Saroja Devi
29. Manithan Maravillai [1962]
Released on: 8 June 1962
Director: Aluri Chakrapani
Music: Ghantasala
Cast: Sivaji Ganesan, Devika, Nageswara Rao, Jamuna
30. Paadha Kaanikkai [1962]
Released on: 14 July 1962
Director: K. Shankar
Music: Viswanathan-Ramamoorthy
Cast: Gemini Ganesan, Savitri, C. R. Vijayakumari, M. R. Radha
31. Kathiruntha Kangal [1962]
Released on: 29 August 1962
Director: T. Prakash Rao
Music: Viswanathan-Ramamoorthy
Cast: Gemini Ganesan, Savitri, S. V. Ranga Rao, M.R. Radha
32. Bandha Pasam [1962]
Released on: 27 October 1962
Director: A. Bhimsingh
Music: Viswanathan-Ramamoorthy
Cast: Sivaji Ganesan, Devika, Gemini Ganesan, Savitri
33. Karpagam [1963]
Released on: 15 November 1963
Director: K. S. Gopalakrishnan
Music: Viswanathan-Ramamoorthy
Cast: Gemini Ganesan, S. V. Ranga Rao, M. R. Radha, R. Muthuraman
34. Aayiram Roobai [1964]
Released on: 3 December 1964
Director: S. Gopalakrishnan
Music: K. V. Mahadevan
Cast: Gemini Ganesan, Savitri, Nagesh, M. R. Radha
35.  Poojaikku Vandha Malar [1965]
Released on: 12 March 1965
Director: Muktha Srinivasan
Music: Viswanathan-Ramamoorthy
Cast: Gemini Ganesan, Nagesh, R. Muthuraman, Savithri
36. Vallavanukku Vallavan [1965]
Released on: 28 May 1965
Director: R. Sundaram
Music: Vedha
Cast: S. A. Ashokan, Gemini Ganesan, R. S. Manohar
37. Hello Mister Zamindar [1965]
Released on: 14 May 1965
Director: K. J. Mahadevan
Music: Viswanathan-Ramamoorthy
Cast: Gemini Ganesan, Savitri, M. R. Radha, T. S. Balaiah
38.  Annavin Aasai [1966]
Released on: 4 March 1966
Director: Dada Mirasi
Music: K. V. Mahadevan
Cast: Gemini Ganesh, Savithri, K. R. Vijaya, Balaji
39. Saraswathi Sabatham [1966]
Released on: 3 September 1966
Director: A. P. Nagarajan
Music: K. V. Mahadevan
Cast: Sivaji Ganesan, Gemini Ganesan, Savitri, Padmini
40. Kanthan Karunai [1967]
Released on: 14 January 1967
Director: A. P. Nagarajan
Music: K. V. Mahadevan
Cast: Sivaji Ganesan, Gemini Ganesan, Savithri, K. R. Vijaya, Jayalalithaa
41. Thiruvarutchelvar [1967]
Released on: 7 April 1967
Director: A. P. Nagarajan
Music: K. V. Mahadevan
Cast: Sivaji Ganesan, Gemini Ganesan, Savithri
42. Seetha [1967]
Released on: 23 June 1967
Director: A. P. Nagarajan
Music director: K. V. Mahadevan
Cast: Gemini Ganesan, Savithri, Manorama, R. Muthuraman
43. Allauddinum Albhutha Vilakkum [1979]
Released on: 8 June 1979
Director: I. V. Sasi
Music: G. Devarajan
Cast: Kamal Haasan, Rajinikanth, Savitri, Gemini Ganesan
Comments
comments