January 6, 2019
Gypsy Official Teaser Tamil | Jiiva | Raju Murugan
Gypsy Official Teaser Tamil | Jiiva | Raju Murugan: The Official Teaser of an upcoming Tamil movie Gypsy starring Jiiva and directed by Raju Murugan was released yesterday. Gypsy features Jiiva, Natasha Singh, Sunny Wayne, Lal Jose, Susheela Raman, Vikranth Singh, Karuna Prasad and others.
The teaser opens with a man holding an infant in his hands and talking 'De gypsy, na 70 varushama Indha naatla kurukkumarukkuma Thirinjittu irukken. Kashmirlirundu Kanyakumari varaikkum evlo dhooramnu accurate-a theriyum. Ana oru idhyathukkum innoru idhayathukkum evlo dhooramnu ennaala kande pudikka mudiyalada.
While this voice over playing, there are scenes of this man and a boy walking in Mountain landscapes, desert, sitting in front of mosque, aerial view of road, pilgrimage spots like Kashi where they are lying in a boat Staring at the sky.
Then comes the introduction of Jiiva with a horse in the mountain ranges and a song desaandiri playing in the background. 'Le gypsy-na enna madham keluda' somebody asks for that Jiiva answers 'Madham pudikaada mansa jaadhinga'.
in the next scene Jiiva is sitting in a police station with few people appears to be drama artists. The inspector tells 'nee sonnadu correct daaya, confirma iva maoistda' for that a man says 'naagoor anadavare'.
'Ava enga iruppanu avanakke theriyaadu, oor oora poirupaana' while this voice over is playing, we can see jiiva in a tower playing guitar, walking with his horse in groove full tall trees, diving into a swimming pool.
Then comes the introduction of heroine Natasha Singh 'Unakkunnu oru mugam kidaikkum, adhu maraikka padaikka pattirukkum, kaila varum'  there are few shots of Jiiva seeing this girl and girl taking a look at jeeva.
in the next scene Jiiva jumps of a cart, for that his friend tells 'Hey bhai areayapa inga yen gudikkira?' for which Jiiva replies just walking da.
in the next scene a girl aska 'Kudhura dance aaduma?'
Jiiva replies 'aadume' and we can see the horse dancing with Jiiva playing with the horse and the heroine.
next comes few scenes of the lead pairs together. then comes the dialogue 'andha mugattha mattum miss pannidaadada' where we can see the heroine is sitting alone and Jiiva is sitting alone with the background of Bhagatha sing painting in the wall.
The next shots shows Jiiva as an activist saying 'Halla bhol, speak up, urakka pesu' and there few follow up shots with crowd, flags, activists and fights.
The teaser ends with this dialogue 'Yempa, Un Kuduraikku midhikkira payakkam poyiruchha irukka?'
The teaser of Gypsy seems like a coming of age film of a nomad. The teaser moves from Travel to Romance to Politics. The main highlight of the trailer is the cinematography of Selvakumar SK. The color and light of beautiful landscape, mountain ranges, pilgrimage centers and every frame is a captured beautifully. Santhosh Narayanan's music is another plus. Raymond Derrick Crasta is the editor of this movie.
Raju Murugan the director of Cuckoo [2014] and Joker [2016] was a journalist and writer. we have to see what he trying to tell in this film. The film was produced by Ambeth Kumar under the banner Olympia Movies. S. Sanjay and A. S. Prabhu are the Co Producers. S. Anandraj is the Production Executive and A. C. Charles is the Production Controller of this film.
Check out the teaser of Gypsy  and express your opinion here..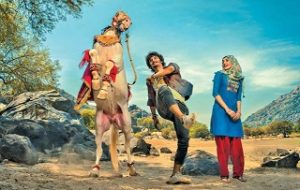 Movie: Gypsy

Directed by: Raju Murugan
Music by: Santhosh Narayanan
Actors: Jiiva, Natasha Singh
Producer: S. Ambeth Kumar
Cinematography: Selvakumar SK
Edited by: Raymond Derrick Crasta
Language: Tamil
Note: You can also send us your article regarding Music, Movie, Books, Travel, Health, Food, Business, Education etc.. and we are happy to post your articles in our blog. come and join hands with us and send in your articles to [email protected]
Comments
comments