January 20, 2019
Bande Baruthava Kaala Song Lyrics | Spandana
Bande Baruthava Kaala Song Lyrics | Spandana: Bande Baruthava Kaala is a famous Kannada song from the 1978 Kannada movie Spandana. The film was written and directed by P. N. Srinivas and the movie was produced by team of Ramachandra Gowda, H P Ananda Murthy, K Krishna Raju, Rukmini T Bhoj and so many other people under the banner Nisarga Films Academy.
Spandana cast includes artists Krishnaraj, Aparna Narang, Srinivas, Ramesh Bhat, Nanjundaiah, Bhojaraj, Bhagyashree, Kalla Ramachandra, Chandrashekar, Parthasarathi, Sundar Murthy, Shantharam, Koli Seena, Hanumanth, Gangadhar, Rajashekarappa, Sathyanarayana, Subramanya Shetty, Kanti, Ganganni, Kumari Revathi, Narayana, Chinnu, Nani and others.
The technical crew of the film includes Cinematographer B. C. Gowri Shankar, Editor Rajananda Reddy, Art director Bhojaraj and others. Saregama is the music label of this movie.
Bande Baruthava Kaala Song Lyrics was written by well known Kannada poet Lakshminarayana Bhat. This song was composed by music director C. Ashwath. Bande Baruthava Kaala song was soulfully rendered by one of the greatest female playback singers of all time P. Susheela.
This is a very optimistic song which talks about the good time that is going to come. The lyrics have some great lines 'Mandara Kanasanu Kandantha Manasanu Ondu Maaduva Sneha jaala' and 'Hunnime Baaninda Thannane Savi haalu Chellutha Mellane Naliside Bhuviyanu Musukide Maaye Jagavanu'.
This is a very poetic song which describes the nature and it draws inspiration from nature to the possible great future ahead. Susheelamma's singing is simply superb and you will feel so optimistic hearing this song. You will like our good time will come and we shouldn't loose hope.
The picturization of the song is also unique at that point of time. the entire song is shot as a journey where the lead female character is traveling in a bus in the Ghat section with beautiful surrounding full of trees and mountains. One must appreciate the cinematography of cameraman B. C. Gowri Shankar, who is one of the pioneers of cinematography in Kannada film industry and he won the state award for his work in this movie.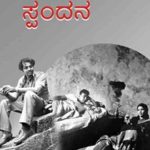 Bande Baruthava Kaala Song Lyrics
Movie: Spandana [1978]
Music: C. Ashwath
Lyrics: Lakshminarayana Bhat
Singer: P. Susheela
Audio: Saregama
Check out the Bande Baruthava Kaala Song Lyrics here..
Bande.. Baruthava Kaala
Bande Baruthava Kaala
Mandara Kanasanu
Kandantha Manasanu
Ondu Maaduva Sneha jaala
aa.. Bande Baruthava Kaala
Maagiya Ede Thoori Koogito Kogila
Ragada Chandake Baagitho Banavella
Thoogootha Balli Maiyanna
Saagadu Baalu Ekangi Enuthava
Bande Baruthava Kaala
Mandara Kanasanu
Kandantha Manasanu
Ondu Maaduva Sneha jaala
aa.. Bande.. Baruthava Kaala
Hunnime Baaninda
Thannane Savi haalu
Chellutha Mellane
Naliside Bhuviyanu
Musukide Maaye Jagavanu..u..
Bhuvi Bhaanu Seri Harasyava Baalanu
Bande Baruthava Kaala
Mandara Kanasanu
Kandantha Manasanu
Ondu Maaduva Sneha jaala
aa.. Bande.. Baruthava Kaala
han han ha Bande Baruthava Kaala
han han Bande Baruthava Kaala
Spandana [1978] Kannada movie songs
Bande Baruthava Kaala
Music: C. Ashwath
Lyrics: Lakshminarayana Bhat
Singer: P. Susheela
Audio: Saregama
Entha Marulayya Idu
Music: C. Ashwath
Lyrics: Lakshminarayana Bhat
Singer: S. P. Balasubrahmanyam
Audio: Saregama
Comments
comments