February 3, 2019
Dev – Anangae Sinungalama Lyric Video Released | Karthi
Dev – Anangae Sinungalama Lyric Video Released | Karthi: Anangae Sinungalama Lyric Video from the one of the much expected 2019 Tamil movie Dev starring Karthi and Rakul Preet Singh in the lead released.
Anangae Sinungalama song was composed by music director Harris Jayaraj and the song was rendered by team of playback singers Hariharan, Bharath Sundar, Tippu, Krish, Christopher Stanley, Arjun Chandy and Sharanya Gopinath. Anangae Sinungalama Lyric was written by famous Tamil lyricist Thamarai, who has been the frequent collaborator of Harris Jayaraj.
Harris Jayaraj and Thamarai combo has produced some memorable songs over the years. Songs like Vaseegara and Ivan Yaaro from Minnale, songs from Kaakha Kaakha [Uyirin Uyirae, Ennai Konjam, Ondra Renda], Oru Maalai from Ghajini, songs from Vettaiyaadu Vilaiyaadu [Partha Mudhal, Manjal Veyil], songs from Vaaranam Aayiram [Nenjukkul Peidhidum, Mundhinam Parthene] and so on.
Anangae Sinungalama Lyric Video contains few romantic pics of lead actors Karthi and Rakul Preet Singh with few pics of dance of Karthi. in some pics we can see Karthi with guitar and dancing with group of men and women. There are few clips of making of the song, where we can see Karthi shaking his legs for the tunes. Anangae Sinungalama is dance number with right of mix of romance, dance, energy and style.
Its a typical Harris Jayaraj song with good instrumentation which gives more importance to the lyrics and melody. The song starts with a random sound that we often heard in Harris songs and slowly creeps into our mind. The lyrics of Thamarai is the highlight of the song with beautiful Tamil. The costume and choreography gives more charming effect to the song that will definitely appeal to the youngsters. Anangae Sinungalama is one more trademark Harris Hit.
This film Dev was written and directed by Rajath Ravishankar in his directorial debut. The film was produced by S. Lakshman Kumar under the banner Prince Pictures. cast of Dev includes Karthi, Rakul Preet Singh, Prakash Raj, Ramya Krishnan, Vamsi Krishna, Renuka, RJ Vigneshkanth, Amrutha Srinivasan, Karthik, Nikki Galrani, Amrutha, and others.
The crew of Dev includes Director of Photography R. Velraj, Editor Ruben, Choreographers Dinesh and Shobi, Stunts by Anbariv, Production Designer Rajeevan, Executive Producer K. V. Durai and others. Junglee Music is the music label of this movie. Dev is scheduled to hit the theaters on February 14, 2019.
Check out the song Anangae Sinungalama from Dev and express your opinion..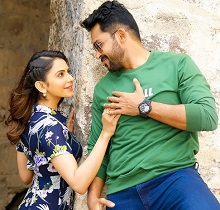 Song: Anangae Sinungalama
Movie: Dev [2019]
Music: Harris Jayaraj
Lyrics: Thamarai
Vocals: Hariharan, Bharath Sundar, Tippu, Krish, Christopher Stanley, Arjun Chandy, Sharanya Gopinath
Language: Tamil
Cast: Karthi, Rakul Preet Singh, Prakash Raj, Ramya Krishnan
Dev [Tamil] Track List
Anangae Sinungalama
Lyrics: Thamarai
Vocals: Hariharan, Bharath Sundar, Tippu, Krish, Christopher Stanley, Arjun Chandy, Sharanya Gopinath
Oru Nooru Murai
Lyrics: Thamarai
Vocals: Sathyaprakash D, Shakthisree Gopalan
Dei Machan Dev
Lyrics: Vivek
Vocals: Naresh Iyer, Velmurugan, Malavika Menon, Deepika
She Is My Girl
Lyrics: Rajat Ravishankar
Vocals: Haricharan, Christopher Stanley, Mahathi
Engade Nee Ponae
Lyrics: Kabilan
Vocals: S. P. Balasubhramanyam
Comments
comments