February 28, 2019
LKG Tamil Movie Songs List | RJ Balaji
LKG Tamil Movie Songs List | RJ Balaji: LKG is a Tamil movie directed by K.R Prabhu in his debut directorial venture and story was written by RJ Balaji & friends. The film was produced under the banner Vels Film International by Ishari K. Ganesh.
Ishari K. Ganesh is the founder, chairman and Vice Chancellor of Vels University in Chennai. He acted in films like One Two Three (2002) and Shankar's mega budget film 2.0 (2018) starring Superstar Rajnikanth and Akshay Kumar.
LKG [Lalgudi Karupaiah Gandhi] film features RJ Balaji, Priya Anand, Nanjil Sampath, J. K. Rithesh, Mayilsamy, Ramkumar Ganesan, Manobala and others.
LKG Tamil Movie has 6 songs. Music director Leon James has composed four songs Thamizh Anthem, Dappaava Kizhichaan, Ini Oru Vidhi Seivom and Thimiru Kaattaadha Di. The lyrics of these songs were penned by lyricist Pa. Vijay and Vignesh Shivan.
Singers P. Susheela, Vani Jayaram, L. R. Eswari, Sid Sriram, Chinmayi Sripaada, Sathyaprakash D, Diwakar, Shruti Haasan, Sean Roldan and Leon James had lent their voices to the songs. Think Music is the music label of this song.
The team used popular Tamil song 'Ethanai Kaalam Thaan Yematruvaar' from the 1954 cult classic Malaikkallan starring legendary actor and former chief minister of Tamil Nadu M.G. Ramachandiran [MGR]. 'Ethanai Kaalam Thaan' was the first song, singer T. M. Soundarrajan had rendered for M. G. Ramachandran. This remix version was rendered by Sean Roldan was released on 26 January, 2019. One more song re used in the movie is 'Thamizh Thaai Vaazhthu' written by Manonmaniam Sundaram Pillai.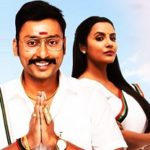 LKG Tamil Movie Songs List
Movie: LKG [2019]
Music: Leon James
Lyrics: Pa. Vijay, Vignesh Shivan
Vocals: P. Susheela, Vani Jayaram, L. R. Eswari, Sid Sriram, Chinmayi Sripaada, Sathyaprakash D, Diwakar, Shruti Haasan, Sean Roldan
LKG Tamil Movie Songs List
Thamizh Anthem
Music: Leon James
Lyrics: Pa. Vijay
Singers: Sid Sriram, P. Susheela, Vani Jayaram, L. R. Eswari, Chinmayi Sripaada
Dappaava Kizhichaan
Music: Leon James
Lyrics: Pa. Vijay
Singer: Shruti Haasan
Ini Oru Vidhi Seivom
Music: Leon James
Lyrics: Pa. Vijay
Singer: Diwakar
Thimiru Kaattaadha Di
Music: Leon James
Lyrics: Vignesh Shivan
Singers: Sathyaprakash D, Leon James
Thamizh Thaai Vaazhthu
Lyrics: Manonmaniam Sundaram Pillai
Singers: P. Susheela, Vani Jayaram, L. R. Eswari
Ethanai Kaalam Thaan Yematruvaar
Singer: Sean Roldan
Comments
comments