August 15, 2020
Thai Manne Vanakkam Lyrics | A. R. Rahman Vande Mataram
Thai Manne Vanakkam Lyrics | A. R. Rahman Vande Mataram: Thai Manne Vanakkam is a very famous Tamil patriotic song from the 1997 studio album 'Vande Mataram' by the Academy Award winner Isai Puyal 'A. R. Rahman' to celebrate the Golden Jubilee anniversary of India's independence.
This music album was produced by A. R. Rahman, Kanika Myer Bharat, and Bharatbala. The album was released on 12 August 1997, three days before the 50th anniversary of Indian independence.
Thai Manne Vanakkam song lyrics were penned by popular Tamil lyricist Vairamuthu and the song was composed and rendered by A. R. Rahman. The musicians worked in this song includes Backing vocals by Rita Campbell, Deepika Thathaal, Joy Rose, Chris Ballin, Sophia James and Percussion by Sivamani.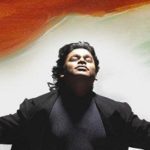 Song: Thai Manne Vanakkam
Album: Vande Mataram [1997]
Music: A. R. Rahman
Vocals: A. R. Rahman
Lyrics: Vairamuthu
Language: Tamil
Check out the lyrics here..
Vanthe Maatharam |8|
Angum Angum Ingum Ingum Sutri Sutri Thirindhen
Chinna Chinna Paravaippol Thisai Engum Parandhen
Veiyililum Mazhaiyilum Vittu Vittu Alaindhen
Mugavari Edhu Endru Mugam Thulaithen
Manam Pithaai Ponadhe
Unnai Kangal Thedudhe
Thoda Kaigal Neeludhe
Idhayam Idhayam Thudikkinradhe
Engum Unpol Paasam Illai
Aadhalaal Un Madi Thedinen..
Thaai Manne Vanakkam
Thaai Manne Vanakkam
Thaai Manne Vanakkam
Vanthe.. Maadharam.. |8|
Vanna Vanna Kanavukal Karuvukkul Valarthaai
Vandhu Mannil Pirandhadhum Malarkalai Koduthaai
Andha Pakkam Indha Pakkam Kadalgalai Koduthaai
Nandhavanam Nattuvaikka Nadhi Koduthaai
Undhan Maarbodu Anaithaai
Maarpodu Anaithaai
Ennai Aalaakki Valarthaai
Aalaakki Valarthaai
Suga Vaazhvondru Koduthaai
Pacchai Vayalgalai Parisalithai
Pongum Inbam Engum Thandhai
Kangalum Nandriyaal Pongudhe
Vande.. Maataram
Vande.. Maataram
Vande.. Maataram Vande.. Maataram
Vande.. Maataram Vande.. Maataram
Vande.. Maataram Vande.. Maataram
Thaaye Un Peyar Sollum Podhe Idhayathil Min Alai Paayume
Inivarum Kaalam Ilainyarin Kaalam Un Kadal Mellisai Paadume
Thaai Aval Pol Oru Jeevanillai
Aval Kaaladi Pol Sorgam Veru Illai
Thaai Mannai Pol Oru Bhoomi Illai
Bhaaratham Engalin Swaasame
Thaai Manne Vanakkam
Thaai Manne Vanakkam
Thaai Manne Vanakkam
Thaai Manne Vanakkam
Vande Maatharam
Vande Maatharam.. Vande
Vande Maatharam.. Vande
Vande Maatharam.. Vande
Vande Maatharam |8|
Vande Maatharam Vande Maatharam
Vande Maatharam |6|
Vande Mataram [1997] Music Album Track List
Song: Maa Tujhe Salaam
Vocals: A. R. Rahman
Lyrics: Mehboob
Song: Revival
Vocals: A. R. Rahman
Lyrics: Bankim Chandra Chatterjee
Song: Gurus of Peace
Vocals: Nusrat Fateh Ali Khan, A. R. Rahman
Lyrics: Mehboob, Tim Cody & Dinesh Kapoor
Song: Tauba Tauba
Vocals: A. R. Rahman
Lyrics: Mehboob
Song: Only You
Vocals: A. R. Rahman
Lyrics: Mehboob
Song: Thai Manne Vanakkam
Vocals: A. R. Rahman
Lyrics: Vairamuthu
Song: Masoom
Vocals: A. R. Rahman
Lyrics: Gulzar
Song: Musafir
Vocals: A. R. Rahman, Faye
Lyrics: Tim Kody, Kanika Myer Bharat
Missing (Vande Mataram)
Instrumental
Comments
comments