December 11, 2022
List of Double Centuries In ODI Cricket
List of Double Centuries In ODI Cricket
Sachin Tendulkar become the world's first batsman to score a double century in ODI cricket and breaking the previous highest score of 194 jointly held by Pakistan's Saeed Anwar and Zimbabwe's Charles Coventry.
Rohit Sharma currently holds the world record for the highest individual score (264) in a One Day International match and is the only player to have scored three double-centuries in ODIs.
On 10 December 2022, Ishan Kishan became both the youngest (aged 24y 145d) as well as the fastest to score a double century in an ODI while batting in the third ODI of India tour of Bangladesh by scoring 210 runs off 131 balls. but that record was broken by Shubman Gill.
Ishan Kishan crossed the 200-run mark in just 126 deliveries as he went past Chris Gayle's record who took 138 balls. He also became the first player to convert a maiden ODI century to a double century.
On 18 Jan 2023, in the match against New Zealand in Hyderabad, Indian player Shubman Gill smashed 208 runs off 149 balls, became the youngest player [aged 23y 132d] to score a double century in an ODI.  He is the fifth Indian player to score double hundred in an ODI after Sachin Tendulkar, Virender Sehwag, Rohit Sharma, and Ishan Kishan.
Shubman Gill's score in Hyderabad is now the highest against New Zealand in ODIs. The previous highest was Sachin Tendulkar's unbeaten 186 in 1999, also in Hyderabad.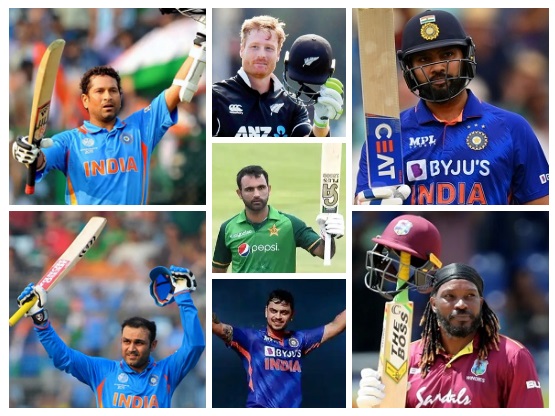 1. Sachin Tendulkar
Score: 200* Runs of 147 Balls
4s: 25, 6s: 3, SR: 136.05
Match: India v South Africa
Match Date: 24 Feb 2010
Venue: Gwalior
2. Virender Sehwag
Score: 219 Runs of 149 Balls
4s: 25, 6s: 7, SR: 146.97
Match: India v West Indies
Match Date: 8 Dec 2011
Venue: Indore
3. Rohit Sharma
Score: 209 Runs of 158 Balls
4s: 12 6s: 16 SR: 132.27
Match: India v Australia
Match Date: 2 Nov 2013
Venue: Bengaluru
4. Rohit Sharma
Score: 264 Runs of 173 Balls
4s: 33, 6s: 9, SR: 152.60
Match: India v Sri Lanka
Match Date: 13 Nov 2014
Venue: Eden Gardens
5. Chris Gayle
Score: 215 Runs of 147 Balls
4s: 10 6s: 16 SR: 146.25
Match: West Indies v Zimbabwe
Match Date: 24 Feb 2015
Venue: Canberra
6. Martin Guptill
Score: 237* Runs of 163 Balls
4s: 24, 6s: 11, SR: 145.39
Match: New Zealand v West Indies
Match Date: 21 Mar 2015
Venue: Wellington
7. Rohit Sharma
Score: 208* Runs of 153 Balls
4s: 13 6s: 12 SR: 135.94
Match: India v Sri Lanka
Match Date: 13 Dec 2017
Venue: Mohali
8. Fakhar Zaman
Score: 210* Runs of 156 Balls
4s: 24 6s: 5 SR: 134.61
Match: Pakistan v Zimbabwe
Match Date: 20 Jul 2018
Venue: Bulawayo
9. Ishan Kishan
Score: 210 Runs of 131 Balls
4s: 24 6s: 10 SR: 160.30
Match: India v Bangladesh
Match Date: 10 Dec 2022
Venue: Chattogram
10. Shubman Gill
Score: 208 Runs of 149 Balls
4s: 19 6s: 09 SR: 139.60
Match: India v New Zealand
Match Date: 18 Jan 2023
Venue: Hyderabad
List of Double Centuries In ODI Cricket
| | | | | |
| --- | --- | --- | --- | --- |
| Player | Team | Opposition | Runs | Balls |
| RG Sharma | India | v Sri Lanka | 264 | 173 |
| MJ Guptill | New Zealand | v West Indies | 237* | 163 |
| V Sehwag | India | v West Indies | 219 | 149 |
| CH Gayle | West Indies | v Zimbabwe | 215 | 147 |
| Fakhar Zaman | Pakistan | v Zimbabwe | 210* | 156 |
| Ishan Kishan | India | v Bangladesh | 210 | 131 |
| RG Sharma | India | v Australia | 209 | 158 |
| Shubman Gill | India | v New Zealand | 208 | 149 |
| RG Sharma | India | v Sri Lanka | 208* | 153 |
| SR Tendulkar | India | v South Africa | 200* | 147 |
Comments
comments