May 2, 2023
Chittuku Chella Chittuku Lyrics
Chittuku Chella Chittuku Lyrics: Chittuku Chella Chittuku is a Tamil song from the 1984 movie 'Nallavanukku Nallavan', directed by S. P. Muthuraman and written by Visu. The movie was produced by M. Saravanan, M. Balasubramanian under the banner AVM Productions.
The film was a remake of the 1983 Telugu film Dharmaatmudu, directed by Bairisetty Bhaskara Rao starring Krishnam Raju and Jayasudha. It was remade in Tamil as Nallavanuku Nallavan, in Kannada as Jeevana Chakra and in Hindi as Mera Saathi.
Nallavanukku Nallavan [1984] Tamil film features Rajinikanth, Raadhika, Karthik, Thulasi, V. K. Ramasamy, Major Sundarrajan, Y. G. Mahendran, Visu, Kalpana Iyer, and others.
Chittuku Chella Chittuku song lyrics were penned by Na. Kamarasan and the song was composed by Isai Gnyani 'Ilaiyaraaja'. This song was sung by K. J. Yesudas.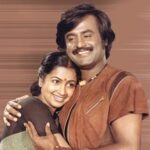 Chittuku Chella Chittuku Lyrics
Movie: Nallavanukku Nallavan [1984]
Music: Ilaiyaraaja
Lyrics: Na. Kamarasan
Singer: K. J. Yesudas
Audio Label: Kosmik Music
Check out 'Chittuku Chella Chittuku Lyrics' here..
Chittukku Chella Chittuku Oru Siragu Mulaithadhu
Rathathil Vandha Sondhangal Andha Uravu Murindhadhu
Thandhaiyum Illai Annaiyum Illai
Kanava Verum Ninaivaa
Nenjile Varum Bandhame
Thodarkadhaiya.. Sirukadhaiya..
Chittukku Chella Chittuku Oru Siragu Mulaithadhu
Rathathil Vandha Sondhangal Andha Uravu Murindhadhu
Naam Podum Medaigalo Naadaga Medai
Naam Pogum Odangalo Kaagidha Odam
Paasam Enbadha Vesham Enbadha
Kaalam Seidha Kolam
Paasam Enbadha Vesham Enbadha
Kaalam Seidha Kolam
Koodi Vaazha Kooduthedi Odi Vandha Jeevan
Aadipaada Kaadu Thedum Yaar Seidha Paavam
Thaai Ennum Poomaalai Tharai Mele Vaadudhe
Chittukku Chella Chittuku Oru Siragu Mulaithadhu
Rathathil Vandha Sondhangal Andha Uravu Murindhadhu
Thandhaiyum Illai Annaiyum Illai Kanava Verum Ninaivaa
Nenjile Varum Bandhame
Thodarkadhaiya.. Sirukadhaiya..
Chittukku Chella Chittuku Oru Siragu Mulaithathu
Kaalangal Maari Varum Kaatchigal Inge
Nyayangal Aarudhalai Kooruvadhenge
Manjal Kungumam Maarbil Sandhanam
Soodum Kanni Paavai
Manjal Kungumam Maarbil Sandhanam
Soodum Kanni Paavai
Paasa Deepam Kayyil Yendhi Vaazha Vandha Velai
Kangalaada Penmai Paada Inbam Kanda Mangai
Naam Vaadi Nindraalum Nalamodu Vaazhgave
Chittukku Chella Chittuku Oru Siragu Mulaithathu
Rathathil Vandha Sondhangal Andha Uravu Murinthathu
Thanthaiyum Illai Annaiyum Illai
Kanava Verum Ninaivaa
Nenjilae Varum Bandhamae
Thodarkadhaiya Ssirukadhaiya
Chittukku Chella Chittuku Oru Siragu Mulaithathu
---
Nallavanukku Nallavan [1984] Tamil Songs Lyrics
1. Chittuku Chella Chittuku
Lyrics: Na. Kamarasan
Singer: K. J. Yesudas
2. Ennai Thane
Lyrics: Vairamuthu
Singer: K. J. Yesudas
3. Unnaithane Thanjam Endru
Lyrics: Vairamuthu
Singers: K. J. Yesudas, Manjula Gururaj
4. Vechikkava Unna Mattum Nenjukkulla
Lyrics: Gangai Amaran
Singers: K. J. Yesudas, S. Janaki
5. Muthaduthey Muthaduthey
Lyrics: Muthulingam
Singers: S. P. Balasubrahmanyam, S. Janaki
6. Namma Modhalali
Lyrics: Vaali
Singers: S. P. Balasubrahmanyam, Malaysia Vasudevan
Comments
comments