July 30, 2018
Dope Track Lyrics | Pyaar Prema Kaadhal
Dope Track Lyrics | Pyaar Prema Kaadhal: Dope Track is a song from an upcoming 2018 Tamil movie Pyaar Prema Kaadhal, written and directed by Elan. The film was produced under the banner YSR Films. Pyaar Prema Kaadhal features Harish Kalyan, Raiza Wilson, Bhanupriya, Porkodi and others. U1 Records is the music label of this movie. This song was composed by Yuvan Shankar Raja with lyrics penned by Mohanrajan. Dope Track was rendered by Yuvan Shankar Raja himself.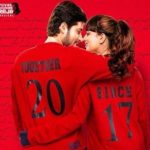 Dope Track Lyrics
Movie: Pyaar Prema Kaadhal [2018]
Music Label: U1 Records
Music: Yuvan Shankar Raja
Lyrics: Mohanrajan
Singers: Yuvan Shankar Raja
Check out the lyrics here..
Kaatre Un Kaal Adiyai Naan Thedi
Kanne Naan Kaaththirundhen Kann Moodi
Idhu Enna Pudhu Kaalam Ennodu
Kulirodu Anal Veesum Nenjodu
Idhu Pola Irundhadhillai
Hm Yeppodhum
Hey Kaatre Un Kaal Adiyai Naan Thedi
Kanne Naan Kaaththirundhen Kann Moodi
Idhu Enna Pudhu Kaalam Ennodu
Kulirodu Anal Veesum Nenjodu
Kalankarai Vilak Ena Vazhkiren Naane
Thannimaiyum Uravu Ena Theikiren Naane
Nadhigalin Nilavadhu
Dhinam Dhinam Nanaiyudhu
Irundhum Karaikal Neengadhe
Kadarkarai Suvudugal
Azhagiya Nimidangal
Nilaipadhu Yedhadi
Nizhlal Adhu Dhaan Pirikiradhe
Nijam Adhu Dhaan Maraikiradhe
Kannum Kannum Thavikiradhe
Ondrai Ondru Tholaikiradhe
Solladi Kanmani Neeyum Enna Dhevadhai
Siraginai Virikka Marandhaye
Nilladi Ponmani Neeyum Enna Penno
Aan Manam Thavikka Parandhaaye
Nadhigalin Nilavadhu
Dhinam Dhinam Nanaiyudhu
Irundhum Karaikal Neengadhe
Kadarkarai Suvudugal
Azhagiya Nimidangal
Nilaipadhu Yedhadi
Pyaar Prema Kaadhal
Pyaar Prema Kaadhal
Pyaar Prema Kaadhal
Pyaar Prema..
Kaadhal..
Kaadhal
Pyaar Prema Kaadhal Track List
High On Love
Dope Track
Hold Me Now
Surprise Me
Never Let Me Go
I Will Never Let you go
Hello
Lets be Friends?
Secret Window
Wake me up Everyday
Miss you Papa
Its Over
Comments
comments