October 27, 2017
Endhira Logathu Lyrics
Endhira Logathu Lyrics: Endhira Logathu is a song from an upcoming 2018 Tamil movie 2.0 [Enthiran 2.0], directed by S. Shankar and produced by Lyca Productions. The film is a sequel to the 2010 Tamil film Enthiran. 2.0 features Rajinikanth, Akshay Kumar, Amy Jackson, Sudhanshu Pandey, Adil Hussain, Kalabhavan Shajohn, Riyaz Khan and others. This song was composed by A. R. Rahman with lyrics penned by Madan Karky. Endhira Logathu was rendered by Sid Sriram and Shashaa Tirupati.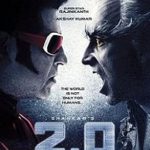 Endhira Logathu Lyrics
Album: 2.0 [2017]
Music Label:
Music: A. R. Rahman
Lyrics: Madan Karky
Singers: Sid Sriram, Shashaa Tirupati
Check out the lyrics here..
En Uyire Uyire Rajaliye..
Enai Nee Piriyaade
En Uyire Uyire Rajaliye..
Thuliyum Kuraiyaade
Endhira Logathu Sundariye
Engalil Kadhalai Sindariye
Engineai Alli Konjariye
Hey Minsara Samsaarame
Rattham Vaitha Kannam Rendil Muttham Vaikattaa
Puttham Pudhu Java Roja Pooka Cheyyatta
Suttam Seidu Data Mattum Ootividattaa
Hey Un Busin Conductor Na
En Uyire Uyire Rajaliye..
Enai Nee Piriyaade
En Uyire Uyire Rajaliye..
Thuliyum Kuraiyaade
En Uyire Uyire Rajaliye..
Enai Nee Piriyaade
En Uyire Uyire Rajaliye..
Thuliyum Kuraiyaade
Endhira Logathu Sundariye
Engalil Kadhalai Sindariye
Engineai Alli Konjariye
Hey Minsara Samsaarame
hey en sensor-kku unarvun unavum nee
en cable vazhi paravum kanavum nee
en visaipori mayakkam nee
en neuronellam ninaiyum nilavum nee
en panimadi kanini rajini nee
En Uyire Uyire Rajaliye..
Enai Nee Piriyaade
En Uyire Uyire Rajaliye..
Thuliyum Kuraiyaade
En Uyire Uyire Rajaliye..
Enai Nee Piriyaade
Endhira Logathu Sundariye
Engalil Kadhalai Sindariye
Engineai Alli Konjariye
Hey Minsara Samsaarame
Rattham Vaitha Kannam Rendil Muttham Vaikattaa
Puttham Pudhu Java Roja Pooka Cheyyatta
Suttam Seidu Data Mattum Ootividattaa
Hey Un Busin Conductor Na
En Uyire Uyire Rajaliye..
Enai Nee Piriyaade
En Uyire Uyire Rajaliye..
Thuliyum Kuraiyaade
En Uyire Uyire Rajaliye..
Enai Nee Piriyaade
En Uyire Uyire Rajaliye..
Thuliyum Kuraiyaade
Comments
comments