June 13, 2018
Kangal Ondraga Kalandhadhal Lyrics
Kangal Ondraga Kalandhadhal Lyrics: Kangal Ondraga Kalandhadhal is a song from the Tamil movie Cheran Pandiyan, released in 1991. The film was directed by K. S. Ravikumar and produced by R. B. Choudary under the banner Super Good Films. Cheran Pandiyan features Vijayakumar, Sarathkumar, Sreeja, Nagesh, Anand Babu, Manjula Vijayakumar, Goundamani, Anuja, Senthil, Chitra, K.S. Ravikumar, Kumarimuthu, Cheran and others. Lahari Music is the music label of this film. This song was composed and written by Soundaryan. Kangal Ondraga Kalandhadhal song was sung by playback singers Mano and Chitra.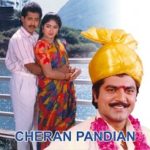 Kangal Ondraga Lyrics
Movie: Cheran Pandiyan [1991]
Music Label: Lahari Music
Music: Soundaryan
Lyrics: Soundaryan
Singers: Mano, Chitra
Check out the lyrics here..
Kangal Ondraga Kalandhadhal
Kadhal Thirukolam Kondadho
Kaigal Ondraga Inaindhadhal
Kavidhai Pala Paada Malarndhadho
Aa.. Aa..
Kangal Ondraga Kalandhathal
Kadhal Thirukolam Kondatho
Kaigal Ondraga Inainthathal
Kavithai Pala Paada Malarndhatho
Vasandhangale Vaazhthungalen
Valar Pirayaai Valarungalen
Kangal Ondraga Kalandhadhal
Kadhal Thirukolam Kondadho
Kaigal Ondraga Inaindhadhal
Kavidhai Pala Paada Malarndhadho
Mazhai Varumbodhu Kulir Varum
Kooda Malar Manam Veesume
Ival Manam Undhan Varugayai Kandu
Eazhil Mugam Pookume
Azaithidum Kaigal Anaithida
Naanum Adaikalam Aagiren
Mullaye Ellai Illaye
Undhan Anbinil Moozhginen
Kangal Ondraga Kalandhathal
Kadhal Thirukolam Kondatho
Kaigal Ondraga Inainthathal
Kavithai Pala Paada Malarndhatho
Orukanam Paarka Palakanam
Nenjil Thiraipadam Paarkiren
Uyirudan Nitham Urasiye
Inba Kanirasam Kalakiren
Pirivadhum Pinbu Inaivadhum
Kadalin Alaigalum Karayuma
Penmaidhan Thoongavillaye
Undhan Pithuthan Athigama
Kangal Ondraga Kalandhadhal
Kadhal Thirukolam Kondadho
Kaigal Ondraga Inaindhadhal
Kavidhai Pala Paada Malarndhadho
Vasandhangale Vaazhthungalen
Valar Pirayaai Valarungalen
Kangal Ondraga Kalandhathal
Kadhal Thirukolam Kondatho
Kaigal Ondraga Inainthathal
Kavithai Pala Paada Malarndhatho
Comments
comments