March 5, 2018
Karuppi Enn Karuppi Lyrics
Karuppi Enn Karuppi Lyrics: Karuppi Enn Karuppi is a song from an upcoming Tamil movie Pariyerum Perumal, written and directed by Maari Selvaraj and Produced by noted director Pa. Ranjith under the banner Neelam Productions. The film features Kathir, Anandhi in the leading roles along with Yogi babu and others.
Think Music is the music label of this movie. This song was composed by Santhosh Narayanan with lyrics penned by Vivek. Karuppi Enn Karuppi was rendered by Santhosh Narayanan and Dr. S.C. Chandilya.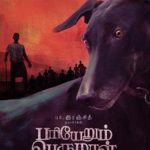 Karuppi Enn Karuppi Lyrics
Movie: Pariyerum Perumal [2018]
Music Label: Think Music
Music: Santhosh Narayanan
Lyrics: Vivek
Singers: Santhosh Narayanan, Dr. S.C. Chandilya
Check out the lyrics here..
Adi Karuppi Enn Karuppi
Nagathadame En Paadha
Nee Illaadha Kaattil
Naan Eppadithaan Thiriveno
Adi Karuppi Enn Karuppi
Nagathadame En Paadha
Nee Illaatha Kaattil
Naan Eppadithaan Thiriveno
Karuppi En Karuppi
Naan Pesuradhu Kekkudha
En Azhugaiyum Kekkudha
Andha Rayilin Adiyil Sikki Sedhari
Idhayam Katthum Valiyum Vedhanaiyum Kekkudha
Ippa Udane Naan Unna Pakkanum
Mookkil Mugam Vachi Orasanum
Un Naakkil Nakki En Azhukka Kazhuvi Poghanum
Enga Vandha Unna Paakkalam
Yaar Andha Kaattil Odanji Kedappadu Neeya Illa Naana
Naana Ille Neeya
Neeya Naana Naana Neeya
Karuppi
Irandhadhu Neeya Iruppadhu Naana
Iruppadhu Neeya Irandhadhu Naana
Nammala Konnaven Yaarunu Enakku Nalla Theriyum
Ange Seththadhu Yaarunu Avanukku Mattumdhan Puriyum
Azhinjadhu Neeya
O… Oho… Oo
Azhuvadhu Naana
O… Oho… Oo
Azhinjadhu Neeya
Adi Karuppi En Karuppi
Nagathadame En Paadha
Nee Illaadha Kaattil
Naan Eppadithaan Thiriveno
Adi Karuppi En Karuppi
Nagathadame En Paadha
Nee Illaatha Kaattil
Naan Eppadithaan Thiriveno
Endhiri Karuppi Amma Kooppudura
Kulikka Poganum Endhiridi
Yendi Pesala En Kooda
Ennadi Nadandhichi Anga
Valiya Thangaama Thudichiya
Kadaisi Nimisham Enna Nennaichiya
Unna Kollum Podhu Avan Sirichana
Nee Koraikkumpodhu Avan Moraichana
Adi Karuppi En Karuppi
Nagathadame En Paadha
Nee Illaadha Kaattil
Naan Eppadithaan Thiriveno
Unkitta Padichi Padichi Sonnane Kettiya
Yaar Kooptu Nee Pone
Yendi Pone
Ethana Thadava Solliyiruken
Ellam Manusanum Inge Onnu Illenu
Vaalathu Anaikkuravan
Kazhutha Nerikkiravan
Kanna Thadavuravan
Kaala Nodikkiravan
Konnu Sirikkiravan
Ninnu Azhuguravan
Karuppan
Sevappan
Saami
Saathan
Adimai
Aandaan
Mayiru
Matta
Aayiram Manusan Undunu Unakku Appove Sonnen Kettiya Nee
Ippa Udane Naan Unna Pakkanum Karuppi
Adi Karuppi En Karuppi
Nagathadame En Paadha
Nee Illaadha Kaattil
Naan Eppadithaan Thiriveno
Adi Karuppi En Karuppi
Nagathadame En Paadha
Nee Illaadha Kaattil
Naan Eppadithaan Thiriveno
Adi Karuppi En Karuppi
Nagathadame En Paadha
[Naalaikku Vandhu Appa Ketpaare
Naa Ennaadi Badhil Solven
Enagdi Irukka Nee]
Nee Illaatha Kaattil
Naan Eppadithaan Thiriveno
Endhiri Karuppi
Endhiri Karuppi
Endhiri Karuppi
Endhiri Karuppi
Adi Karuppi En Karuppi
Nagathadame En Paadha
Nee Illaadha Kaattil
Naan Eppadithaan Thiriveno
Rendu Kaalilo Naalu Kaalilo
Inda Mannile Ulavi Kidakka Naailladi Nee
Naanillaya Nee
Comments
comments