June 27, 2022
Kelakku Sevakaiyile Song Lyrics
Kelakku Sevakaiyile Song Lyrics: Kelakku Sevakaiyile is a super hit song from the 1994 Tamil film 'Seevalaperi Pandi', directed by Prathap Pothan and written by K. Rajeshwar.
The film was based on the real life incidents of a person called Seevalaperi Pandi. This film was produced by P. G. Srikanth under the banner Radhi Films.
Seevalaperi Pandi Tamil movie features Napoleon, Saranya, Ahana, Chandrasekhar, Nizhalgal Ravi, Vijayachander, R. P. Viswam, Alex, Suryakanth, Venniradai Moorthy, Prasanna Kumar, Charle, Chinni Jayanth, Nellai Siva, G. D. Ramesh, Madhan Gabriel, Rangammal, Rajan, Idichapuli Selvaraj, Sathyapriya, Master Dinesh, Baboos, Silk Smitha, John Babu, and others.
Kelakku Sevakaiyile Song Lyrics were penned by K. Rajeswar and the song was composed by music director Adithyan. This song was sung by Rajagopal, Sujatha Mohan, and P. G. Srikanth. Sony Music South is the music label of this film.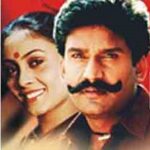 Kelakku Sevakaiyile Lyrics
Movie: Seevalaperi Pandi [1994]
Music: Adithyan
Singers: Rajagopal, Sujatha Mohan, P. G. Srikanth
Lyrics: K. Rajeswar
Music Label: Sony Music South
Check out 'Kelakku Sevakaiyile Lyrics' here
Kelakku Sevakaiyile
Kelakku Sevakaiyile
Keera Arukkayile
Naan Keera Arukkayile
Andha Karumbu Kadikkayile
Andha Karumbu Kadikkayile
Naan Palasa Nenaikkayile
Pal Aruvaa Patturuche
Sabaash Konaare
Kilakku Sevakkayile
Keera Arukkayilae
Andha Karumbu Kadikkayilae
Naan Pazhasai Nenaikkayilae
Pal Aruvaa Pattiduchae
Meesai Vettaruvaa
En Aasai Sutturumaa
Un Vesham Kalainchiruma
Naan Nesam Ninaikkayile
Nenjurugi Poyiruche
Nenjurugi Poyiruche
Manasu Aaralayen
Kobam Theeralaiye
Naam Vaazhvum Maaralaiye
Un Mugathai Paarkkaiyile
En Thunbam Parandhiruche
Raasaa Maaridanum
En Paasam Purinchikkanum
Pudhu Paadhai Paarthukkanum
Nalla Thisaiyil Nadakkaiyile
Edhir Kaalam Porandhidume
Edhir Kaalam Porandhidume
Vaazhkkai Naadagamaa
En Porappu Poi Kanakkaa
Dhinamdhorum Verum Kanavaa
En Vidhiya Ezhudhaiyile
Andha Saamiyum Urangiyadhe
Aiyaa Kalangaadhe
Sooriyan Udaiyaadhe
Oor Vancham Nilaikkaadhe
Nee Ula Naal Mattumdhaan
Indha Usirum Pogaadhe
Indha Usirum Pogaadhe
Seevalaperi Pandi [1994] Songs List
Kelakku Sevakaiyile
Singers: Rajagopal, Sujatha Mohan, P. G. Srikanth
Lyrics: K. Rajeswar
Aruvi Onnu Kudhikudhu
Singer: Swarnalatha
Lyrics: Vairamuthu
Masala Araikura Maina
Singers: Mano, Asha Latha
Lyrics: Vairamuthu
Oyila Paadum Paatula
Singer: K. S. Chithra
Lyrics: Vairamuthu
Tirunelveli Seemayile
Singer: S. P. Balasubrahmanyam
Lyrics: Vairamuthu
Comments
comments