April 18, 2018
Maanu Tholu Undu Song Lyrics
Maanu Tholu Undu Song Lyrics: Maanu Tholu Undu is a song from the 2001 Tamil movie Kasi [Kaasi], written and directed by Vinayan and produced by Aroma Mani under Sunitha Productions.
Kasi features Vikram, Kaveri, Kavya Madhavan, Manivannan, Vinu Chakravarthy, Rajeev, Chandrasekhar, Charle, Thalaivasal Vijay and others.
This film was a remake of the Vasanthiyum Lakshmiyum Pinne Njaanum, A 1999 Malayalam film directed by Vinayan himself featuring Kalabhavan Mani. The film was also remade in Telugu as Seenu Vasanthi Lakshmi starring R. P. Patnaik and in Kannada as Namma Preethiya Ramu featuring Darshan in the lead role.
Five Star Audio is the music label of this movie. This song was composed by Ilaiyaraaja with lyrics penned by Pulamaipithan. Maanu Tholu Undu song was rendered by singer Hariharan.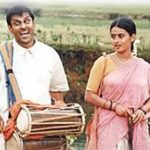 Maanu Tholu Undu Lyrics
Movie: Kasi [2001]
Music Label: Five Star Audio
Music: Ilaiyaraaja
Lyrics: Pulamaipithan
Singer: Hariharan
Check out 'Maanu Tholu Undu Lyrics' here..
Maanutholu Undu
Manja Kadambu Undu
Maanutholu Undu
Manja Kadambu Undu
Manushan Kandu Thandha Kottu Melam
Hey Hey..
Kaattila Naattila Paattula Mangala
Seidhi Solla Varum Kottu Melam
Kottu Melam
Indha Melatthu Satthathai
Kaettu Manasuga Thullaadho
Ilam Dhukkathil Vaadura
Yezhaikku Inbatha Thaaraa Thena Ootthaadho
Maanutholu Undu
Manja Kadambu Undu
Manushan Kandu Thandha Kottu Melam
Kottu Melam
Kaattila Naattila Paattula Mangala
Seidhi Solla Varum Kottu Melam
Kottu Melam
Sinnanjirusuga Kannaalam Kattikka
Venumammaa Andha Kottu Melam
Kottu Maelam Nalla Kottu Melam
Vanna Molappaai Thanna Chomandhittu
Pogaiyilum Venum Kottu Melam
Kottu Melam Venum Kottu Melam
Endhendha Koottani Vote-Ukku Ponaalum
Thaalam Podum Indha Kottu Melam
Kottu Melam
Naalu Paer Thoalgalil Pogira Aalukku
Kottanum Kottanum Kottu Melam
Kottu Melam
Hey Saathi Vedham Melam Paarkkaadhu
Ooru Paeru Thaalam Paarkkaadhu
Thatta Thatta Thaalamum Nikkum
Vaazhkaiyoda Muttiye Nikkum
Maanuthoalu Undu
Manja Kadambu Undu
Maanutholu Undu
Manja Kadambu Undu
Manushan Kandu Thandha Kottu Melam
Kottu Maelam
Kottu Maelam
Kottu Chattham Kaettu Koottam Koodi Vandhaal
Melatthukku Andha Velai Undu
Koottam Kalanjadhum Aattam Mudinjadhum
Veettukkulle Oru Moolai Undu
Kootti Kazhachu Naan Paarkkira Vellaiyil
Naanum Inge Oru Kottu Melam
Paattu Padikkiren Koottam Rasikkudhu
Andha Santhoshamum Konja Neram
Kaalnagatthil Kanngal Irukku
Naan Nadakka Paadhai Irukku
Gnyaana Kannu Ulla Irukku
Nambikkathaan Sondham Enakku
Maanuthoalu Undu
Manja Kadambu Undu
Maanutholu Undu
Manja Kadambu Undu
Manushan Kandu Thandha Kottu Melam
Kottu Maelam
Indha Melatthu Satthathai
Kaettu Manasuga Thullaadho
Ilam Dhukkathil Vaadura
Yezhaikku Inbatha Thaaraa Thena Ootthaadho
Maanutholu Undu
Manja Kadambu Undu
Manushan Kandu Thandha Kottu Melam
Kottu Melam
Kaattila Naattila Paattula Mangala
Seidhi Solla Varum Kottu Melam
Kottu Melam
Kasi Tamil Movie Songs
Naan Kaanum Ulagangal
En Mana Vaanil
Aathorathile Aalamaram
Maanu Tholu Undu
Punniyam Thedi Kasikku
Rokkam Irukura Makkal Manasula
Comments
comments