July 28, 2021
Manithan Enbavan Lyrics | Sumaithaangi | Gemini Ganesan | Kannadasan
Manithan Enbavan Lyrics | Sumaithaangi | Gemini Ganesan | Kannadasan: Manithan Enbavan is a very famous Tamil song from the 1962 film Sumaithaangi, written and directed by C. V. Sridhar based on the story of writer Ra. Ki. Rangarajan. This movie was produced by Kovai Chezhiyan under the banner Visalakshi Films.
Sumaithaangi Tamil movie features Gemini Ganesan, R. Muthuraman, Devika, L. Vijayalakshmi, Nagesh, Leelavathi, K. Sarangkapani, V. S. Raghavan, K. Balaji, S. A. Natarajan, K. R. Indira Devi, G. Sakunthala, Haranath, and others.
Manithan Enbavan song lyrics were penned by kavignar Kannadasan and the song was composed by music directors pair Viswanathan–Ramamoorthy. This song was rendered by playback singer P. B. Sreenivas.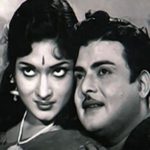 Manithan Enbavan Lyrics
Movie: Sumaithaangi [1962]
Music: Viswanathan–Ramamoorthy
Lyrics: Kannadasan
Vocals: P. B. Sreenivas
Label: Gramaphone Company
Check out 'Manithan Enbavan Lyrics' here..
Manithan Enbavan
Deivam Aagalam
Manithan Enbavan
Deivam Aagalam
Manithan Enbavan..
Deivam Aagalam
Vaari Vaari Vazhangumbothu Vallal Aagalam
Vaazhai Pole Thannai Thandhu Thiyagi Aagalam
Urudhiyodu Mezhugu Pole Oliyai Veesalam
Manidhan Enbavan Deivam Aagalam
Deivam Aagalam
Oorukendru Vaazhndha Nenjam Silaigal Aagalam
Uravukendru Virindha Ullam Malargal Aagalam
Oorukendru Vaazhndha Nenjam Silaigal Aagalam
Uravukendru Virindha Ullam Malargal Aagalam
Yarukendru Azhudha Podhum Thalaivan Aagalam
Manam Manam Adhu Kovil Aagalam
Manidhan Enbavan Deivam Aagalaam |3|
Manam Irundhaal Paravai Kootil Maangal Vaazhalam
Vazhi Irundhaal Kadugukulle Malaiyai Kaanalam
Manam Irunthaal Paravai Kootil Maangal Vaazhalam
Vazhi Irunthaal Kadugukulle Malaiyai Kaanalam
Thuninthuvittal Thalaiyil Entha Sumayum Thaangalam
Gunam Gunam Adhu Kovil Aagalam
Manithan Enbavan Deivam Aagalaam
Vaari Vaari Vazhangumpothu Vallal Aagalam
Vaazhai Polae Thannai Thanthu Thiyagi Aagalam
Urudhiyodu Mezhugu Polae Oliyai Veesalaam
Manithan Enbavan Deivam Aagalaam..
Deivam Aagalaam
Sumaithaangi [1962] Tamil Movie Songs List
Song: Mambazhathu Vandu
Lyrics: Kannadasan
Singers: P. B. Sreenivas, S. Janaki
Song: Manithan Enbavan
Lyrics: Kannadasan
Singer: P. B. Sreenivas
Song: Mayakkamma
Lyrics: Kannadasan
Singer: P. B. Sreenivas
Song: En Annai Seitha
Lyrics: Kannadasan
Singer: S. Janaki
Song: Endhan Paarvaiyin
Lyrics: Kannadasan
Singers: P. B. Sreenivas, S. Janaki
Song: Radhaiketra Kannano
Lyrics: Kannadasan
Singer: S. Janaki
Song: Puriyadhu
Lyrics: Kannadasan
Singer: P. B. Sreenivas
Song: Malaiyai Padaithavan
Lyrics: Kannadasan
Singer: S. Janaki
Comments
comments