March 26, 2021
MGR Jayalalithaa Tamil Movies List | M. G. Ramachandran
MGR Jayalalithaa Tamil Movies List | M. G. Ramachandran: The pair of Puratchi Thalaivar 'MGR' and Puratchi Thalaivi 'Jayalalithaa' is considered as one of the best onscreen pairs of Tamil Cinema. They have acted together in 28 Tamil movies and most of them are blockbuster hit films.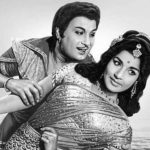 J. Jayalalithaa is one of the unforgettable names in Indian Cinema and Politics. She was a trained classical dancer and made her foray into film industry as a child artist in 1961. She used act in theater as well. Jayalalithaa's debut Tamil film in the leading role was Vennira Aadai (1965), directed by C. V. Sridhar.
Her first film with MGR was 1965 super hit film 'Aayirathil Oruvan', directed by B.R. Panthalu. The pair went to onto act together in 28 super hit movies.
In nearly two decades of her film career She had acted in more than 140 movies in different languages including Tamil, Kannada, Telugu and Hindi. Later as we all know, she ventured into politics and served as the chief minister of Tamil Nadu for 6 times for over fourteen years between 1991 and 2016. Lets take a look at the list of MGR – Jayalalithaa Tamil Movies..
MGR Jayalalithaa Tamil Movies List
1. Aayirathil Oruvan [1965]
Director: B. R. Panthulu
Story: K. J. Mahadevan
Music: Viswanathan-Ramamoorthy
Lyrics: Vaali, Kannadasan
Cast: M. N. Nambiar, Manohar, Nagesh
Production: Padmini Pictures
2. Kanni Thaai [1965]
Director: M. A. Thirumugam
Story: N/A
Music: K. V. Mahadevan
Lyrics: Panju Arunachalam
Cast: K. R. Vijaya, Nambiar, Nagesh
Production: Devar Films
3. Mugaraasi [1966]
Director: M. A. Thirumugam
Story: G. Balasubramaniam
Music: K. V. Mahadevan
Lyrics: Kannadasan
Cast: Gemini Ganesan, Jayanthi, Nagesh
Production: Devar Films
4. Thanippiravi [1966]
Director: M. A. Thirumugam
Story: Madurai Thirumaran
Music: K. V. Mahadevan
Lyrics: Kannadasan
Cast: Manorama, Nambiar, Nagesh
Production: Devar Films
5. Chandrodayam [1966]
Director: K. Shankar
Based on: It Happened One Night
Music: M. S. Viswanathan
Lyrics: Vaali
Cast: M. R. Radha, Nambiar, Pandari Bai
Production: Saravana Films
6. Thaikku Thalaimagan [1967]
Director: M. A. Thirumugam
Story: Chinnappa Thevar
Music: K. V. Mahadevan
Lyrics: Kannadasan
Cast: S. V. Ranga Rao, Nagesh
Production: Devar Films
7. Arasa Kattalai [1967]
Director: M. G. Chakrapani
Screenplay: R. M. Veerappan, V. Lakshmanan
Music: K. V. Mahadevan
Lyrics: Vaali, N. M. Muthukkoothan
Cast: B. Saroja Devi, S. A. Ashokan
Production: Sathyaraja Pictures
8. Kaavalkaaran [1967]
Director: P. Neelakantan
Written by: V. Lakshmanan, R. M. Veerappan
Music: M. S. Viswanathan
Lyrics: Alangudi Somu, Vaali
Cast: M. N. Nambiar, Ashokan, Sivakumar
Production: Sathiya Movies
9. Puthiya Bhoomi [1968]
Director: Chanakya
Written by: S. S. Thennarasu
Music: M. S. Viswanathan
Lyrics: Kannadasan, Poovai Senguttavan
Cast: Sheela, Nambiar, Ashokan, Nagesh
Production: J. R. Movies
10. Thaer Thiruvizha [1968]
Director: M. A. Thirumugam
Story: Chinnappa Thevar
Music: K. V. Mahadevan
Lyrics: Maruthakasi, Mayavanathan
Cast: R. Muthuraman, Nagesh
Production: Devar Films
11. Kudiyirundha Koyil [1968]
Director: K. Shankar
Screenplay: Swornam
Music: M. S. Viswanathan
Lyrics: Vaali, Pulamaipithan, Alangudi Somu
Cast: Rajasree, Pandari Bai, M. N. Nambiar
Production: Saravana Screens
12. Kadhal Vaaganam [1968]
Director: M. A. Thirumugam
Story: T. N. Balu
Music: K. V. Mahadevan
Lyrics: Maruthakasi, Mayavanathan
Cast: O. A. K. Devar, R. S. Manohar
Production: Devar Films
13. Kanavan [1968]
Director: P. Neelakantan
Story: M. G. Ramachandran
Music: M. S. Viswanathan
Lyrics: Alangudi Somu, Vaali
Cast: C. R. Vijayakumari, Asokan, Cho
Production: Valli Films
14. Kannan En Kadhalan [1968]
Director: Pa. Neelakantan
Screenplay by: R. M. Veerappan
Music: M. S. Viswanathan
Lyrics: Alangudi Somu, Vaali
Cast: Vanisree, R. Muthuraman
Production: Sathya Movies
15. Oli Vilakku [1968]
Director: Tapi Chanakya
Story: O. P. Ralhan
Music: M. S. Viswanathan
Lyrics: Vaali
Cast: Sowcar Janaki, Ashokan, Cho
Production: Gemini Studios
16. Ragasiya Police 115 [1968]
Director: B. R. Panthulu
Story: G. Balasubramaniam
Music: M. S. Viswanathan
Lyrics: Kannadasan, Vaali
Cast: M. N. Nambiar, S. A. Ashokan, Nagesh
Production: Padmini Pictures
17. Nam Naadu [1969]
Director: C. P. Jambulingam
Story: Mullapudi Venkata Ramana
Music: M. S. Viswanathan
Lyrics: Vaali
Cast: S. V. Ranga Rao, Ashokan, Nagesh
Production: Vijaya International
18. Adimai Penn [1969]
Director: K. Shankar
Story: R. M. Veerappan, S. Lakshmanan
Music: K. V. Mahadevan
Lyrics: Vaali, Pulamaipithan, Alangudi Somu
Cast: Ashokan, Manohar, Chandrababu, Cho
Production: Emgeeyaar Pictures
19. Mattukkara Velan [1970]
Director: P. Neelakantan
Screenplay: A. L. Narayanan
Music: K. V. Mahadevan
Lyrics: Vaali, Kannadasan
Cast: Lakshmi, S. A. Ashokan, Cho
Production: Jayanthi Films
20. Thedi Vandha Mappillai [1970]
Director: B. R. Panthulu
Story: Rajashri
Music: M. S. Viswanathan
Lyrics: Kannadasan, Vaali
Cast: S. A. Ashokan, Cho, M. V. Rajamma
Production: Padmini Pictures
21. Engal Thangam [1970]
Director: Krishnan-Panju
Written by: Murasoli Maran
Music: M. S. Viswanathan
Lyrics: Vaali
Cast: A. V. M. Rajan, S. A. Ashokan, Cho
Production: Megala Pictures
22. En Annan [1970]
Director: Pa. Neelakandhan
Screenplay: Sornam
Music: K. V. Mahadevan
Lyrics: Kannadasan, Vaali
Cast: R. Muthuraman, M. N. Nambiar, Cho
Production: Venus Pictures
23. Kumari Kottam [1971]
Director: P. Neelakantan
Story: V. C. Guhanathan
Music: M. S. Viswanathan
Lyrics: Alangudi Somu, Pulamaipithan
Cast: Lakshmi, Sachu, Cho
Production: Kay Cee Films
24. Oru Thaai Makkal [1971]
Director: P. Neelakantan
Story: Sachin Bhowmick
Music: M. S. Viswanathan
Lyrics: Kannadasan, Vaali
Cast: Muthuraman, Nambiar, Nagesh
Production: Nanjil Productions
25. Neerum Neruppum [1971]
Director: P. Neelakantan
Screenplay: Acharya
Music: M. S. Viswanathan
Lyrics: Vaali
Cast: S. A. Ashokan, R. S. Manohar, Cho
Production: Neo Manijeh Cine Productions
26. Annamitta Kai [1972]
Director: M. Krishnan Nair
Story: G. Balasubramaniam
Music: K. V. Mahadevan
Lyrics: Vaali
Cast: Bharathi, Nambiar, Manorama
Production: Ramachandra Productions
27. Raman Thediya Seethai [1972]
Director: P. Neelakantan
Story: Maa. Raa.
Music: M. S. Viswanathan
Lyrics: Kannadasan, Vaali
Cast: Nambiar, V. K. Ramasamy, Nagesh
Production: Jayanthi Films
28. Pattikaattu Ponnaiya [1973]
Director: B. S. Ranga
Story: Shyamala (Devi)
Music: K. V. Mahadevan
Lyrics: Kannadasan, Pulamaipithan
Cast: Rajasree, Nambiar, Nagesh
Production: Ramachandra Productions
List of MGR – Jayalalithaa Tamil Movies 
| | | |
| --- | --- | --- |
| Movie | Year | Director |
| Aayirathil Oruvan | 1965 | B. R. Panthulu |
| Kanni Thaai | 1965 | M. A. Thirumugam |
| Mugaraasi | 1966 | M. A. Thirumugam |
| Thanippiravi | 1966 | M. A. Thirumugam |
| Chandrodayam | 1966 | K. Shankar |
| Thaikku Thalaimagan | 1967 | M. A. Thirumugam |
| Arasa Kattalai | 1967 | M. G. Chakrapani |
| Kaavalkaaran | 1967 | P. Neelakantan |
| Puthiya Bhoomi | 1968 | Chanakya |
| Thaer Thiruvizha | 1968 | M. A. Thirumugam |
| Kudiyirundha Koyil | 1968 | K. Shankar |
| Kadhal Vaaganam | 1968 | M. A. Thirumugam |
| Kanavan | 1968 | P. Neelakantan |
| Kannan En Kadhalan | 1968 | P. Neelakantan |
| Oli Vilakku | 1968 | Tapi Chanakya |
| Ragasiya Police 115 | 1968 | B. R. Panthulu |
| Nam Naadu | 1969 | C. P. Jambulingam |
| Adimai Penn | 1969 | K. Shankar |
| Mattukkara Velan | 1970 | P. Neelakantan |
| Thedi Vandha Mappillai | 1970 | B. R. Panthulu |
| Engal Thangam | 1970 | Krishnan-Panju |
| En Annan | 1970 | P. Neelakantan |
| Kumari Kottam | 1971 | P. Neelakantan |
| Oru Thaai Makkal | 1971 | P. Neelakantan |
| Neerum Neruppum | 1971 | P. Neelakantan |
| Annamitta Kai | 1972 | M. Krishnan Nair |
| Raman Thediya Seethai | 1972 | P. Neelakantan |
| Pattikaattu Ponnaiya | 1973 | B. S. Ranga |
Comments
comments