August 8, 2022
Oru Paatale Solli Lyrics
Oru Paatale Solli Lyrics: Oru Paatale Solli is a song from the 1992 Tamil movie 'Deiva Vaakku', directed by M. S. Madhu and produced by T. Siva under the banner Amma Creations. The film was a remake of the Telugu film Sankeertana (1987) starring Nagarjuna and Ramya Krishna in the lead.
Deiva Vaakku Tamil fim features Karthik, Revathi, Vijayakumar, Srividya, Radha Ravi, Vadivelu, Yuvasri, Senthil, Pandu, Singamuthu A. K. Veerasami, Brinda, Baby Sadhana, Baby Sajana, Krishnamoorthy, and others.
Oru Paatale Solli song lyrics were written by lyricist Vaali and the song was composed by music director Ilaiyaraaja. This song was sung by playback singer S. P. Balasubrahmanyam.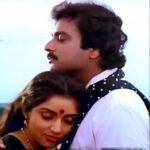 Oru Paatale Solli Lyrics
Movie: Deiva Vaakku [1992]
Music: Ilaiyaraaja
Lyrics: Vaali
Singer: S. P. Balasubrahmanyam
Cast: Karthik, Revathi
Check out 'Oru Paatale Solli Song Lyrics' here..
Naan Pethedhuthidaadha
Muththu Mani Thaere
Naan Thatheduthidaadha
Thangamani Cheerae
Oru Sondham Irundhum
Bandham Irundhum Sollavillaiye..
Adi Kanne.. Toongaadhe..
Siru Penne.. Kalangaadhe..
Oru Paattale Solli Azhaichen
Oru Palan Kettu Kannu Muzhichen
Adi Aaththaadi Onna Nenachen
Oru Anbaale Mettu Padichen
Un Sogam Parakka
En Paattu Virundhu
Adha Kettu Marandhaa
En Paattu Marundhu
Nee Kooda Irundhaa
Adhu Podhum Enakku
Vaadi Irundha Thunbam Enakku
Oru Paattaale Solli Azhaichen
Oru Palan Kettu Kannu Muzhichen
Naan Aadhaaram Illaa
Andharaththu Vaanam
En Naavodu Serum
Naattuppura Gaanam
En Sondha Kadhaiya
Solli Padikka Sandhamillaiye
Adhu Sonnaa Aaraadhu
En Sondham Maaraadhu
Naan Thaayaara Paarththadhum Undu
Aanaal Thaayinnu Sollavum Illa
Dhinam Paalootti Enna Valartha..
Parivaana Sondhamum Illa
Indha Ooru Muzhukka
En Bandha Janangga
Unmai Irukkum Vella Manangga
Oru Kaaval Irukku
En Kaiyi Vanangga
Naan Gaanam Padichen Kanna Thorakka
Naan Thaayaara Paarththadhum Undu
Aanaal Thaayinnu Sollavum Illa
Oru Ee Erumbu Kadichaalum
Thaai Manasu Nogum
Nee Paai Virichi Paduththaale
Ippo Enna Aagum
Unna Alli Edhuthu Ootti Valarthu
Kaathu Kidandhaa
Andha Thaaiyoda Mugam Paaru
Kannu Oru Naalum Urangaadhu
Naan Paadaadha Paattugal Illa
Adha Ketkaadha Aatkalum Illa
Naan Naavaara Paadi Azhaicha
Vandhu Paarkkaadha Paarvaiyum Illa
En Thaayi Kodutha Oru Sakthi Irukku
Unna Thatti Ezhuppa Buddhi Irukku
Unna Thaavi Anaikka Oru Neram Irukku
Andha Neram Varaikkum Bhaaram Enakku
Naan Paadaadha Paattugal Illa
Adha Ketkaadha Aatkalum Illa
Deiva Vaakku [1992] Tamil Songs List
1. Indha Ammanukku Entha Ooru
Singer: Ilaiyaraaja
Lyrics: Vaali
2. Oru Paatale Solli
Singer: S. P. Balasubrahmanyam
Lyrics: Vaali
3. Valli Valli Enna
Singers: Ilaiyaraaja, S. Janaki
Lyrics: Vaali
4. Katthuthadi Raakkozhi
Singer: Ilaiyaraaja
Lyrics: Gangai Amaran
5. Oorellam Saamiyaga
Singers: Jayachandran, S. Janaki
Lyrics: Gangai Amaran
Comments
comments