February 3, 2023
Pathu Thala – Namma Satham Lyrics Video Released | AR Rahman
Pathu Thala – Namma Satham Lyrics Video Released | AR Rahman: The first single from the much awaited Tamil film Pathu Thala, 'Namma Satham' Lyrics Video Released Today. The song is getting good response from the viewers in YouTube.
Pathu Thala – Namma Satham Lyrics were written by lyricist Vivek and the song was composed by Isai Puyal AR Rahman. This song was sung by A.R. Rahman, and Yogi Sekar.
Pathu Thala Tamil film was directed by Obeli N Krishna and produced by Jayantilal Gada, K. E. Gnanavel Raja under the banner Studio Green and Pen Studios. The film is an official remake of the Kannada film 'Mufti' , directed by Narthan with Shiva Rajkumar and Sriimurali in the lead.
Pathu Thala features Silambarasan TR, Gautham Karthik, Priya Bhavani Shankar, Teejay Arunasalam, Kalaiyarasan, Redin Kingsley, Gautham Vasudev Menon, Kalaiyarasan, Anu Sithara, and Others.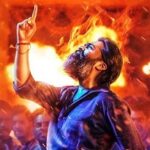 Namma Satham Lyrics
Movie: Pathu Thala
Music: A. R. Rahman
Singer: A. R. Rahman, Yogi Sekar
Lyrics: Vivek
Music Label: Sony Music
Musicians
Shenhai – Omkar
Live Percussion – P.Guberan, Krishna Kishore, Hariprasad
Additional Vocals – Sreekanth Hariharan, Maanasi G Kannan, Malavika Rajesh, Yamini Gantasala, Pooja
Venkatraman, Aparna Harikumar, Padmaja Sreenivasan
Rhythm Arrangement – Kumaran Sivamani
Additional Programming – Nakul Abhyankar, Prashanth Venkat, Sarthak Kalyani
Vocal Recordings – Suryansh
Sound Engineers – Panchathan Record Inn, Chennai – Suresh Permal, Karthik Sekaran, Aravind Crescendo
AM Studios, Chennai – S Sivakumar, Pradeep Menon, Manoj Raman, Sathya, Ainul
Mixed by Nitish R Kumar, T R Krishna Chetan
Mastered by Suresh Permal
Apple Digital Master by Riyasdeen Riyan
Musician Coordinator – Samidurai R, Abdul Haiyum, T M Faizudeen
ARR Video Team – Ashik Mohammed, Vikram Sekar
Pathu Thala Cast & Crew
Cast: Silambarasan TR, Gautham Karthik, Priya Bhavani Shankar, Gautham Vasudev Menon, Kalaiyarasan, Teejay
Arunasalamm, Anu Sithara & Others
Produced by: Jayantilal Gada, K.E.Gnanavelraja
Co producer – Neha Gnanavelraja
Banner: Studio Green & Pen Studios
Studio Green CEO – G. Dhananjayan
Executive Producer – A. G. Raja
Directed by: Obeli.N.Krishna
DOP: Farook J Basha
Editor: Praveen KL
Art: Milan
Dialogue: R.S.Ramakrishnan
Choreographer – Sandy
Stunt: R.Sakthi Saravanan
Screenplay: Obeli.N.Krishna
Story: Narthan
Lyrics: Snekan,Kabilan,Vivek
Costume Designer: Uthra Menon
Audiographer: S.Sivakumar
Sound Design: Krishnan Subramanian
Colorist: KS.Rajasekaran
CG: Nxgen Media
Production Executive: Vairam Kumar
Production Controller: EV Dinesh Kumar
Stills: V. Sittrarasu
Publicity Design: Thandora, DSTAGE CLINTON
Pro: Suresh Chandra, Rekha D'one
Digital Marketing: Digitally
Comments
comments