April 23, 2018
Ponnai Virumbum Bhoomiyile Lyrics
Ponnai Virumbum Bhoomiyile Lyrics: Ponnai Virumbum Bhoomiyile is a song from the 1962 Tamil movie Aalayamani, directed by K. Shankar and written by Javar Seetharaman. The film was produced by P. S. Veerappa under the banner P. S. V. Pictures. Aalayamani features Sivaji Ganesan, S. S. Rajendran, B. Saroja Devi, M. R. Radha, C. R. Vijayakumari, M. V. Rajamma, Pushpalatha, P. S. Veerappa, T. R. Ramachandran, Chittor V. Nagaiah, K. Natarajan and others.
The film was remade in Telugu, Hindi and Malayalam as Gudi Gantalu [1964], Aadmi [1968], Oru Raagam Pala Thaalam [1979] respectively. EMI Records is the music label of this movie. This song was composed by Viswanathan–Ramamoorthy with lyrics penned by Kannadasan. Ponnai Virumbum Bhoomiyile song was rendered by T. M. Soundararajan.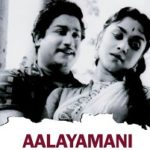 Ponnai Virumbum Bhoomiyile Lyrics
Movie: Aalayamani [1962]
Music Label: EMI Records
Music: Viswanathan–Ramamoorthy
Lyrics: Kannadasan
Singer: T. M. Soundararajan
Check out the lyrics here..
Ponnai Virumbum Boomiyile
Ennai Virumbum Oaruyire
Pudhaiyal Thaedi Alayum Ulagil
Idhayam Thaedum Ennuyire
Ponnai Virumbum Boomiyile
Ennai Virumbum Oaruyire
Pudhaiyal Thaedi Alayum Ulagil
Idhayam Thaedum Ennuyire
Aayiram Malaril Oru Malar Neeye
Aalayamaniyin Innisai Neeye
Aayiram Malaril Oru Malar Neeye
Aalayamaniyin Innisai Neeye
Thaaymai Enakke Thandhavar Neeye
Thanga Gopuram Poala Vandhaaye
Pudhiya Ulagam Pudhiya Paasam
Pudhiya Dheepam Kondu Vandhaaye
Ponnai Virumbum Boomiyile
Ennai Virumbum Oaruyire
Pudhaiyal Thaedi Alayum Ulagil
Idhayam Thaedum Ennuyire
Parandhu Sellum Paravaiyai Kaettaen
Paadich Chellum Kaatraiyum Kaettaen
Parandhu Sellum Paravaiyai Kaettaen
Paadich Chellum Kaatraiyum Kaettaen
Alaiyum Nenjai Avaridam Sonnen
Azhaiththu Vandhaar Unnidam Ennai
Indha Manamum Indha Uravum
Endrum Vendum Ennuyire
Ponnai Virumbum Boomiyile
Ennai Virumbum Oaruyire
Pudhaiyal Thaedi Alayum Ulagil
Idhayam Thaedum Ennuyire
Aala Maraththin Vizhudhinai Poalae
Anaiththu Neeyum Uravu Thandhaayae
Aala Maraththin Vizhudhinai Poalae
Anaiththu Neeyum Uravu Thandhaayae
Vaazhai Kandru Annaiyin Nizhalil
Vaazhvadhu Poalae Vaazha Vaiththaaye
Uruvam Irandu Uyirgal Irandu
Ullam Ondre Ennuyire
Ponnai Virumbum Boomiyile
Ennai Virumbum Oaruyire
Pudhaiyal Thaedi Alayum Ulagil
Idhayam Thaedum Ennuyire
Aalayamani Songs Lyrics
Kallellam Manikka Kallaaguma
Satti Sutthadhada
Ponnai Virumbum Bhoomiyile
Kannana Kannanukku Avasaramaa
Maanattam Thanga Mayilaattam
Thookkam Un Kangalai
Karunai Magan
Comments
comments