July 16, 2022
Poonkuyil Paattu Pidichiruka Lyrics
Poonkuyil Paattu Pidichiruka Lyrics: Poonkuyil Paattu Pidichiruka is a hit song from the 1999 Tamil movie 'Nee Varuvai Ena', written and directed by Rajakumaran on his directorial debut. The film was produced by R. B. Choudary under the banner Super Good Films.
Nee Varuvai Ena [1999] Tamil film features Parthiban, Devayani, Ajith Kumar, Vijayakumar, Jaiganesh, Sathyapriya, Crane Manohar, Ramesh Khanna, Vadivukkarasi, Vaiyapuri, Fathima Babu,Madhan Bob, Shanmugasundaram, Singamuthu, T. S. Raghavendra, Gowthami Vembunathan, Saranya Nag, Suvalakshmi, Kanal Kannan, Master Mahendran, and others.
Poonkuyil Paattu Pidichiruka Song Lyrics were penned by Viveka and the song was composed by music director S. A. Rajkumar. This song was rendered by playback singers Arunmozhi and Harini.
Nee Varuvai Ena Tamil was later remade in Telugu as Ninne Premistha (2000) starring Nagarjuna, Srikanth, and Soundarya.
The Kannada remake of Nee Varuvai Ena is Ninne Preethisuve (2002) featuring Ramesh Aravind, Shiva Rajkumar and Raasi. The film was also remade in Malayalam as 'Pranayamanithooval' [2002] starringVineeth Kumar, Jayasurya and Gopika.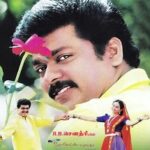 Poonkuyil Paattu Pidichiruka Lyrics
qaMovie: Nee Varuvai Ena [1999]
Music: S. A. Rajkumar
Lyrics: Viveka
Singer: Arunmozhi, Harini
Label: Sa Re Ga Ma, Star Music
Check out 'Poonkuyil Paattu Pidichiruka' Song Lyrics here
Poonkuyil Paattu Pidichiruka
Poonkaatre Pidichiruka
Pournami Vaanam Pidichiruka
Panikaatre Pidichiruka
Poonkuyil Paatu Pidichirukka
Poongaatre Pidichirukka
Pournami Vaanam Pidichirukka
Pani Kaatre Pidichirukka
Chinna Chinna Natchathiram Pidichirukka
Sutri Varum Minminigal Pidichirukka
Adi Kiliye Nee Sollu
Velli Nilave Nee Sollu
Poonkuyil Paatu Pidichiruka
Poonkaatrae Pidichiruka
Pournami Vaanam Pidichiruka
Panikaatrae Pidichiruka
Jannalukulle Vandhu Kannadikira
Andha Vennilavai Pidichiruka
Kangal Thirandhu Dhinam Kaathukidandhen
Ennai Kandukolla Manasiruka
Ilamanasukul Kanavugalai
Iraki Vachadhu Nenaipiruka
Megam Kootam Maranchirukae
Meendum Sera Vazhi Iruka
Adi Kiliye Nee Sollu
Velli Nilave Nee Sollu
Poonguyil Paattu Pidichirukka
Poongaatrae Pidichirukka
Pournami Vaanam Pidichirukka
Panikaatrae Pidichirukk
Aalamarathil Un Perai Sedhuki
Naan Rasithadhu Pidichiruka
Kottum Mazhaiyil Andha Otrai Kudaiyil
Namma Nanainjadhu Nenapiruka
Thiranthirukira Manasukulle
Thirudichendradhu Pidichiruka
Vaasam Poga Pidichiruka
Vaazhndhu Paarka Vazhi Iruka
Adi Kiliyae Nee Sollu
Velli Nilavae Nee Sollu
Poonkuyil Paatu Pidichirukku
Poonkaatrum Pidichirukku
Pournami Vaanam Pidichirukku
Panikaatrum Pidichirukku
Chinna Chinna Natchathiram Pidichirukku
Sutri Varum Minminigal Pidichirukku
Adi Kiliye Nee Sollu
Velli Nilave Nee Sollu
Poonguyil Paattu Pidichiruku
Poongaatrum Pidichiruku
Pournami Vaanam Pidichiruku
Pournamiyum Pidichiruku
Nee Varuvai Ena [1999] Songs List
1. Oru Devathai Vanthu Vittaal
Lyrics: Ra. Ravishankar
Singer: Hariharan
2. Oru Devathai Vanthu [Female]
Lyrics: Ra. Ravishankar
Singer: K. S. Chithra
3. Paarthu Paarthu Kangal
Lyrics: Pa. Vijay
Singer: S. P. Balasubramaniam
4. Paarthu Paarthu Kangal [Female]
Lyrics: Pa. Vijay
Singer: K. S. Chithra
5. Poonguil Paattu Pidichirukka
Lyrics: Viveka
Singers: Arunmozhi, Harini
6. Athikaalaiyil Sevalai
Lyrics: Ramesh Vaidya
Singers: Sujatha, Unni Krishnan
Comments
comments