October 27, 2017
Raajali Nee Gaali Lyrics
Raajali Nee Gaali Lyrics: Raajali Nee Gaali is a song from an upcoming 2018 Tamil movie 2.0 [Enthiran 2.0], directed by S. Shankar and produced by Lyca Productions. The film is a sequel to the 2010 Tamil film Enthiran. 2.0 features Rajinikanth, Akshay Kumar, Amy Jackson, Sudhanshu Pandey, Adil Hussain, Kalabhavan Shajohn, Riyaz Khan and others. This song was composed by A. R. Rahman with lyrics penned by Madan Karky. Raajali Nee Gaali was rendered by Blaaze, Arjun Chandy and Sid Sriram.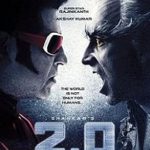 Raajali Nee Gaali Lyrics
Album: 2.0 [2017]
Music Label:
Music: A. R. Rahman
Lyrics: Madan Karky
Singers: Blaaze, Arjun Chandy, Sid Sriram
Check out the lyrics here..
Issac Asimo Peran Da
Sundakka Size Sooran Da
Issac Asimo Peran Da
Sundakka Size Sooran Da
Raajali Nee Gaali
Innaiku Engalukku Diwali
Raajali Semma Jolly
Naragathukku Nee Virundhaali
Massu Naan Kodi Maasu
Vedichaka Boom Pattaasu
Boss-Eh Naan Kutta Bossu
Maatikitta Machan Nee Poota Case-U
O Ohoho
Chaka Chaka Chaka Chachaha
Yayayay Yayaya Yayaya
Chaka Chaka Chaka Chachaha
Yayayay Yayaya Yayaya
Chaka Chaka Chaka Chachaha
Yayayay Yayaya Yayaya
O Ohoho Ohoho Ohoho
Yayaye Yayaye Yayaye
Naga Naga Naa
Aale Ambu Beerangi Nee Mullangi
Naga Naga Naa Thaan Iyangi
Un Kaadhula Vachen Sambagi
Naga Naga Naa
Aale Ambu Beerangi Nee Mullangi
Naga Naga Naa Thaan Iyangi
Un Kaadhula Vachen Sambagi
Naga Naga Naga Ranguski
Unaku Udha Vandhen Sanguskki
Pudi Pudi Pudi Da Mooka Pudi
Un Mookula Poonthen Thaaku Pudi
Raajali Nee Gaali
Innaiku Engalukku Diwali
Raajali Semma Jolly
Naragathukku Nee Virundhaali
Massu Naan Kodi Maasu
Vedichaka Boom Pattasu
Boss-Eh Naan Kutta Bossu
Maatikitta Machan Nee Poota Case-U
Machi Sikkikicho
Rekka Pichikicho
Achchoo
Comments
comments