January 6, 2018
Raakkozhi Kootalinga Lyrics
Raakkozhi Kootalinga Lyrics: Raakkozhi Kootalinga is a song from an upcoming 2018 Tamil movie Oru Nalla Naal Paathu Solren, written and Direction by P. Arumugakumar. This film was Produced by Ganesh Kalimuthu, Ramesh Kalimuthu and P. Arumugakumar. Oru Nalla Naal Paathu Solren features Vijay Sethupathi, Gautham Karthik, Niharika Konidela, Gayathrie, RJ Ramesh, Raj, Danny and others.
Think Music is the music label of this movie. This song was composed by Justin Prabhakaran with lyrics penned by Muthamil. Raakkozhi Kootalinga was rendered by Arivarasu.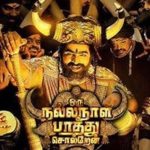 Raakkozhi Kootalinga Lyrics
Movie: Oru Nalla Naal Paathu Solren [2018]
Music Label: Think Music
Music: Justin Prabhakaran
Lyrics: Muthamil
Singer: Arivarasu
Check out the lyrics here..
Raakkozhi Kootalinga
Rajagantha Paaru
Nadu Raathiri Engala Pooti
Vaika Inga Yaru
Ragalannu Vandha
Vida Maattom Bandha
Adichalum Midhichalum
Ada Marupadi Adithadi Pannave Maattom
Jaichathan Enna
Thothathan Enna
Valainjalum Nelinjalum
Naanga Nenachatha Mudikkaama Adangave Maattom
Karuppu Sattaikran
Kaariyatthil Kettikaaran
Karuppu Sattaikran
Kaariyatthil Gettikaaran
Ekku Thappa Ekkachakka
Vesham Naanag Pottom
Kannadiya Paatha Kooda
Vera Vera Mugam Kaattum
Endha Ooru Ponaalum
Sondha Baasha Pesa Maattom
Andha Ooru Meena Pola
Neechalathaan Naanga Pottom
Parundhukku Vettai Patthaadappa
Parakkura Speedum Nikkaadappa
Virundhukku Neram Vandhachuna
Avan Vaatam Pottu Kattam Pottu Thookkuvaan
Pengal Theenda Maattom
Kangal Thoondinaalum
Naangal Seenda Maattom
Enna Aana Enna
Ellai Thaanda Maattom
Seizhum Thoyile Deivam
Kolgai Meera Maattom
Raakkozhi Kootalinga
Rajagantha Paaru
Nadu Raathiri Engala Pooti
Vaika Inga Yaru [2x]
Comments
comments