July 28, 2021
Radhaiketra Kannano Lyrics | Sumaithaangi | S. Janaki | Kannadasan
Radhaiketra Kannano Lyrics | Sumaithaangi | S. Janaki | Kannadasan: Radhaiketra Kannano is a famous Tamil song from the 1962 film 'Sumaithaangi', written and directed by C. V. Sridhar based on the story of writer Ra. Ki. Rangarajan. This movie was produced by Kovai Chezhiyan under the banner Visalakshi Films.
Sumaithaangi Tamil movie features Gemini Ganesan, R. Muthuraman, Devika, L. Vijayalakshmi, Nagesh, Leelavathi, K. Sarangkapani, V. S. Raghavan, K. Balaji, S. A. Natarajan, K. R. Indira Devi, G. Sakunthala, Haranath, and others.
Radhaiketra Kannano song lyrics were penned by kavignar Kannadasan and the song was composed by music directors duo of Viswanathan–Ramamoorthy. This song was rendered by playback singer S. Janaki.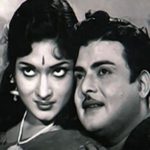 Radhaiketra Kannano Lyrics
Movie: Sumaithaangi [1962]
Music: Viswanathan–Ramamoorthy
Lyrics: Kannadasan
Vocals: S. Janaki
Label: Gramaphone Company
Check out 'Radhaiketra Kannano lyrics' here..
Raadhaikettra Kannano
Seethaikettra Raamano
Kothaikettra Kovalan Yaaro..
Azhagu Kottaikettra Kaavalan Yaaro
Raadhaikkettra Kannano
Seedhaikkettra Raamano
Kodhaikkettra Kovalan Yaaro
Azhagu Kottaikkettra Kaavalan Yaaro
Kaadhaliththavano
Adhil Pereduthavano
Kannirandil Penn Inathai
Kaithu Seibavano
Aatharippavano
Unnai Anusarippavano
Illai Aasai Theerumbothu
Nenjam Maarugindravano
Raadhaikkettra Kannano
Seethaikkettra Raamano
Kothaikkettra Kovalan Yaaro
Azhagu Kottaikkettra Kaavalan Yaaro
Siriththa Mugathai Oruthikkaaga Thirandhu Vaippaano
Avan Thaekku Marathaipola Urundu Thirandu Nirppaano..
Siriththa Mugathai Oruthikkaaga Thirandhu Vaitthaano
Avan Thaekku Marathaipola Urundu Thirandu Nirppaano
Mookkum Muzhiyum Paarkka Paarkka Mogathai Tharumo
Illai Munnazhagai Paarthavudan Moochchu Nindridumo
Raadhaikkettra Kannano
Seethaikkettra Raamano
Kothaikkettra Kovalan Yaaro
Azhagu Kottaikkettra Kaavalan Yaaro
Sarasakkalaa Saalaiyile Pattam Pettravano
Avan Saagasa Kalai Koodaththile Paadam Kattravano
Sarasakkalaa Saalaiyile Pattam Pettravano
Avan Saagasa Kalai Koodaththile Paadam Kattravano
Ilaiya Kanni Unnai Enni Yengi Nirppavano
Illai Innum Veru Yaaraiyenum Kaadhalippavano
Raadhaikettra Kannano
Seethaikettra Raamano
Kothaikettra Kovalan Yaaro..
Azhagu Kottaikettra Kaavalan Yaaro
Sumaithaangi [1962] Tamil Movie Songs List
Song: Mambazhathu Vandu
Lyrics: Kannadasan
Singers: P. B. Sreenivas, S. Janaki
Song: Manithan Enbavan
Lyrics: Kannadasan
Singer: P. B. Sreenivas
Song: Mayakkamma
Lyrics: Kannadasan
Singer: P. B. Sreenivas
Song: En Annai Seitha
Lyrics: Kannadasan
Singer: S. Janaki
Song: Endhan Paarvaiyin
Lyrics: Kannadasan
Singers: P. B. Sreenivas, S. Janaki
Song: Radhaiketra Kannano
Lyrics: Kannadasan
Singer: S. Janaki
Song: Puriyadhu
Lyrics: Kannadasan
Singer: P. B. Sreenivas
Song: Malaiyai Padaithavan
Lyrics: Kannadasan
Singer: S. Janaki
Comments
comments