June 13, 2018
Samba Naathu Saarakkaathu Lyrics
Samba Naathu Saarakkaathu Lyrics: Samba Naathu Saarakkaathu is a song from the Tamil movie Cheran Pandiyan, released in 1991. The film was directed by K. S. Ravikumar and produced by R. B. Choudary under the banner Super Good Films.
Cheran Pandiyan features Vijayakumar, Sarathkumar, Sreeja, Nagesh, Anand Babu, Manjula Vijayakumar, Goundamani, Anuja, Senthil, Chitra, K.S. Ravikumar, Kumarimuthu, Cheran and others. Lahari Music is the music label of this film. This song was composed and written by Soundaryan. This beautiful folk song Samba Naathu Saarakkaathu was beautifully rendered by playback singer Swarnalatha.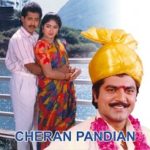 Samba Naathu Lyrics
Movie: Cheran Pandiyan [1991]
Music Label: Lahari Music
Music: Soundaryan
Lyrics: Soundaryan
Singer: Swarnalatha
Check out the lyrics here..
Thanne Naane Thaane Naane
Yemma Thanne Nanne Thaane Nanne Thanne Naane |2|
Thaanne Naane Thanne Naane
Yemma Thaanne Nanne Thanne Nanne Thaanne Naane |2|
Ye Samba Naathu Saarakkaathu
Machaan Sallunuthaan Veesudhunga Angam Pooraa
Machaan Sallunuthaan Veesudhunga Angam Pooraa
Ye Ponnu Vaasam Poovu Vaasam
Scent Poosikkalaam Kattikkinga Kaalam Pooraa
Enna Poosikkalaam Kattikkinga Kaalam Pooraa
Thananaane Thananaane Thananaane Thananaane
Theruvellam Kolamittu Kolamittu
Thiriyeththi Kuththuvilakku Vechchu Velakku Vechchu
Theruvellam Kolamittu Kolamittu
Thiriyeththi Kuththuvilakku Vechchu Velakku Vechchu
Onakkaaga Machchaan Kaaththiruppen
Orangaama Kannu Muzhichiruppen
Onakkaaga Machchaan Kaaththiruppen
Orangaama Kannu Muzhichiruppen
Yea Samba Naathu Saarakkaathu
Machaan Sallunuthaan Veesudhunga Angam Pooraa
Machaan Sallunuthaan Veesudhunga Angam Pooraa
Thananaane Thananaane Thananaane Thananaane
Kann Paarththu Mayangividum Mayangividum
Karungallum Karainjividum Karainjuvidum 
Kann Paarththu Mayangividum Mayangividum
Karungallum Karainjividum Karainjuvidum 
En Magaraasan Azhagaala
Manasellaam Kulirndhuvidum
Magaraasan Azhagaala
Manasellaam Kulirndhuvidum
Ye Samba Naathu Saarakkaathu
Machaan Sallunuthaan Veesudhunga Angam Pooraa
Machaan Sallunuthaan Veesudhunga Angam Pooraa
Ye Ponnu Vaasam Poovu Vaasam
Scent Poosikkalaam Kattikkinga Kaalam Pooraa
Enna Poosikkalaam Kattikkinga Kaalam Pooraa
Comments
comments