October 16, 2017
Un Nerukkam Lyrics
Un Nerukkam Lyrics: Un Nerukkam is a song from an upcoming 2017 Tamil movie Vidhi Madhi Ultaa, directed by Vijai Balaji. Vidhi Madhi Ultaa features Rameez Raja, Janani Iyer, Daniel Balaji, Sendrayan, Chithra Lakshmanan and others. Sony Music Entertainment is the music label of this movie. This song was composed by Ashwin Vinayagamoorthy with lyrics penned by Kabilan. Un Nerukkam was rendered by  Sid Sriram and Chinmayi Sripaada.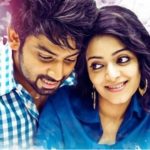 Un Nerukkam Lyrics
Movie: Vidhi Madhi Ultaa
Music Label: Sony Music Entertainment
Music: Ashwin Vinayagamoorthy
Lyrics: Kabilan
Singers: Sid Sriram, Chinmayi Sripaada
Check out the lyrics here..
Un Nerukkam Un Nerukkam
Vaazhumvareyil Nenjil Irukkum
Un Mayakkam Undan Mayakkam
Ullukulle Uyirai Izahukkum
Un Madiyile.. En Nilvai Searpen
Annilavile.. Nam Idayam Korthen
Poovin Magal Neeyadi
Kaatrin Magan Naanadi
Searnde Kadai Pesalaam
Undan Siragugale Ini Ivan Thaai Madi
Poovin Magal Neeyadi
Kaatrin Magan Naanadi
Searnde Kadai Pesalaam
Undan Siragugale Ini Ivan Thaai Madi
Yaar Kidaipaar
Kadalidhaan Thozhamai
Enakkena Needhan Irukkum Pozhudu
Iruvarum Tholaivom Thanimayil
Idam Porul Paarthu Pazhagum Pozhudu
Idazhgalil Edo Inimaye
Naalkuruppil Ezhudum Kavidai Nee
Un Nerukkam Un Nerukkam
Vaazhumvareyil Nenjil Irukkum
Un Mayakkam Undan Mayakkam
Ullukulle Uyirai Izahukkum
Un Madiyile.. En Nilvai Searpen
Annilavile.. Nam Idayam Korthen
Poovin Magal Neeyadi
Kaatrin Magan Naanadi
Searnde Kadai Pesalaam
Siragugal Ini Ivan Thaai Madi
Poovin Magal Neeyadi
Kaatrin Magan Naanadi
Searnde Kadai Pesalaam
Siragugal Ini Ivan Thaai Madi
Comments
comments