March 4, 2018
Kirathaka Song Lyrics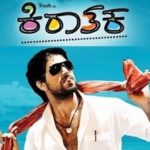 Kirathaka Song Lyrics: Kirathaka is a 2011 Kannada movie, directed by Pradeep Raj. This film was a remake of the 2010 Tamil film Kalavani, directed by A. Sarkunam in his directorial debut featuring Vimal and Oviya. Kirathaka features Yash, Oviya, T. S. Nagabharana, Tara, Kashi, Daniel Balaji, Sanketh Kashi, Mysore Chikkanna, Rangatheja, Rahul Raj, Rakesh and others. Anand Audio was the music label of this movie.
All Song of the movie were composed by V. Manohar and lyrics for the 6 songs were written by himself, while the lyrics for the soundtrack "Danaku Dana" penned by Pradeep Raj. Kirathaka Song were rendered by Hemanth Kumar, Pradeep Raj, Nakul Abhyankar, Anuradha Bhat, C. V. Santhosh, Chaitra H. G., Tippu, T. V. Krishna and Bharath.
The "Danaku Dana" soundtrack was notable for, its lyrics had the names of 108 villages of Mandya district, which was the backdrop in which the film was set in.
Check out the lyrics here..
Danaku Dana Danaku Dana Lyrics
Movie: Kiraathaka [2011]
Music Label: Anand Audio
Music: V. Manohar
Lyrics: Pradeep Raj
Singers: Hemanth Kumar, Pradeep Raj
Oore Nidire Kavida Vele Lyrics
Movie: Kiraathaka [2011]
Music Label: Anand Audio
Music: V. Manohar
Lyrics: V. Manohar
Singers: T. V. Krishna
Dubai Thorsu Thorsu Nange Lyrics
Movie: Kiraathaka [2011]
Music Label: Anand Audio
Music: V. Manohar
Lyrics: V. Manohar
Singers: Chaitra H. G., Tippu
Yaaravvi Ee Cheluvi Lyrics
Movie: Kiraathaka [2011]
Music Label: Anand Audio
Music: V. Manohar
Lyrics: V. Manohar
Singers: C. V. Santhosh
Damma Damma Dama Dama Lyrics
Movie: Kiraathaka [2011]
Music Label: Anand Audio
Music: V. Manohar
Lyrics: V. Manohar
Singers: Anuradha Bhat, C. V. Santhosh
Kendaavare Hoove Lyrics
Movie: Kiraathaka [2011]
Music Label: Anand Audio
Music: V. Manohar
Lyrics: V. Manohar
Singers: Nakul Abhyankar
Comments
comments