March 21, 2023
Easter Florals DIY Ideas
Easter Florals DIY Ideas: Easter is a Christian holiday that celebrates the resurrection of Jesus Christ from the dead. It is celebrated on the first Sunday following the first full moon after the vernal equinox, which usually falls between March 22 and April 25.
The holiday has both religious and secular traditions. Religious traditions include attending church services, fasting, and participating in Lent, which is the 40-day period leading up to Easter. Secular traditions include decorating eggs, Easter egg hunts, and gift-giving.
Easter eggs, which are traditionally painted in bright colors and decorated with designs, represent new life and rebirth. The Easter Bunny, who is believed to bring baskets filled with eggs and candy to children, is a popular symbol of the holiday.
Many countries and cultures have their own unique traditions for celebrating Easter. In the United States, it is common to have a large family meal on Easter Sunday that includes ham or lamb, potatoes, vegetables, and dessert.
Overall, Easter is a time for celebration, reflection, and renewal, and it is an important holiday for Christians around the world.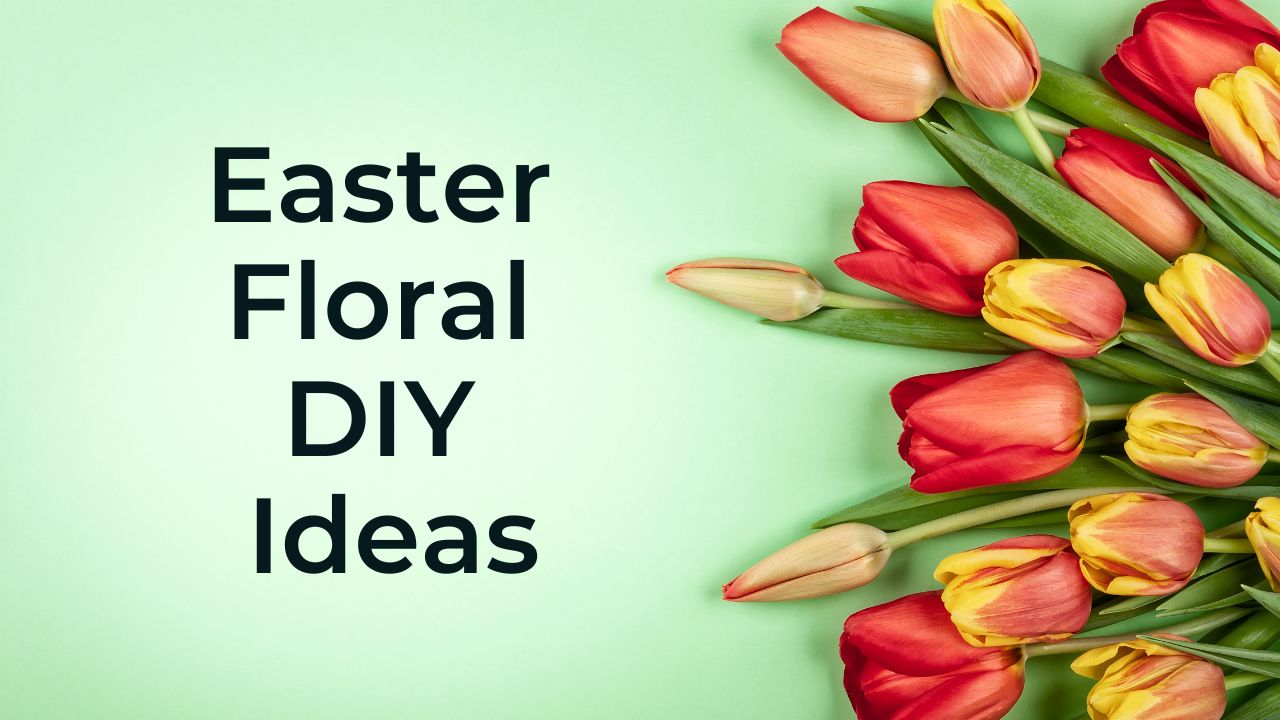 Easter florals are a great way to add a festive touch to your home decor. Here are some DIY ideas for Easter florals:
1. Easter Floral Wreath: You can make a beautiful Easter wreath with fresh or faux flowers. Start with a grapevine or wire wreath frame and add a base of greenery. Then, tuck in flowers like daffodils, tulips, and hyacinths to create a colorful and festive display.
2. Easter Egg Flower Arrangement: Hollow out a few eggs and fill them with water. Then, add small blooms like violets, forget-me-nots, or baby's breath to create mini flower arrangements. You can display them in an egg carton or nestle them in a basket for a charming Easter display.
3. Easter Bunny Floral Arrangement: Create a floral arrangement in the shape of a bunny using a foam floral cone as the base. Add flowers like pink carnations, white daisies, and greenery to create the bunny's body, then use smaller flowers like baby's breath to create the bunny's tail.
4. Easter Mason Jar Centerpiece: Fill mason jars with pastel colored flowers like tulips or daffodils, then tie a ribbon or twine around the top of the jar for a rustic look. Display the jars in a wooden box or tray for a charming Easter centerpiece.
5. Easter Topiary: Create a topiary using a foam ball or cone as the base. Add fresh or faux flowers like roses, carnations, or daisies to cover the entire surface of the ball or cone. Display the topiary in a pot or urn for a festive Easter display.
6. Easter Egg Tree: Create a mini Easter tree by attaching small eggs to branches with ribbon or twine. Then, add small blooms like cherry blossoms, forsythia, or lilacs to create a colorful and festive display.
7. Spring Flower Basket: Fill a basket with fresh flowers like daffodils, tulips, and hyacinths. Add some moss or greenery to create a natural look. You can even add some Easter eggs or bunnies for an extra festive touch.
8. Easter Bunny Planter: Use a bunny-shaped planter or create your own by painting a regular planter with white paint and adding bunny ears and a face. Then, fill the planter with spring blooms like pansies or petunias.
9. Spring Flower Crown: Create a flower crown using fresh or faux flowers. Use pastel-colored blooms like roses, hydrangeas, or daisies to create a festive Easter look. Wear the crown to Easter brunch or while hunting for eggs.
10. Easter Floral Garland: Create a garland using fresh or faux flowers and greenery. Use floral wire to attach the flowers and greenery to a long piece of twine or ribbon. Hang the garland above a doorway or on a mantel for a festive Easter display.
These are just a few ideas for Easter florals. Get creative and have fun with your floral arrangements to create a beautiful and festive display for the holiday.
These Easter floral DIY ideas are perfect for adding a festive touch to your home or for giving as a gift to family and friends. Have fun creating and decorating for the holiday!
Comments
comments