February 27, 2018
Aruna Raaga Kannada Song Lyrics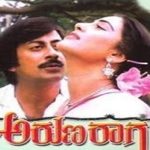 Aruna Raaga Kannada Song Lyrics: Aruna Raaga is a 1986 Kannada movie, directed by K. V. Jayaram. This movie is based on a novel of the same name written by Rekha Kakhandaki. The film was produced by Meenakshi Jayaram and Rohini under the banner Jayadurga Films.
Aruna Raaga features Ananth Nag, Geetha, K. S. Ashwath, Loknath, Pandari Bai, Sudha Narasimharaju, Thimmayya, Sundar Krishna Urs, Sathyajith, Dingri Nagaraj and others. Sangeetha was the music label of this movie.
All songs of this movie were composed by M. Ranga Rao with the lyrics penned by Doddarange Gowda. Aruna Raaga Songs were rendered by K. J. Yesudas, K. S. Chithra, S. Janaki and S. P. Balasubramanyam.
Check Out The Lyrics Here…
Nee Bareda Olavina Ole Lyrics
Movie: Aruna Raaga [1986]
Music Label: Sangeetha
Music: M. Ranga Rao
Lyrics: Doddarange Gowda
Singer: S. Janaki
Nadedaado Kaamana Bille Lyrics
Movie: Aruna Raaga [1986]
Music Label: Sangeetha
Music: M. Ranga Rao
Lyrics: Doddarange Gowda
Singer: S. P. Balasubrahmanyam
Hagalu Rathri Saagide Lyrics
Movie: Aruna Raaga [1986]
Music Label: Sangeetha
Music: M. Ranga Rao
Lyrics: Doddarangegowda
Singer: S. P. Balasubrahmanyam
Naanondu Theera Neenondu Theera Lyrics
Movie: Aruna Raaga [1986]
Music Label: Sangeetha
Music: M. Ranga Rao
Lyrics: Doddarangegowda
Singer: K. J. Yesudas, K. S. Chithra
Hoovantha Hrudayavanu Hinduvireke Lyrics
Movie: Aruna Raaga [1986]
Music Label: Sangeetha
Music: M. Ranga Rao
Lyrics: Doddarangegowda
Singer: K. S. Chithra
Comments
comments