July 2, 2019
Geetha Kannada Movie Teaser Released – Ganesh | Shanvi Srivastava
Geetha Kannada Movie Teaser Released – Ganesh | Shanvi Srivastava: The much awaited teaser of an upcoming Kannada movie of Golden Star Ganesh, is released yesterday. The 1:57 sec teaser is receiving great response from viewers in YouTube. The dialogues of the film is making rounds in social media and it has created lot of buzz.
Geetha is written and directed by Vijay Naagendra in his debut directorial venture. Prior to this he had worked as an
assistant director in Kannada films, Mr and Mrs Ramachari starring Yash and Puneeth Rajkumar's Rajakumara. Geetha is produced by Syed Salam and Shilpa Ganesh under the banner S S Films and Golden Movies.
The film stars an ensemble cast of Ganesh, Shanvi Srivastava, Prayaga Martin, Sudharani, Devaraj, Parvathy Arun, Ranghayana Raghu, Achuth Kumar and Others.
The teaser start with a powerful quote of famous Kannada writer J. P. Rajarathnam. The quote goes like this
'Narkakke Ilsi Naalage Seelsi Baai Olisaakidrone, Moognal Kannada Maathaadtheeni..
Nanna Manasan Nee Kaane..'
– J. P. Rajarathnam
The quote says "Even If you drop me in hell, slit my tongue and stitch my mouth, I will speak Kannada through my Nose,. You can't see [understand] my mind."
The actual teaser starts with few footage of 'Gokak Movement'. We can see actors like Dr. Rajkumar, Dr. Vishnuvardhan and Shankar Nag taking part in the movement and giving speech.
Next the scence turns to a drone shot with a voice over in Hindi 'Ye Kannad log chate hain ki hum sab Kannad seeke. Kannad main liko aur kannad mein hee bhaat kare. Agar aisa huva tho hamara bacchonko kya hoga. Wo kyun Kannad seekenge'.
we can see a man standing on top of a bus, with two other men and giving a speech among the North Indians living in Karnataka stating the above mentioned dialogue. we can also see a small banner in the hand of a man standing left to the main speaker and the banner says 'Gokak Go Back'.
In The next scene, we can see few Tamil people in Karnataka talking angrily to a Kannada guy with the following
dialogue. 'Innaada eppa paarthalum prachana panninikeeringa. Thanni udradula prachna pannitirikeenga. summa baasha baashan prachna pannitirkeengo'.
in between this scene, comes the hero intro scene. we can see Ganesh riding a bike smoking a cigarette and wearing a
half sleeve roll over shirt with Kannada flag of red and yellow strips on the pocket. He arrives at the above mentioned
seen and attacks the Tamil guy who is abusing  Kannada people.
Next we can see few actions scenes and the dialogue
"Duddu Kottu Karnatakada Nakshe Kondkolbodu, Karnatakada Baavuta Kondkolbodu. Kannadigara Swabhimaana Kondkolakaagalla. Karanatakadalli Kannadigane Yajamaana. Kannadigane Saarvabhowma".
The teaser ends with an interesting scene, where the famous Shankar Nag song 'Geetha Sangeetha' from the movie Geetha is used in the background while Ganseh can be seen smoking a cigarette.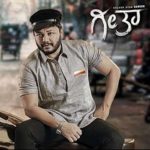 Film: Geetha [2019]
Language: Kannada
Director: Vijaynaagendra
Producer: Syed Salam, Shilpa Ganesh
Music: Anup Rubens
Cast: Ganesh, Shanvi Srivastava, Prayaga Martin, Sudharani
The teaser looks interesting. The story of the film seems like set in the backdrop of 1980's Gokak movement and Ganesh character seems like a person who is fighting for the rights of Kannada people and language in Karnataka, whose integrity is threatened by the kind of development's happening in the state due to various reasons including the domination of Non Kannadigas.
Shreesha Kuduvalli's cinematography and Art Director's Shiva Kumar and Vishwas Kashyap's work is evident in the teaser and they done a very good job. Anup Rubens background score is the highlight of this teaser. Jnanesh Matadd is the editor of this film.
Hope that the film will deliver what it promises in the teaser. All the best to the team of Geetha film.
Comments
comments