September 23, 2017
Ishtu Kaala Lyrics
Ishtu Kaala Lyrics: Ishtu Kaala is a song from an upcoming 2017 Kannada movie April Na Himabindu, written and directed by duo Shiv and Jagan. The movie star cast includes Dattanna, Baabu Hirannaiah, Sridhar, Chidanand, Sachin, Ganesh, Shwetha, Chandana, spandana and others. ReChord Audio is the music label of this movie. This song was composed by Bharath B J with lyrics penned by H.S.Venkatesha Murthy. Ishtu Kaala was rendered by Bharath B J, Sangeeta Katti Kulkarni.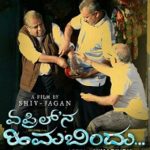 Ishtu Kaala Lyrics
Movie: April Na Himabindu [2017]
Music Label: ReChord Audio
Music: Bharath B J
Lyrics: H.S.Venkatesha Murthy
Singer: Bharath B J, Sangeeta Katti Kulkarni
Check out the lyrics here..
Ishtu Kaala Ottigiddu Eshtu Beretharu
Arithevenu Naavu Namma Antharaalava Antharaalava
Ishtu Kaala Ottigiddu Eshtu Beretharu
Arithevenu Naavu Namma Antharaalava Antharaalava
Kadala Mele Saaviraaru Maili Saagiyu
Kadala Mele Saaviraaru Maili Saagiyu
Neerinaala Thiliyithenu Haayi Donige Haayi Donige
Ishtu Kaala Ottigiddu Eshtu Beretharu
Arithevenu Naavu Namma Antharaalava Antharaalava
Sadaakaala Thabbuvanthe Mele Baagiyu
Sadaakaala Thabbuvanthe Mele Baagiyu
Manna Muththu Dorakithenu Neeli Baanige Neeli Baanige
Ishtu Kaala Ottigiddu Eshtu Beretharu
Arithevenu Naavu Namma Antharaalava Antharaalava
Saaviraaru Mukhada Cheluva Hididu Thoriyu
Saaviraaru Mukhada Cheluva Hididu Thoriyu
Ondaadaru Uliyithe Kannadiya Paalige Kannadiya Paalige
Ishtu Kaala Ottigiddu Eshtu Beretharu
Arithevenu Naavu Namma Antharaalava Antharaalava
April Na Himabindu Songs
Iduvarege Badukiddella
Avalinda Naavella
Ishtu Kaala
Iduvarege Badukiddanna
Save
Comments
comments