February 23, 2023
Lovefully Yours Veda [2023] Movie Cast & Crew, Trailer, Release Date, Review
Lovefully Yours Veda [2023] Movie Cast & Crew, Trailer, Release Date, Review: Lovefully Yours Veda [2023] is an upcoming Malayalam film, directed by Praghesh Sukumaran and written by Babu Vayalathur. The film was produced by Radhakrishnan Khalayil and Ruvin Viswam under the banner R2 Entertainments. Abdul Salim is the co-producer of this film.
Lovefully Yours Veda [2023] Movie Cast & Crew
Lovefully Yours Veda [2023] Movie Cast includes Rajisha Vijayan, Gautham Vasudev Menon, Sreenath Bhasi, Anikha Surendran, Venkitesh V.P, Chandhunadh, Appani Sarath, Ranjit Shekar, and others.
Lovefully Yours Veda [2023] Movie crew includes music director Rahul Raj, cinematographer by Tobin Thomas, editor Sobin K Soman, Line Producer Harries Desom, Project Designer Vibeesh Vijayan, Art Director Subhaash Karun, Makeup Man RG Wayanadan, Costume Director Arun Manohar, Stunt by Phoniex Prabu, Billa Jagan Choreographer Manoj Jackson, and others.
Lovefully Yours Veda [2023] Movie Trailer
The official trailer of the movie was released on Feb 22, 2023.
Lovefully Yours Veda [2023] Movie Release Date
The shooting of the film began on 16 December 2021. The team shot film in 4 schedules for 62 days. The film is schedule to release in theaters on 24th February, 2023.
Lovefully Yours Veda [2023] Movie Review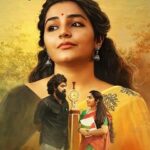 In Thrissur's Varma College, Maalu, a musician with the band Banjara's, discovers a poetry on the building's walls. It quickly becomes a great hit once the band transforms it into a song. People become interested in the lyricist, and the band is unaware of who wrote the poetry.
The group sets out on a quest to find the poet and eventually arrives to Varma College. They learn about Sree Veda, the poet in question and a former college student.
When Veda first meets the kids, she tells them about the poem's inspiration, her exciting college years, and Comrade Jeevanlal, the charming man who changed her life.
Lovefully Yours Veda [2023] Movie Songs
Music director Rahul Raj has composed the songs of this film. The songs were penned by lyricists Rafeeq Ahammed, Rethi Sivaraman, and Dhanya Suresh Menon. Sony Music is the music label of this film.
The first single Aakaasha Paalazhiyil was released on Sony Music and it received good response from YouTube viewers.
Comments
comments