June 24, 2021
PAN Aadhaar Link June 30 deadline | Check Your Status
PAN Aadhaar Link June 30 deadline | Check Your  Status | How to check PAN AADHAAR link staus?
According to the Income Tax Act, the PAN card number must be linked to the Aadhaar number by June 30, 2021 and also make sure that the details such as your Name, Date of Birth and Gender must match in both PAN and AADHAAR Card for linking to be completed successfully.
Failure to attach the PAN card by June 30 will result in inoperative of the PAN card and a fine of up to Rs. 1000 will be charged under the Income Tax Act. Failure to do so could also result in problems with access to banking services. Similarly, companies are said to have been urged by the Income Tax Department not to pay salaries to employees who do not linked PAN and ADHAAR.
If your Pan and Aadhar is not connected then the KYC [Know Your Customers] will become incomplete and invalid. Also, the pan number will be inactive.
If the KYC is invalid, you will not be able to make a new investment in a mutual fund. In particular, the Systematic Investment Plan [SIP] Investment System does not work.
If the PAN number is not in operation then you will not be able to withdraw money from your mutual fund investment.
Fixed Depositors will not be able to submit Forms 15G, 15H to avoid withholding tax at source if PAN number is not in operation. If the PAN number is not valid then 20% DTS will be deducted instead of 10%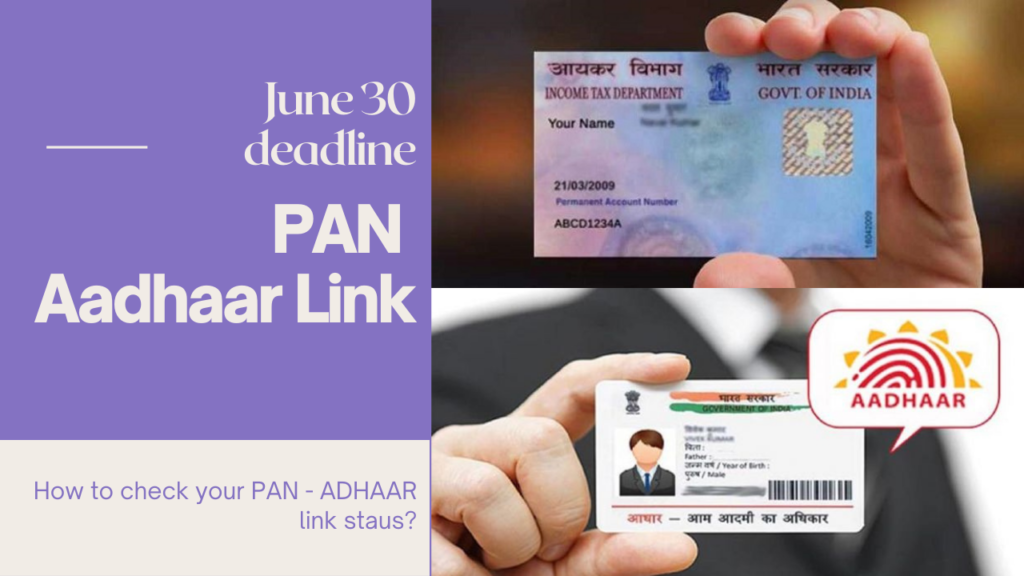 Many people have doubts as to whether their PAN card is attached to Aadhaar or not. This is because these are often linked to banks. You can check for yourself if the PAN card is linked.
To see if Aadhaar Card and PAN Card are linked, go to
https://eportal.incometax.gov.in/iec/foservices/#/pre-login/link-aadhaar-status
All you have to do is go type your PAN and Aadhaar number and check the status.
PAN card, Aadhar card linking is not a big deal. There are different options to do this. You can connect using mobile number. You can also connect via mobile SMS. You can connect by sending an SMS to 567678 or 56161. From your mobile number you need to type UIDPAN 12 digit reference number 10 digit PAN number and send SMS. For example, UIDPAN 123342453337 BJKPA0004T.
You can also do it online. go to
https://eportal.incometax.gov.in/iec/foservices/#/pre-login/bl-link-aadhaar
You will need to fill in your PAN and Aadhar number, name and registered mobile number. You will receive a  one-time password (OTP). After entering the OTP, you have to click on the link source.
If you can't link online or via SMS, you can do this in person. For this you need to go to the PAN Service Center and fill up the Annexure-I Form and attach a copy of the PAN card and Aadhar card with it.
The deadline has already been extended several times and now the deadline is June 30. It is unknown at this time whether the deadline will be extended or not. Therefore, it is a better to include the PAN reference number in advance so as not to jeopardize the investment.
Comments
comments