November 24, 2018
Rebel Star Ambarish Passed Away
Rebel Star Ambarish Passed Away: Kannada Actor Ambarish [Ambareesh] Passed away due to prolonged illness here in Vikram Hospital, Bangalore. He was  66 years old and survived by his wife Sumalatha and Son Abishek.
Ambarish made his acting debut in legendary Kannada director Puttanna Kangal's 1972 cult classic film Naagarahaavu. Even though with a very short screen time, he didn't fail to leave a mark on the audience with his performance and etched this role as Jaleela in the audience mind with the unforgettable dialogue delivery of the lines 'Kya Bulbul Maathadakilla'.
Ambareesh was a reluctant actor. It was his friend Sangram Singh, suggested him to Puttanna when he was searching for a new face for his upcoming film Nagarahaavu. Under the tutelage of Puttanna, Ambarish honed his acting skills in the movies like Shubhamangala [1974] in which he acted as a dumb, Bili Hendthi [1975], Paduvaaralli Pandavaru [1978] in which he acted in the role of a servant Kariya, Ramanna a Theater artist in Ranganayaki [1980] and Masanada Hoovu [1984]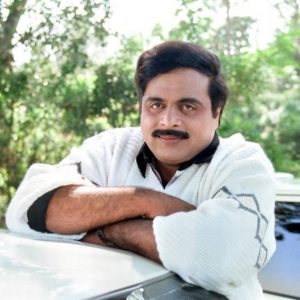 Ambareesh was a grandson of famous violinist Chowdiah, also known as Pitilu Chowdiah. Ambareesh was born on May 29, 1952 in Mandya.
His parents were Huche Gowda and Padmamma. They named him as Malavalli Huchche Gowda Amarnath. He did his schooling in Mandya and higher studies in Mysore.
After introduced to silver screen by Puttanna and learning the required skills as an actor, Ambareesh went onto become a super star by starring in more mainstream action movies like Antha [1981], Snehitara Savaal [1981], Bhaari Bharjari Bete [1981], Chakravyuha [1983], Mrugaalaya [1985], Indrajith [1989], Onti Salaga [1989], Nammoora Hammera [1990], Rani Maharani [1990], Solillada Saradara [1991], Rowdy & MLA [1991], Mandyada Gandu [1994] and so on.
At the same time, He didn't shy away from doing movies with good content and character which helped him to showcase his acting skills in the movies like Olavina Udugore [1986], Elu Suttina Kote [1988], Hrudaya Haadithu [1990], Saptapadhi [1991], Megha Mandara [1992], Mannina Doni [1992], Midida Hrudayagalu [1993], Odahuttidavaru [1994], Karulina Kudi [1995] and others.
His ability and will to act in various genres helped him to become not only a star but also a versatile actor. He combined his choice of movies with action, romance and family entertainers.
My personal feeling is that he could have utilized his acting skills and should have acted in more movies in late 2000's.   Some where down the line, He became complacent and paved the way to the younger generation. May be his political desire could be the reason for this or the Health.
My memories of seeing Ambarish for the first time on screen goes back to Onti Salaga, released in 1989. I watched this movie in Maruthi Tent, Sunkadakatte [You cant find it now]. I went with our House owner son Kamraj, who was 10 years elder then me.
He took me to this movie and he bought the ticket to sit in the floor [people used to call it as Gandhi Class ]. I remember sitting on the floor by making a seat from gathering the mud on the floor.  I don't remember much from the movie except the zeep with the elephant tusk attached to the headlights.
Comments
comments