October 9, 2019
Tirupati Brahmotsavam 2019 Highlights | Srivari Brahmotsavam | Tirupati Tirumala
Tirupati Brahmotsavam 2019 Highlights | Srivari Brahmotsavam | Tirupati Tirumala: This years Tirupati Brahmotsavam also known as Sri Venkateswara Swami vari Brahmotsavam or Srivari Brahmotsavam started on 30th September [Monday] and ended yesterday 8th October [Tuesday] with Chakra Snanam.
Brahmotsavam is one of the the most important annual celebration of world renowned 'Sri Venkateswara Temple' in Tirumala – Tirupati of Chittoor, Andhra Pradesh, India. The Nine day event is conducted every year during the Hindu month of Asvisa which falls in between the months September and October of English Calender. Lacs of Pilgrims and Tourists from different parts of India and across the world will come to Tirupati to witness and  experience this spiritual event.
During this Brahmotsavam festival, the processional deity [Uthsava Moorthi] of Lord Venkateshwara, along with his consorts Sridevi and  Bhoodevi, will be taken on a procession on different vehicles [Vahanams] on the streets [Madaveedulu] surrounding the temple. A Brahmotsavam is a holy cleansing ceremony in honor of Lord Brahma.
When there is extra Month [Adhika Maasa] in the Lunar Calendar, two Brahmotsavam will be celebrated namely Salakatla Annual Brahmotsavam and Navarathri Brahmotsavam. Both Brahmotsavam will be held for 9 days with few difference in the methods of celebration.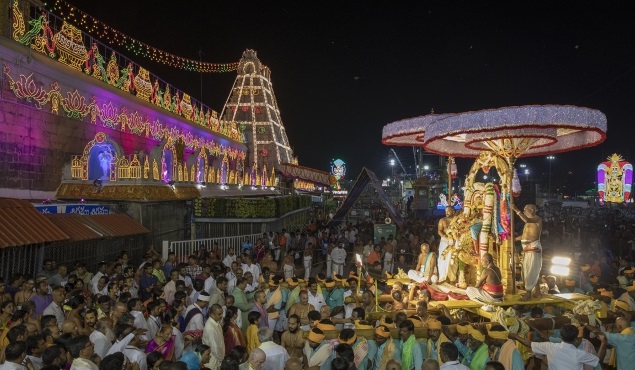 Tirupati Brahmotsavam 2019 Highlights
1. Seven lakh devotees attended this years Brahmotsavam festival, which was held for nine days starting from 30th September. This colorful event was full of flowers, foliages, Rangolis and lights.
2. On the occasion of Brahmotsavam, before the Swami's departure, various art groups performed singing and dancing. It was a great treat for the eyes and minds of the devotees.
3. During the Garuda Seva event, 677 artists from 18 states including Tamil Nadu, Karnataka, Rajasthan, Gujarat, Manipur, Madhya Pradesh, Himachal Pradesh, Assam and Odisha participated.
4.  Approximately 1.3 lakh kgs of vegetables were used to provide food for pilgrims during the festival. Pilgrims attending the Brahmotsavam were given sambar saadham, pongal, uppuma, kesari food and milk and water butter.
5. On the day of the Garuda Seva event [October 2], 2 lakh Puliyogare food packets, one and a half lakh Tomato Rice and Sambar Rice food parcels and 8,000 Rava Uppuma parcels were distributed to the devotees.
6. About 32,500 kg of rice and 20,000 kg of vegetables were used on that day [October 2] alone. 20,000 liters of milk were brewed and given to devotees.
7. 1,500 Shrivari Sevaks have done their best to unite the devotees. 935 Shrivari Seva devotees were involved in providing drinking water and food for the devotees day and night. 610 service men provided medical assistance to the devotees.
8. 1,500 Shrivari Sevaks have been helpful to the devotees in the main areas of Tirumala, including the CRO Office, Lepakshi, Vaikuntam Queue Complex and Balaji Bus Stand.
9. On Saturday, Malayappa Swami was taken on a procession along with Sridevi and Bhodevi in a 32 feet tall and 29 tonnes of gold Chariot. Lacs and lacs of devotees gathered in the Madaveedulu to witness this event.
10. During this Brahmotsavam, Tirupati Venkatasehwara swami arrived in 16 vehicles in 9 days and blessed the devotees.
11. A total of 34 donors donated 50,000 tonnes of colored flowers for the occasion of tirupati brahmotsavam 2019.
12. Thirumalai Tirupathi Brahmotsava programs were broadcasted live in languages Tamil, Telugu and Kannada by SVBC Channel using 32 cameras.
Search Terms
tirupati brahmotsavam, tirupati brahmotsavam 2019 dates, tirupati brahmotsavam 2017 dates , tirupati brahmotsavam 2018 dates , tirupati brahmotsavam 2020 dates, tirupati brahmotsavam 2019 , tirupati brahmotsavam list , tirupati brahmotsavam songs, tirupati brahmotsavam videos , tirupati brahmotsavam september 2019, tirupati brahmotsavam 2018 photos , tirupati brahmotsavam scedule 2019, tirupati brahmotsavam 2019 tamil , tirupati brahmotsavam 2019 garuda seva, tirupati brahmotsavam 2019 dates tamil, Srivari Brahmotsavam , Sri Venkateswara Swami vari Brahmotsavam , Tirumala Brahmotsavams, tirupati balaji brahmotsavam 2019, tirupati tirumala brahmotsavam 2019, tirupati navaratri brahmotsavam 2019, srivari brahmotsavam 2019 dates, tirupati brahmotsavam list, Venkateswara Salakatla Brahmotsavams
Comments
comments