May 20, 2019
The Host by Stephenie Meyer | Book Review
The Host by Stephenie Meyer | Book Review: The Host written by Stephenie Meyer was published in the year 2008. It's a Sci-Fi fantasy novel which revolves around the lives of Wanderer, a soul and Melanie Stryder, a host.
I have few auto buy authors in my list and Stephenie Meyer is one amongst them. I fell in love with Stephanie's Twilight world and I'm still under the spell even after a decade. Obviously when I got to know Ms. Meyer was writing a new adult fiction, I was over excited.
I am a sucker for romance; I just love heartbreaks and the agony. Don't ask why I love them so much, seriously I don't know. The more the agony and more I root for the book and the characters. That's what The Host is! It keeps on twisting a rusted knife into the soul and mind throughout the end. By the end of the book, I was rendered speechless and i was sobbing mess.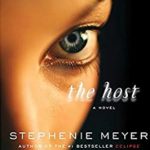 The Host revolves around a soul named Wanderer (Soul), who is living inside a human named Melanie (Host). Wanderer, an older soul has resided in seven worlds before coming to Earth. She is a celebrity amongst her kind.
Wanderer has never faced any difficulties with her host till Melanie. Wanderer wakes up in her new body only to find out that her host is still conscious and is bombarding Wanderer with her past memories.
Though Souls are gentle and believe in existing in peace, they have their own set of rules. They have their own force when it comes to taking the human bodies and they are called "Seekers". A particular seeker is very much interested in the body now wanderer is using. The seeker wants to have access to the past memories of the host.
Every night Melanie throws a new memory of her past and Wanderer starts falling in love with people she doesn't know. Wanderer and Melanie decides to search for the latter's younger brother Jamie and lover Jared. They succeed in finding the location of Jared and Jamie and other humans. Wanderer gets a harsh reality check when she realizes every single human being is against her and despises her to the core.
The book is narrated through the eyes of Wanderer, The Soul/Alien. The story is snail paced in the beginning. There is not much happening for quarter of the book and that may test the patience of the reader.
Once Wanderer and Mel are inside the cave and meet the humans the story kick starts. Till then the story was revolving all around Wanderer/Mel and the Seeker.
This is the very first book where I did not care what happened to the main lead Jared. I loved Wanderer. She is the Soul of The Host. She is caught in a web and is always getting hurt because Jared due to his resentment towards her.
Poor Wanderer is trapped between Melanie's love, Jared's love for Melanie and hatred for her. Wanderer would have collapsed if Ian O'shea wasn't there. Ian is a fresh breath in that 'cave'. I just loved Ian. He overshadows Jared (Main lead) and in a blink becomes the focal point. The relationship of Ian and Wanderer is written beautifully and can be accepted by the reader.
The book has the trademark from Meyer's earlier work "Twilight". There is a triangle love story, heartbreaks, a roller coaster of emotions and last but not the least "will do anything for the love".
The Book is an emotional roller coaster. You will fall in love, out of love, gets your heart broken. By the end of the book you are nothing but a sobbing machine. The tears won't stop and a part of your heart is stolen by Wanderer. Stephanie has written an engaging story which will scar you a bit.
The Host is a wonderful heart wrenching bittersweet romantic book. It's all about love, hope and living in the moment. I would definitely recommend my friends to read this book. I give this book 4.5 star.
Best Scene in The Host: Wanderer confesses her feelings to Ian.
The Host by Stephenie Meyer | Book Details
Book Title: The Host
Author: Stephenie Meyer
Series: Standalone
Language: English
Year of Publication: May 2008
Page count: 620
Characters: Wanderer, Melanie, Ian, Jared, Jeb and Jamie
Genre: Sci-Fi, Fantasy
Publication House: Brown and company.
About the Author
Stephenie Meyer – is an American writer and film producer, best known for her Twilight series. The Twilight novels have gained worldwide recognition and sold over 100 million copies, with translations into 37 different languages. Meyer was the bestselling author of 2008 and 2009 in America, having sold over 29 million books in 2008, and 26.5 million books in 2009.
Related Keywords
#the seeker stephenie meyer #the host stephenie meyer movie #stephenie meyer books #the host book summary #the host 2 #the host book review #the seeker stephenie meyer read online #the host book online #the host by stephenie meyer summary #the host by stephenie meyer sequel #the host by stephenie meyer read online #the host by stephenie meyer series #the host by stephenie meyer book review
Comments
comments