June 10, 2020
Delicious Bangda Fish Chukka without Coconut | Mackerel Fish Sukka
Delicious Bangda Fish Chukka without Coconut | Mackerel Fish Sukka: Fish is a very popular Sea Food option in India. It is very healthy as well. It contains omega-3 fatty acids and vitamin D and B2. Fish is rich in calcium and phosphorus and It also have minerals, such as iron, zinc, iodine, magnesium, and potassium as well.
Fish is a low fat high quality protein food. Plenty of varieties of fishes are available for cooking. The Indian Mackerel fish is one of them and it is a very popular fish among seafood lovers.
Mackerel fish is one of the Top Ten healthiest fish varieties In India, it is called by different names in different parts of the country. Indian Mackerel is known as 'Bangude' in Tulu, Konkani and Kannada languages of Karnataka. In Gujarath they call it 'Bangdi' and Bangda in Maharashtra. Kajol Gouri is the Bengali name of Indian Mackerel Fish. This fish is known as 'Aiyla' in Malayalam  [Kerala], and 'Kaanankeluthi' in Tamil Nadu.
There are variety of Fish recipes one can make with fishes like Fish Fry, Fish Curry, Fish Chukka, Fish Kabab, Fish Biryani, Fish Tikka, Fish Pulusu, Fish Manchurian, Fish Fingers, and so on.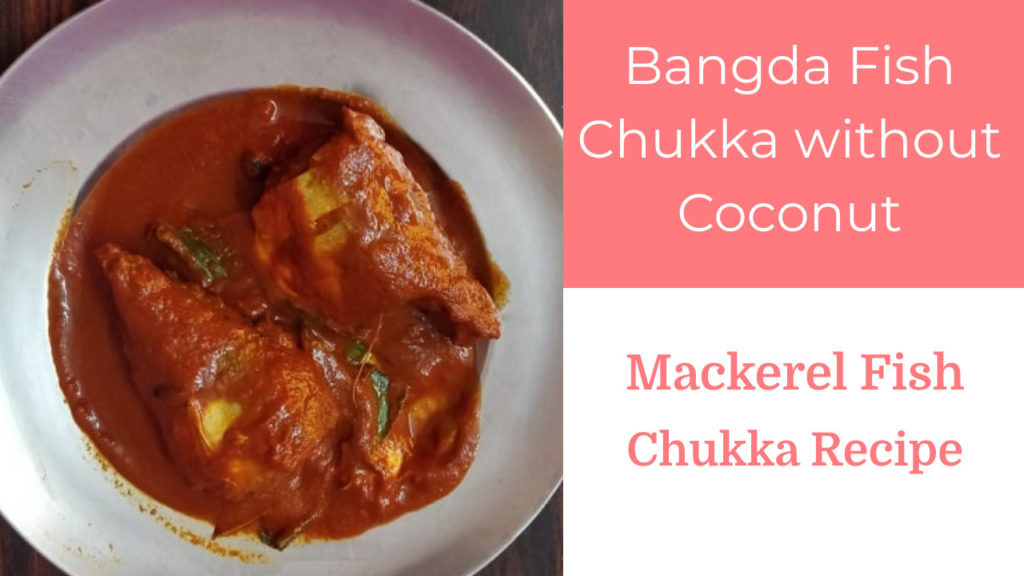 Today in this post, we are going to show you How to make Delicious Bangda Fish Chukka also known as Mackerel Fish Sukka. In Konkani they call it as Bangde Sukke. Usually while making Bangda Fish Chukka, people use coconut. But we are making this Delicious Bangda Fish Chukka without Coconut. This recipe is also popular as Bangde Teppla Sukke in Koankan region.
The process involves three main steps. First we need to prepare the Masala. Next Cut and clean the Fish. The final part is cooking. It works perfectly with Rice [Meals].
Let's see what all the Ingredients required and the procedure of preparing this recipe.
Preparation Time
20 Mins
Cooking Time
15 Mins
Total Time
35 Mins
Course
Main Course
Cuisine
Indian
Servings
4-5
Ingredients
| | |
| --- | --- |
| Fresh Bangda Fish | 5 |
| Guntur Chilli | 15-20 |
| Byadagi Chilli | 15-20 |
| Watamba Solla | 10-15 |
| Ginger | 1.5 Inch |
| Green Chilli | 4-5 |
| Teppal | Tirphal | Szechuan Pepper | 10-12 |
| Turmeric Leaves | 1-2 |
| Turmeric Powder | 1/2 Tsp |
| Salt | To Taste |
Procedure
1. Wash Both the Red Chillies [Guntur and Byadagi]. We are using Guntur Chilli for spiciness and Byadagi for gravy.
2. Soak Both the Red Chillies and Watamba Solla in normal water for 2 Mins. We are using Watamba Sola. Instead of this you can use either Tamarind or Aam Sol.
3. Make a fine paste of Washed Red Chillies, Watamba solla and Turmeric Powder by adding little water. You can use either Mixer Grinder or Grinder to prepare this paste.
4. Mean while Cut and Clean the fish.
5. Once the Masala is ready, Take a Vessel and pour the grounded Masala into it.
6. Add desired water to make a thick gravy
7. Add Salt to taste
8. Add slit Green Chillies
9. Add finely chopped Ginger
10. Add crushed Triphal
11. Mix well
12. Place all the cleaned fish pieces in the Masala in such a fashion that it completely immersed and covered in the Masala, so it absorbs the Masala well.
13. Now cover the Masala with the Turmeric Leaves.
[Turmeric leaves gives extra flavor to the sukka. You can either use fresh or dry Turmeric leaves.]
14. Now turn on the gas
15. Close the lid and cook it on a Medium flame for 10-15 Mins.
[Don't Keep stirring often, because Fish tend to break easily, leaving fish bones inside the dish]
Now our tasty Bangda Sukka is ready to serve.
Do try at home and share your opinion with us in the comment section.
You can watch the detailed steps in the below video..
Thank you
Happy Cooking!!
Comments
comments