June 14, 2021
Aarti Kunj Bihari Ki Lyrics | Hindi Krishna Bhajan
Aarti Kunj Bihari Ki Lyrics | Hindi Krishna Bhajan: Aarti Kunj Bihari Ki is a very famous Hindi bhajan or Devotional songs about Lord Krishna. Lord Krishna as we all know is a major deity in Hinduism and is one of the most popular and widely worshiped god. He is the eighth avatar in Ten Avatars [Dasahavataram] of Lord Vishnu. He is considered as the god of compassion, tenderness, and love.
Lord Krishna's birthday is celebrated as Krishna Janmashtami. This festival is celebrated in different parts of India in different names such as Gokulashtami, Yadukulashtami, Saatam Aatham, and Srikrishna Jayanti. This years Krishna Janmashtami 2021 date is August 30th. Wish you all a very happy Krishna Janmashtami.
Over the year, Aarti Kunj Bihari Tradition Bhajan was was re-created by various artists and rendered by various singers like Hariharan, Rekha Bharadwaj, Nachiket Lele, Dhanashree Deshpande, Uvie and others.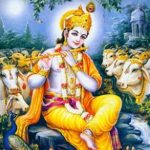 Aarti Kunj Bihari Ki Lyrics
Genre: Devotional / Bhajans
Lord: Krishna
Lyrics: Traditional
Singers: Various
Language: Hindi
Check out Aarti Kunj Bihari Ki song lyrics here
Aarti Kunj Bihari Ki
Shri Girdhar Krishna Murari Ki
Aarti Kunjbihari Ki
Shri Girdhar Krishnamurari Ki
Gale Mein Baijanti Mala
Bajaavei Murali Madhur Bala
Shravan Mein Kundal Jhalakala
Nand Ke Anand Nandlala
Gagan Sam Ang Kaanti Kaali
Radhika Chamak Rahi Aali
Latan Mein Thaadhe Banamaali
Bhramar Si Alak
Kasturi Tilak
Chandra Si Jhalak
Lalit Chavi Shyama Pyari Ki
Shri Girdhar Krishna Murari Ki
Aarti Kunj Bihari Ki
Shri Girdhar Krishna Murari Ki
Kanakmay Mor Mukut Bilse
Devata Darshan Ko Tarse
Gagan So Suman Raashi Barse
Baje Murchang
Madhur Mridang
Gwaalin Sang
Atual Rati Gop Kumaari Ki
Shri Girdhar Krishna Muraari Ki
Aarti Kunjbihari Ki
Shri Girdhar Krishnamuraari Ki
Jahaan Te Pragat Bhayi Ganga
Kalush Kali Haarini Shri Ganga
Smaran Te Hot Moh Bhanga
Basi Shiv Shish
Jataa Ke Beech
Harei Agh Keech
Charan Chhavi Shri Banvaari Ki
Shri Girdhar Krishna Murari Ki
Aarthi Kunj Bihari Ki
Shri Girdhar Krishna Murari Ki
Chamakati Ujjawal Tat Renu
Baj Rahi Vrindavan Venu
Chahu Disi Gopi Gwaal Dhenu
Hansat Mridu Mand
Chandani Chandra
Katat Bhav Phand
Ter Sun Deen Bhikhaaree Ki
Shri Girdhar Krishna Murari Ki
Aarti Kunj Bihari Ki
Shri Girdhar Krishna Murari Ki
Aarti Kunjbihari Ki
Shri Girdhar Krishnamurari Ki
Aarti Kunj Bihari Ki Lyrics in Hindi
आरती कुंजबिहारी की
श्री गिरिधर कृष्ण मुरारी की ॥
आरती कुंजबिहारी की
श्री गिरिधर कृष्ण मुरारी की ॥
गले में बैजंती माला
बजावै मुरली मधुर बाला
श्रवण में कुण्डल झलकाला
नंद के आनंद नंदलाला
गगन सम अंग कांति काली
राधिका चमक रही आली
लतन में ठाढ़े बनमाली
भ्रमर सी अलक
कस्तूरी तिलक
चंद्र सी झलक
ललित छवि श्यामा प्यारी की
श्री गिरिधर कृष्ण मुरारी की
॥ आरती कुंजबिहारी की
श्री गिरिधर कृष्ण मुरारी की ॥
कनकमय मोर मुकुट बिलसै
देवता दरसन को तरसैं
गगन सों सुमन रासि बरसै
बजे मुरचंग
मधुर मिरदंग
ग्वालिन संग
अतुल रति गोप कुमारी की
श्री गिरिधर कृष्णमुरारी की
॥ आरती कुंजबिहारी की
श्री गिरिधर कृष्ण मुरारी की ॥
जहां ते प्रकट भई गंगा
सकल मन हारिणि श्री गंगा
स्मरन ते होत मोह भंगा
बसी शिव सीस
जटा के बीच
हरै अघ कीच
चरन छवि श्रीबनवारी की
श्री गिरिधर कृष्णमुरारी की
॥ आरती कुंजबिहारी की
श्री गिरिधर कृष्ण मुरारी की ॥
चमकती उज्ज्वल तट रेनू
बज रही वृंदावन बेनू
चहुं दिसि गोपि ग्वाल धेनू
हंसत मृदु मंद
चांदनी चंद
कटत भव फंद
टेर सुन दीन दुखारी की
श्री गिरिधर कृष्णमुरारी की
॥ आरती कुंजबिहारी की
श्री गिरिधर कृष्ण मुरारी की ॥
आरती कुंजबिहारी की
श्री गिरिधर कृष्ण मुरारी की
आरती कुंजबिहारी की
श्री गिरिधर कृष्ण मुरारी की
Comments
comments