February 3, 2023
Daridraya Dahana Shiva Stotram Lyrics | Sage Vasishta
Daridraya Dahana Shiva Stotram Lyrics | Sage Vasishta: Daridraya Dahana Shiva Stotram is a devotional hymmn about Lord Shiva composed by Sage Vasishta.
Vasishtha is one of the oldest and most revered Vedic rishis or sages, and one of the Saptarishis [seven great Rishis]. Vashistha is credited as the chief author of Mandala 7 of the Rigveda. Vashishtha and his family are mentioned in Rigvedic verse 10.167.4, other Rigvedic mandalas and in many Vedic texts. His ideas have been influential and he was called the first sage of the Vedanta school of Hindu philosophy by Adi Shankara.
Lord Shiva is one of the main deities of Hinduism. Shiva is known as "The Destroyer" within the Trimurti, the Hindu trinity that includes Brahma and Vishnu. Goddess Parvati is Lord Shiva's wife. Lord Ganesha and Lord Murugan are his children.
He is the Supreme Being in Shaivism, one of the major traditions within Hinduism. Lord Shiva is know by various different names such as Mahadeva, Ishwara, Parameshwara, Hara, Jagadisha, Mahesha, Nataraja, Gangadhara, and others.
Maha Shivaratri is one of the major Hindu festival celebrated annually in honor of Lord Shiva. It is believed that Shiva performs the heavenly dance [Shiva Thandavam] on this night. This festival also marks a remembrance of 'overcoming darkness and ignorance' in life and the world.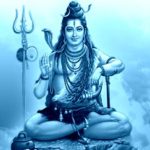 Daridraya Dahana Shiva Stotram Lyrics
Genre: Devotional
Lord: Shiva
Language: Sanskrit
Lyrics: Sage Vasishta
Singer: Various
Vishveshvaraya Narakarnava Taranaya
Karnamrutaya Shashishekhara Dharanaya
Karpurakantidhavalaya Jatadharaya
Daridrya Duhkha Dahanaya Namah Shivaya
Gauripriyaya Rajanishakaladharaya
Kalantakaya Bhujagadhipankanaya
Gangadharaya Gajarajavimardanaya
Daridrya Dukha Dahanaya Namah Shivaya
Bhaktipriyaya Bhavarogabhayapahaya
Ugraya Durgabhavasagarataranaya
Jyotirmayaya Gunanamasunutyakaya
Daridrya Duhkha Dahanaya Namah Shivaya
Charmambaraya Shavabhasmavilepanaya
Bhalekshanaya Manikundala Manditaya
Manjirapadayugalaya Jatadharaya
Daridrya Duhka Dahanaya Namah Shivaya
Panchananaya Phaniraja Vibhushanaya
Hemamshukaya Bhuvanatrayamanditaya
Anandabhumivaradaya Tamomayaya
Daridrya Duhka Dahanaya Namah Shivaya
Bhanupriyaya Bhavasagarataranaya
Kalantakaya Kamalasanapujitaya
Netratrayaya Shubhalakshana Lakshitaya
Daridrya Duhka Dahanaya Namah Shivaya
Ramapriyaya Raghunathavarapradaya
Nagapriyaya Narakarnavataranaya
Punyeshu Punyabharitaya Surarchitaya
Daridrya Duhka Dahanaya Namah Shivaya
Mukteshwaraya Phaladaya Ganeshwaraya
Gita Priyaya Vrushabheshwara Vahanaya
Matanga Charma Vasanaya Maheshwaraya
Daridrya Duhka Dahanaya Namah Shivaya
Vasistena Krutham Stotram Sarvaroga Nivaranam
Sarva Sampathkaram Shreegram Putra Poutradi Vardhanam
Trisandhyam Yah Patenityan Na Hi Swargha Mavapunayatha
Iti Shri Vasihita Virachitam Daridrya Dahana Shiva Stotram Sampurnam
Comments
comments