November 24, 2021
Enge Manakkuthu Santhanam Lyrics | Ayyappan Songs
Enge Manakkuthu Santhanam Lyrics | Ayyappan Songs: Enge Manakkuthu Santhanam is a very famous devotional song dedicated to Lord Ayyappa. Lord Ayyapa is known as Harihara Putra because He is considered to be the union of Lord Vishnu and Lord Shiva according to Hindu theology.
Sabarimala is Swami Ayyapa's abode. The Sabarimala Temple is located in the Perinad Village, Pathanamthitta district of Kerala state. The temple attracts millions of devotees every year.
Enge Manakkuthu Santhanam Song Lyrics were penned by Veeramani Somu and the song was composed by Veeramani Krishna. This song was rendered by singer Veeramani Raju, A ardent devotee of Lord Ayyappa. He had sung many hit songs on Lord Ayyappa swami in Tamil and other languages.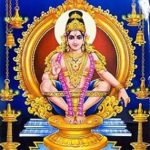 Enge Manakkuthu Santhanam Lyrics
Album : Pallikkattu
Genre: Devotional
Sung by : Veeramani Raju
Music by : Veeramani Krishna
Lyrics by : Veeramani Somu
Check out 'Enge Manakkuthu Santhanam Lyrics' here..
Saami Ayyappa Saranam Ayyappa
Saami Ayyappa Saranam Ayyappa
Chorus
Saami Ayyappa Saranam Ayyappa
Saami Ayyappa Saranam Ayyappa
Swamiye
Chorus: Ayyappo
Swamiye
Chorus: Ayyappo
Swamiye
Chorus: Ayyappo
Swamiye.. Sharanam Ayyppa
Sharanam Ayyappa |2|
Enge Manakkuthu Santhanam Enge Manakkuthu
Ayyappa Swami Kovilile Santhanam Manakkuthu
Chorus:
Enge Manakkuthu Santhanam Enge Manakkuthu
Ayyappa Swami Kovilile Santhanam Manakkuthu
Enna Manakkuthu Malaiyile Enna Manakkuthu
Enna Manakkuthu Malaiyile Enna Manakkuthu
Inbamaana Oodhuvatthi Ange Manakkuthu
Chorus: Enge Manakkuthu Santhanam Enge Manakkuthu
Ayyappa Swami Kovilile Santhanam Manakkuthu
Enna Manakkuthu Malaiyil Enna Manakkuthu
Enna Manakkuthu Malaiyil Enna Manakkuthu
Veera Manikandan Sannadhiyil Neyyum Manakkuthu
Chorus:
Thiru Neyyum Manakkudhu Panneerum Manakkudhu
Thiru Neyyum Manakkudhu Panneerum Manakkudhu
Aandavanin Sannadhiyil Arulum Manakkuthu
Aandavanin Sannadhiyil Arulum Manakkuthu
Ayyanmaargal Ullatthile Anbhu Manakkuthu
Chorus: Enge Manakkuthu Santhanam Enge Manakkuthu
Ayyappa Swami Kovilile Santhanam Manakkuthu
Pallikattai Sumandhukitta Bhakthi Pirakkudhu
Andha Panimaliyil Yeridave Sakthi Pirakkudhu
Bagavaanai Paarthuvittaa Paavam Parakkudhu
Bagavaanai Paarthuvittaa Paavam Parakkudhu
Padhinettaam Padi Thottaal Vaazhvum Inikkudhu
Chorus: Enge Manakkuthu Santhanam Enge Manakkuthu
Ayyappa Swami Kovilile Santhanam Manakkuthu
Swami Dhindhaka Thom Thom
Chorus: Ayyappa Dhindhaka Thom Thom
Swami Dhindhaka Thom Thom
Chorus: Ayyappa Dhindhaka Thom Thom
Pettai Thulli Aadumpodhu Manamum Thulludhu
Ayyan Perazhagai Kaana Ullam Aasai Kolludhu
Kaattukkulle Sarana Gosham Vaanai Pilakkudhu..
Veettai Marandhu Bhakthar Koottam Kaattilirukkudhu
Chorus: Enge Manakkuthu Santhanam Enge Manakkuthu
Ayyappa Swami Kovilile Santhanam Manakkuthu
Poongavana Thopukkulle Bavani Varugiraan
Ayyan Veangaiyin Mel Yerivandhu Varamum Kodukkiraan
Nonbirundhu Varuvorai Thaangi Nirkiraan
Nonbirundhu Varuvorai Thaangi Nirkiraan
Oongaara Naadhathile Ezhundhu Varugiraan
Enge Manakkuthu Santhanam Enge Manakkuthu
Ayyappa Swami Kovilile Santhanam Manakkuthu
Chorus: Enge Manakkuthu Santhanam Enge Manakkuthu
Ayyappa Swami Kovilile Santhanam Manakkuthu
Saami Ayyappa Saranam Ayyappa
Saami Ayyappa Saranam Ayyappa
Chorus
Saami Ayyappa Saranam Ayyappa
Saami Ayyappa Saranam Ayyappa
Swamiye
Chorus: Ayyappo
Swamiye
Chorus: Ayyappo
Swamiye
Chorus: Ayyappo
Swamiye.. Sharanam Ayyppa
Swami Sharanam Ayyappa |5|
Comments
comments