July 2, 2021
Guru Ashtakam Lyrics | Shri Adi Shankaracharya | Guru Mantra
Guru Ashtakam Lyrics | Shri Adi Shankaracharya | Guru Mantra: Guru Ashtakam is a hymn or verses in Sanskrit language, was composed by Sri Adi Shankaracharya in Ashtakam format. 'Ashtakam' refers to a particular form of poetry, written in eight stanzas.
Sri Adi Shankaracharya was one of the most popular Indian philosopher and theologian who consolidated the doctrine of Advaita Vedanta. Shankaracharya traveled across the India to propagate his philosophy through discourses and debates with other thinkers.
Over 300 texts are attributed to Sri Adi Shankaracharya, including Bhasyas [Commentaries], Prakararana Grantha [Philosophical Expositions] and Stotras [Poetry].
Guru Purnima is a Hindu festival observed in India to revere their chosen Teachers and express their gratitude. It is also known as Vyasa Purnima marks the birthday of Ved Vyasa. The festival is celebrated on the full moon day in the Hindu month of Ashadha [June-July].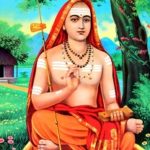 Sri Guru Ashtakam Lyrics
Composer: Sri Adi Shankaracharya
Genre: Devotional Stotram
Language: Sanskrit
Singers: Various
Type: Ashtakam
Check out 'Guru Ashtakam lyrics' here..
Shareeram Suroopam Tatha Vaa Kalatram
Yasascharu Chitram Dhanam Meru tulyam
Manashche na Lagnam Guro ranghri padme
Tatah Kim Tatah Kim Tatah Kim Tatah Kim
Kalatram Dhanam Putra poutraadi Sarvam
Gruham Baandhava Sarva metaddhi Jaatam
Manashche na Lagnam Guro ranghri padme
Tatah Kim Tatah Kim Tatah Kim Tatah Kim
Sadangaadhi vedo Mukhe Shastra vidya
Kavitvaaadi Gadhyam Supadhyam Karoti
Manashche na Lagnam Guro ranghri padme
Tatah Kim Tatah Kim Tatah Kim Tatah Kim
Videsheshu Maanyaha Swadesheshu Dhanyaha
Sadachara vrutteshu Matto Na Chanyaha
Manashchena Lagnam Guro ranghri padme
Tatah Kim Tatah Kim Tatah Kim Tatah Kim
Kshama mandale Bhupa bhupala vrindai
Sada Sevitam Yasya Paadaravindam
Manashche na Lagnam Guro ranghri padme
Tatah Kim Tatah Kim Tatah Kim Tatah Kim
Yasho Me Gattam Dikshu Daana prataapaath
Jagadvastu Sarvam Kare sath prasaadath
Manashchena Lagnam Guro ranghri padme
Tatah Kim Tatah Kim Tatah Kim Tatah Kim
Naa Bhoge Naa Yoge Naa Vaa Vaajiraajau
Naa Kaanthaa mukhe Naiva Vitteshu Chittam
Manashche na Lagnam Guro ranghri padme
Tatah Kim Tatah Kim Tatah Kim Tatah Kim
Aranye Na Vaa Svasya Gehe Na Kaarye
Na Dehe Mano Vartate Me Tvanarghye
Manashche na Lagnam Guro ranghri padme
Tatah Kim Tatah Kim Tatah Kim Tatah Kim
Gurorashtakam Yah Pathet Punyadehi
Yatir Bhupatir Brahmachaari Cha Gehi
Manashche na Lagnam Guro ranghri padme
Tatah Kim Tatah Kim Tatah Kim Tatah Kim
Guru Ashtakam Lyrics in Hindi
शरीरं सुरुपं तथा वा कलत्रं
यशश्चारू चित्रं धनं मेरुतुल्यम्
मनश्चेन्न लग्नं गुरोरंघ्रिपद्मे
ततः किं ततः किं ततः किं ततः किम्
कलत्रं धनं पुत्रपौत्रादि सर्वं
गृहं बान्धवाः सर्वमेतद्धि जातम्
मनश्चेन्न लग्नं गुरोरंघ्रिपद्मे
ततः किं ततः किं ततः किं ततः किम्
षडंगादिवेदो मुखे शास्त्रविद्या
कवित्वादि गद्यं सुपद्यं करोति
मनश्चेन्न लग्नं गुरोरंघ्रिपद्मे
ततः किं ततः किं ततः किं ततः किम्
विदेशेषु मान्यः स्वदेशेषु धन्यः
सदाचारवृत्तेषु मत्तो न चान्यः
मनश्चेन्न लग्नं गुरोरंघ्रिपद्मे
ततः किं ततः किं ततः किं ततः किम्
क्षमामण्डले भूपभूपालवृन्दैः
सदा सेवितं यस्य पादारविन्दम्
मनश्चेन्न लग्नं गुरोरंघ्रिपद्मे
ततः किं ततः किं ततः किं ततः किम्
यशो मे गतं दिक्षु दानप्रतापात्
जगद्वस्तु सर्वं करे सत्प्रसादात्
मनश्चेन्न लग्नं गुरोरंघ्रिपद्मे
ततः किं ततः किं ततः किं ततः किम्
न भोगे न योगे न वा वाजिराजौ
न कान्तासुखे नैव वित्तेषु चित्तम्
मनश्चेन्न लग्नं गुरोरंघ्रिपद्मे
ततः किं ततः किं ततः किं ततः किम्
अरण्ये न वा स्वस्य गेहे न कार्ये
न देहे मनो वर्तते मे त्वनर्घ्ये
मनश्चेन्न लग्नं गुरोरंघ्रिपद्मे
ततः किं ततः किं ततः किं ततः किम्
गुरोरष्टकं यः पठेत्पुण्यदेही
यतिर्भूपतिर्ब्रह्मचारी च गेही
लभेत् वांछितार्थ पदं ब्रह्मसंज्ञं
गुरोरुक्तवाक्ये मनो यस्य लग्नम्
Comments
comments