July 23, 2021
Guru Paduka Stotram Lyrics | Adi Shankaracharya | Guru Purnima
Guru Paduka Stotram Lyrics | Adi Shankaracharya | Guru Purnima: Guru Paduka Stotram is a hymn or verses in Sanskrit language, was composed by Sri Adi Shankaracharya.
Sri Adi Shankaracharya was an Indian philosopher and theologian who consolidated the doctrine of Advaita Vedanta. Shankaracharya traveled across the India to propagate his philosophy through discourses and debates with other thinkers.
Over 300 texts are attributed to Sri Adi Shankaracharya, including Bhasyas [Commentaries], Prakararana Grantha [Philosophical Expositions] and Stotras [Poetry].
Guru Purnima is a Hindu festival observed in India to revere their chosen Teachers and express their gratitude. It is also known as Vyasa Purnima marks the birthday of Ved Vyasa. The festival is celebrated on the full moon day in the Hindu month of Ashadha [June–July].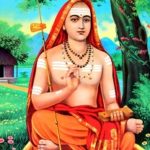 Guru Paduka Stotram Lyrics
Composer: Sri Adi Shankaracharya
Genre: Devotional Stotram
Language: Sanskrit
Singers: Various
About: Guru
Check out 'Guru Paduka Stotram Lyrics' here..
Anantha Samsara Samudhra Thaara Naukaayithabhyam Guru Bhakthithabhyam
Vairaagya Samrajyadha Poojanaabhyam Namo Namaha Sri Guru Paadukaabhyam
Kavithva Varahsi Nishakarabhyam Dourbhagyadaavambudhamalikabhyam
Dhoorikrutha Namra Vipathithabhyam Namo Namaha Sri Guru Padukabhyam
Natha Yayo Sripatitam Samiyu Kadachidapyashu Daridravarya
Mookascha Vachaspathitham Hi Thabhyam Namo Nama Sri Guru Padukabhyam
Nalee Kanee Kashapadahrithabhyam Nana Vimohadhi Nivaarikabyam
Nama Janabheeshtathathi Pradhabhyam Namo Namaha Sri Guru Padukabhyam
Nrupali Mouleebraja Rathna Kanthi Saridvi Raja Jjashakanyakabhyam
Nrupadvadhabhyam Nathaloka Pankhthe Namo Namaha Sri Guru Padukabhyam
Papandhakara Arka Paramparabhyam Thapathryaheendra Khageswarabhyam
Jadyabdhi Samsoshana Vadawabhyam Namo Namaha Sri Guru Padukabhyam
Shamadhi Shatka Pradha Vaibhavabhyam Samadhi Dhana Vratha Deeksithabhyam
Ramadhavangri Sthira Bhakthidabhyam Namo Namaha Sri Guru Padukabhyam
Swarchaparana Makhileshtathabhyam Swaha Sahayaksha Durndarabhyam
Swanthacha Bhava Pradha Poojanabhyam Namo Namaha Sri Guru Padukabhyam
Kaamadhi Sarpa Vraja Garudabhyam Viveka Vairagya Nidhi Pradhabhyam
Bhodha Pradhabhyam Drutha Mokshathabhyam Namo Namaha Sri Guru Padukabhyam
Guru Paduka Stotram Lyrics in Hindi
अनंत संसार समुद्र तार नौकायिताभ्यां गुरुभक्तिदाभ्यां
वैराग्य साम्राज्यद पूजनाभ्यां नमो नमः श्री गुरु पादुकाभ्यां
कवित्व वाराशि निशाकराभ्यां दौर्भाग्यदावांबुदमालिक्याभ्यां
दूरीकृतानम्र विपत्तिताभ्यां नमो नमः श्री गुरु पादुकाभ्यां
नता ययोः श्रीपतितां समीयुः कदाचिदप्याशु दरिद्रवर्याः
मूकाश्च वाचसपतितां हि ताभ्यां नमो नमः श्री गुरु पादुकाभ्यां
नाली कनी काशपदाहृताभ्यां नानाविमोहादिनिवारिकाभ्यां
नमज्जनाभीष्टततिब्रदाभ्यां नमो नमः श्री गुरु पादुकाभ्यां
नृपालिमौलि ब्रज रत्न कांति सरिद्विराज्झषकन्यकाभ्यां
नृपत्वदाभ्यां नतलोकपंक्ते: नमो नमः श्री गुरु पादुकाभ्यां
पापांधकारार्क परंपराभ्यां तापत्रयाहीन्द्र खगेश्वराभ्यां
जाड्याब्धि संशोषण वाड्वाभ्यां नमो नमः श्री गुरु पादुकाभ्यां
शमादिषट्क प्रदवैभवाभ्यां समाधि दान व्रत दीक्षिताभ्यां
रमाधवांघ्रि स्थिरभक्तिदाभ्यां नमो नमः श्री गुरु पादुकाभ्यां
स्वार्चा पराणामखिलेष्टदाभ्यां स्वाहासहायाक्ष धुरंधराभ्यां
स्वान्ताच्छ भावप्रदपूजनाभ्यां नमो नमः श्री गुरु पादुकाभ्यां
कामादिसर्प व्रजगारुडाभ्यां विवेक वैराग्य निधि प्रदाभ्यां
बोध प्रदाभ्यां दृत मोक्ष दाभ्यां नमो नमः श्री गुरु पादुकाभ्यां
Comments
comments