May 28, 2021
Indhu Shukravaara Song Lyrics | BK Sumitra Kannada Devotional Songs
Indhu Shukravaara Song Lyrics | BK Sumitra Kannada Devotional Songs: Indhu Shukravaara Shubhava Tharuva Vaara is a famous Kannada devotional song rendered by popular Kannada playback singer B. K. Sumitra. Apart from film songs she has rendered by many devotional songs.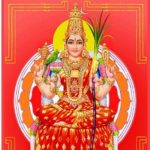 Indhu Shukravaara Shubhava Lyrics
Genre: Devotional
Goddess: Parvathi
Language: Kannada
Lyrics: N/A
Singer: B. K. Sumitra
Check out the lyrics of Indhu Shukravaara song here..
Sarva Mangala Maangalye..
Shive Sarvaartha Saadake..
Sharanye Thrayambake Devi..
Naaraayani Namo Stuthe..
Indhu Shukravaara
Shubhava Tharuva Vaara
Indhu Shukravaara
Shubhava Tharuva Vaara
Sumangaliyarella..
Ninna Poojisuva Punyavaara
Indhu Shukravaara
Shubhava Tharuva Vaara
Sumangaliyarella..
Ninna Poojisuva Punya Vaara
Indhu Shukravaara
Shubhava Tharuva Vaara
Munjaaneya Madi Uttu
Kumkumava Hanegittu
Munjaaneya Madi Uttu
Kumkumava Hanegittu
Rangoliya Baagiligittu
Hannu Kaaayi Needuva Vaara
Rangoliya Baagiligittu
Hannu Kaaayi Needuva Vaara
Indhu Shukravara
Shubhava Tharuva Vaara
Sumangaliyarella..
Ninna Poojisuva Punya Vaara
Indhu Shukravara
Shubhava Tharuva Vaara
Mallige Jaaji Hoomaale Haaki
Chandana Hacchi Singaara Maadi
Mallige Jaaji Hoomaale Haaki
Chandana Hacchi Singaara Maadi
Karpooradaarati Ninage Belagi
Bhakti Indali Bhajisuva Vaara
Karpooradaarati Ninage Belagi
Bhakti Indali Bhajisuva Vaara
Indhu Shukravara Shubhava Tharuva Vaara
Sumangaliyarella Ninna Poojisuva Punya Vaara
Indhu Shukravara Shubhava Tharuva Vaara
Suvaasiniyarige Kumkuma Hacchi
Sambramadinda Baagina Needi
Suvaasiniyarige Kumkuma Hacchi
Sambramadinda Baagina Needi
Sarva Mangaleya Keerthiya Haadi
Sakala Bhaagyava Beduva Vaara
Sarva Mangaleya Keerthiya Haadi
Sakala Bhaagyava Beduva Vaara
Indhu Shukravaara
Shubhava Tharuva Vaara
Sumangaliyarella..
Ninna Poojisuva Punyavaara
| Indhu Shukravaara
Shubhava Tharuva Vaara |4|
Comments
comments