August 9, 2020
Jaya Janardhana Krishna Radhika Pathe Song Lyrics | Devotional Song
Jaya Janardhana Krishna Radhika Pathe Song Lyrics | Devotional Song: Jaya Janardhana Krishna Radhika Pathe is a popular Hindu devotional song about Lord Krishna from the 2005 Devotional music album Ba Ba Krishna.
Lord Krishna as we all know is a major deity in Hinduism and is one of the most popular and widely worshiped god. He is the eighth avatar in Ten Avatars [Dasahavataram] of Lord Vishnu. He is considered as the god of compassion, tenderness, and love.
Lord Krishna's birthday is celebrated as Krishna Janmashtami. This festival is celebrated in different parts of India in different names such as Gokulashtami, Yadukulashtami, Saatam Aatham, and Srikrishna Jayanti.
Jaya Janardhana Krishna Radhika Pathe song lyrics were written by Goturi and composed by Thej. This song was beautifully rendered by Gouthami S. Moorthy. A music video of this song was produced by M. C. Sajithan and directed by Linson Kannamali. This music video was edited by Renjith Touchriver.
Krishna Janmashtami 2020 date is August 11th. Wish you all a very happy Krishna Janmashtami.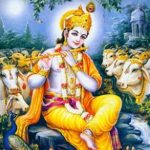 Song: Jaya Janardhana Krishna
Singer: Gouthami S. Moorthy
Music: Thej
Lyrics: Goturi
Genre: Devotional
Lord: Krishna
Check out the lyrics here..
Jaya Janardhana Krishna Radhika Pathe
Jana Vimochana Krishna Janma Mochana
Jaya Janardhana Krishna Radhika Pathe
Jana Vimochana Krishna Janma Mochana
Garuda Vahana Krishna Gopika Pathe
Nayana Mohana Krishna Neerajekshana
Jayajanardhana Krishna Radhika Pathe
Jana Vimochana Krishna Janma Mochana
Sujana Bandhava Krishna Sundarakruthe
Madana Komala Krishna Madhava Hare
Vasumathi Pathe Krishna Vaasavaanuja
Varagunakara Krishna Vaishnavakruthe
Suruchiranana Krishna Shouryavaridhe
Murahara Vibho Krishna Mukthidayaka
Vimalapalaka Krishna Vallabhipathe
Kamalalochana Krishna Kaamyadayaka
Jayajanardhana Krishna Radhika Pathe
Jana Vimochana Krishna Janma Mochana
Vimalagathrane Krishna Bhaktavathsala
Charana Pallavam Krishna Karuna Komalam
Kuvalaikshana Krishna Komalaakruthe
Tava Padambujam Krishna Sharanamashraye
Bhuvana Nayaka Krishna Pavanakruthe
Gunaganojwala Krishna Nalinalochana
Pranayavaaridhe Krishna Gunaganakara
Daamasodara Krishna Deena Vathsala
Jaya Janardhana Krishna Radhika Pathe
Jana Vimochana Krishna Janma Mochana
Kamasundara Krishna Paahi Sarvada
Narakanashana Krishna Narasahayaka
Devaki Sutha Krishna Karunyambhude
Kamsanaashana Krishna Dwaraksthitha
Pavanatmaka Krishna Dehi Mangalam
Thvathpadambujam Krishna Shyama Komalam
Bhaktavatsala Krishna Kamyadayaka
Palisennanu Krishna Shrihari Namo
Jaya Janardhana Krishna Radhika Pathe
Jana Vimochana Krishna Janma Mochana
Bhaktadaasa Naa Krishna Harasu Nee Sadaaa
Kaadu Ninthe Naa Krishna Salaheya Vibho
Garuda Vahana Krishna Gopika Pathe
Nayana Mohana Krishna Neerajekshana
Jayajanardhana Krishna Radhika Pathe
Jana Vimochana Krishna Janma Mochana
Garuda Vahana Krishna Gopika Pathe
Nayana Mohana Krishna Neerajekshana
Jaya Janardhana Krishna Radhika Pathe
Jana Vimochana Krishna Janma Mochana
Jaya Janardhana Krishna Radhika Pathe
Jana Vimochana Krishna Janma Mochana
Comments
comments