June 30, 2021
Kannan Varugindra Neram Karaiyoram Lyrics | Oothukkadu Venkata Kavi
Kannan Varugindra Neram Karaiyoram Lyrics | Oothukkadu Venkata Kavi: Kannan Varugindra Neram Karaiyoram a is famous devotional song composed by poet Oothukkadu Venkata Kavi about Lord Krishna.
Oothukkaadu Venkata Kavi or Oottukkaadu Venkata Subbaiar was one of the pioneers in Carnatic music from Tamil Nadu. He had composed more than 500 compositions in Tamil, Marathi, and Sanskrit. He is well known for his compositions about Lord Krishna but he had also composed song about other gods also like Vinayaka, Kamakshi, Rama, Kartikeya, Narasimha, Anjaneya, and others.
Lord Krishna as we all know, is a major deity in Hinduism and is one of the most popular and widely worshiped god. He is the eighth avatar in Ten Avatars [Dashavataram] of Lord Vishnu. He is considered as the god of compassion, tenderness, and love.
Lord Krishna's birthday is celebrated as Krishna Janmashtami. This festival is celebrated in different parts of India in different names such as Gokulashtami, Yadukulashtami, Saatam Aatham, and Srikrishna Jayanti. Wish you all a very happy Krishna Janmashtami.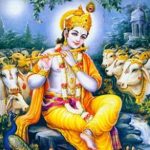 Kannan Varugindra Neram Lyrics
Composer: Oothukkadu Venkata Kavi
Raagam: Maanji
Taalam: Chatushra Eka
Genre: Devotional / Kavadi Sindhu
Lord: Kirshna
Check out 'Kannan Varugindra Neram' lyrics here
Kannan Varugindra Neram Karaiyoram
Tendral Kandu Kozhithadhu Paarum
Gaanatthidai Mona Kuyil Osaikkinyaana
Tharamaana Kuzhal Isai Kelum
Pona Aaviyellam Kooda Meelum
Kannan Varugindra Neram Karaiyoram
Tendral Kandu Kozhithadhu Paarum
Salla Salanamittodum Nadhi Paadum
Vanam Thangi Thangi Suzhandraadum Nalla
Thudhi Paadidum Adiyaaravar Manamaanadhu Idu Pol Ena
Thulli Thulli Kudhitthaadum
Pugazh Solli Solli Isai Paadum
Kannan Varugindra Neram Karaiyoram
Tendral Kandu Kozhithadhu Paarum
Kannan Nagai Pole Mullai Inai Illai Endru
Kandadhum Vandondrum Vallai Idu
Kanavo Alla Nanavo Ena Karudaadiru Maname
Oru Kaalamum Poiyondrum Sollen
Engal Kannan Andri Veru Illen
Kannan Varugindra Neram Karaiyoram
Tendral Kandu Kozhithadhu Paarum
Thaazhai Madal Neerthu Nokkum Mullai Paarkum
Enna Sowkkiyamo Endru Ketkum Ada
Mozhi Pesida Iduvo Pozhudenavo Varum Madhavanin
Mutthu Mudiyinil Servom Ange
Mettha Mettha Pesi Nervom
Kannan Varugindra Neram Karaiyoram
Tendral Kandu Kozhithadhu Paarum
Anda Gaanatthidai Mona Kuyil Osaikkinyaana
Tharamaana Kuzhal Isai Kelum
Pona Aaviyellam Kooda Meelum
Comments
comments