August 13, 2022
Mahalakshmi Ashtakam Lyrics | Mahalakshmi Mantra
Mahalakshmi Ashtakam Lyrics | Mahalakshmi Mantra: Mahalakshmi Ashtakam is is a prayer in Sanskrit language, dedicated to Goddess Lakshmi Devi.
Sri Mahalakshmi Ashtakam is taken from Padma Purana and this devotional prayer was chanted by Lord Indra in praise of Goddess Mahalakshmi. One should chant Shri Mahalakshmi Ashtakam daily to get benefits of stotra.
Goddess Lakshmi is one of the principal goddesses in Hinduism. She is the goddess of wealth, fortune, power, beauty, fertility and prosperity, and associated with Maya [Illusion]. Along with Parvati and Saraswati, she forms the Tridevi of Hindu goddesses. Sri Lakshmi is the consort of Lord Vishnu.
Over the years, many musicians and singers like Anuradha Paudwal, Bhanumathi Narsimhan, Uthara Unnikrishnan have rendered this song.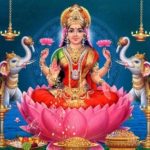 Mahalakshmi Ashtakam Lyrics | Mahalakshmi Mantra
Language: Sanskrit
Singers: Various / Anuradha Paudwal
Goddess: Lakshmi
Lyrics: Traditional
Genre: Devotional
Check out 'Mahalakshmi Ashtakam Lyrics' here..
Namastesthu Mahamaaye
Shree Peete Sura Poojithe
Shanka Chakra Gadhaa Hasthe
Maha Lakshmi Namosthuthe
Namasthe Garudaaroodhe
Kolasura Bhayankari
Sarva Papa Hare Devi
Maha Lakshmi Namosthuthe
Sarvajne Sarva Varade
Sarva Dushta Bhayankari
Sarva Duhkha Hare Devi
Maha Lakshmi Namosthuthe
Siddhi Buddhi Prade Devi
Bhakti Mukti Pradayini
Mantra Moorthe Sada Devi
Maha Lakshmi Namosthuthe
Adyanta Rahite Devi
Adi Shakti Maheshwari
Yogaje Yoga Sambhoothe
Maha Lakshmi Namosthuthe
Sthoola Sookshme Maha Raudre
Maha Shakti Mahodari
Maha Papa Hare Devi
Maha Lakshmi Namosthuthe
Padmasana Sthithe Devi
Parabrahma Swaroopini
Parameshi Jagan Maatha
Maha Lakshmi Namosthuthe
Shwetambara Dhare Devi
Nanalankara Shobhithe
Jagasthithe Jaganmatha
Maha Lakshmi Namosthuthe
Maha Lakshmyashtakam Stotram
Yah Patheth Bhakti Man Narah
Sarva Siddhi Mavapnoti
Rajyam Prapnothi Sarvada
Eka Kalam Pathennityam
Maha Papa Vinashanam
Dwikalam Yah Pathennityam
Dhana Dhanya Samanvitah
Trikalam Yah Pathennityam
Maha Shatru Vinashanam
Maha Lakshmi Bhavennityam
Prasanna Varada Shubhah
Mahalakshmi Ashtakam Lyrics in Hindi
॥ श्री महालक्ष्म्यष्टकम् ॥
श्री गणेशाय नमः
नमस्तेस्तू महामाये श्रीपिठे सूरपुजिते ।
शंख चक्र गदा हस्ते महालक्ष्मी नमोस्तूते ॥ १ ॥
नमस्ते गरूडारूढे कोलासूर भयंकरी ।
सर्व पाप हरे देवी महालक्ष्मी नमोस्तूते ॥ २ ॥
सर्वज्ञे सर्ववरदे सर्वदुष्ट भयंकरी ।
सर्व दुःख हरे देवी महालक्ष्मी नमोस्तूते ॥३ ॥
सिद्धीबुद्धूीप्रदे देवी भुक्तिमुक्ति प्रदायिनी ।
मंत्रमूर्ते सदा देवी महालक्ष्मी नमोस्तूते ॥ ४ ॥
आद्यंतरहिते देवी आद्यशक्ती महेश्वरी ।
योगजे योगसंभूते महालक्ष्मी नमोस्तूते ॥ ५ ॥
स्थूल सूक्ष्म महारौद्रे महाशक्ती महोदरे ।
महापाप हरे देवी महालक्ष्मी नमोस्तूते ॥ ६ ॥
पद्मासनस्थिते देवी परब्रम्हस्वरूपिणी ।
परमेशि जगन्मातर्र महालक्ष्मी नमोस्तूते ॥ ७ ॥
श्वेतांबरधरे देवी नानालंकार भूषिते ।
जगत्स्थिते जगन्मार्त महालक्ष्मी नमोस्तूते ॥ ८ ॥
महालक्ष्म्यष्टकस्तोत्रं यः पठेत् भक्तिमान्नरः ।
सर्वसिद्धीमवाप्नोति राज्यं प्राप्नोति सर्वदा ॥ ९ ॥
एककाले पठेन्नित्यं महापापविनाशनं ।
द्विकालं यः पठेन्नित्यं धनधान्य समन्वितः ॥१०॥
त्रिकालं यः पठेन्नित्यं महाशत्रूविनाशनं ।
महालक्ष्मीर्भवेन्नित्यं प्रसन्ना वरदा शुभा ॥११॥
॥इतिंद्रकृत श्रीमहालक्ष्म्यष्टकस्तवः संपूर्णः ॥
Comments
comments