April 20, 2023
Mandara Male Maleyu Suriye Lyrics | Swami Ayyappa Devotional Songs
Mandara Male Maleyu Suriye Lyrics | Swami Ayyappa Devotional Songs: Mandara Male Maleyu Suriye is a Kannada devotional song about Lord Ayyappa. Lord Ayyapa is known as Harihara Putra because He is considered to be the union of Lord Vishnu and Lord Shiva according to Hindu theology.
Sabarimala is Swami Ayyapa's abode. The Sabarimala Temple is located in the Perinad Village, Pathanamthitta district of Kerala state. The temple attracts millions of devotees every year.
The original malayalam version of this song 'Mandaram Malarmazha Choriyum' , was written by lyricist Chowalloor Krishnankutty and composed by music director Gangai Amaran. This song was rendered by legendary playback singer K J Yesudas for the alum Ayyappa Gaanangal Vol.6.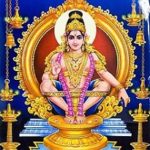 Mandara Male Maleyu Suriye Lyrics
Album: Ayyappa Gaanangal Vol.6
Singer: K J Yesudas
Lyrics: N/A
Music: Gangai Amaran
Language: Kannada
Check out 'Mandara Male Maleyu Suriye Lyrics' here..
Mandara Male Maleyu Suriye
Paavanavaa Maleyu
Karpoora Sugandha Beese
Adu Ninna Sannidhiyu
Mandara Male Maleyu Suriye
Paavanavaa Maleyu
Karpoora Sugandha Beese
Adu Ninna Sannidhiyu
Ondu Haadu Haadabekenno Aase Ayyappa
Ondu Saari Nodabekenno Aase Ayyappa
Ondu Haadu Haadabekenno Aase Ayyappa
Ondu Saari Nodabekenno Aase Ayyappa
Mandara Male Maleyu Suriye
Paavanavaa Maleyu
Karpoora Sugandha Beese
Adu Ninna Sannidhiyu
Ninna Node Bandaaga
Kaananave Maneyu
Theerthakke Baravilla
Paavana Pampe Ide
Ninna Node Bandaaga
Kaananave Maneyu
Theerthakke Baravilla
Paavana Pampe Ide
Anugaala Kaanuve Ninna
Nirupama Chaithanya
Daye Thori Nina Roopa
Karunisu Nannayya
Mandara Male Maleyu Suriye
Paavanavaa Maleyu
Karpoora Sugandha Beese
Adu Ninna Sannidhiyu
Ondu Haadu Haadabekenno Aase Ayyappa
Ondu Saari Nodabekenno Aase Ayyappa
Mandara Male Maleyu Suriye
Paavanavaa Maleyu
Karpoora Sugandha Beese
Adu Ninna Sannidhiyu
Ninna Naama Japa Maadi
Baruvenu Daariyali
Hadinentu Hanthagala
Haththuve Sulabhadali
Ninna Naama Japa Maadi
Baruvenu Daariyali
Hadinentu Hanthagala
Haththuve Sulabhadali
Thandenu Irumudiyannu
Apaara Bhakthiyali
Thava Roopa Darshisu
Mohavu Ayyappa
Mandara Male Maleyu Suriye
Paavanavaa Maleyu
Karpoora Sugandha Beese
Adu Ninna Sannidhiyu
Mandara Male Maleyu Suriye
Paavanavaa Maleyu
Karpoora Sugandha Beese
Adu Ninna Sannidhiyu
Ondu Haadu Haadabekenno Aase Ayyappa
Ondu Saari Nodabekenno Aase Ayyappa
Ondu Haadu Haadabekenno Aase Ayyappa
Ondu Saari Nodabekenno Aase Ayyappa
Mandara Male Maleyu Suriye
Paavanavaa Maleyu
Karpoora Sugandha Beese
Adu Ninna Sannidhiyu
Comments
comments